Every year, the Airbus Foundation delivers satellite imagery covering tens of thousands of square kilometres around the globe to support its partners involved in humanitarian aid and protecting the environment. As the number of requests continues to grow, the Foundation has significantly extended the range of products and services offered – including new types of imagery, photo interpretation analysis support and training sessions to increase the partners' ability to understand and analyse what they're seeing.
How do you facilitate the supply of imagery from Airbus Defence and Space in support of the Airbus Foundation's partners?
As the focal point for the Airbus Foundation's partners in anything related to satellite imagery, I help them understand how such imagery can support their actions – either in emergency situations or for longer-term risk or impact assessment.  I coordinate with the Foundation and within Airbus Defence and Space to ensure these partners have access to the right imagery and are assisted in their projects when they need guidance or training. 
The Foundation's partner requests have increased each year: in 2021 we provided imagery that covered nearly 50,000 km².
I am convinced that satellite images will be more and more useful in finding the right answers to protect our environment and assisting those in need. I am proud to be part of a group that allows me to give some of my time and to leverage its resources for a philanthropic activity directly related to current global issues that are so crucial today, and for the next generations.
Has the requirement for satellite imagery changed over the years, and how has the Airbus Foundation adapted?
The Foundation has learned to understand the full cycles of crises and better integrate prevention into its scope of activities. Preventing environmental disasters and responding to climate change are now major development axes. 
Additionally, after several years of supporting NGOs (non-governmental organisations) with satellite imagery, it became increasingly clear that many humanitarian crises have environmental roots. In support of the Airbus Foundation, the Airbus team currently provides satellite imagery to several humanitarian organisations including Action against Hunger, the International Federation of Red Cross and Red Crescent Societies, the Global Logistics Cluster and the Foreign Affairs' Crisis and Support Centre (CDCS). In addition, it is now also supporting environmental partners such as the Connected Conservation Foundation (CCF) and the International Union for Conservation of Nature (IUCN). 
 
How are the NGOs benefitting from Airbus Foundation-supplied imagery, which gives them a "space-eye" view of affected areas?
Satellite imagery is directly benefitting NGOs by easily visualising areas impacted by a natural disaster, for example, and organising their response while quickly assessing the local situation, verifying the road conditions and planning rescue activities accordingly. 
As the NGOs also have the possibility to task our satellites for specific area coverage, they can receive new images when needed and compare them with older ones: for instance, to track movements of refugees, in monitoring the impact of river flooding and seeing the effects of drought.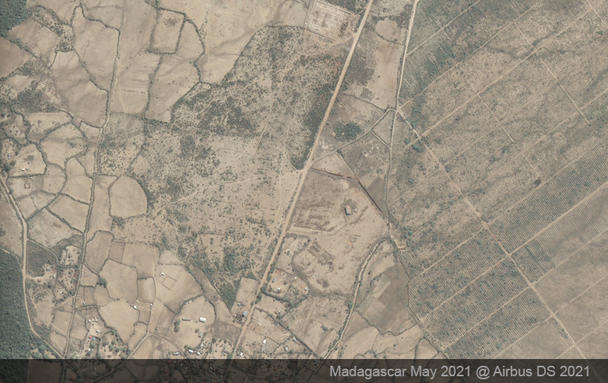 I am convinced that satellite images will be more and more useful in finding the right answers to protect our environment, and assisting those in need.
Louise Bellemère
How does the relationship with environmental partners differ from those involved in humanitarian-related actions?  
The way we work with environmental partners – such as CCF and IUCN – is very different from what we do with the humanitarian organisations, as it is more project-based, with clear predefined delivery targets. 
With CCF, the intention is to protect endangered species and their habitats across protected areas, with this organisation's teams using satellite imagery to identify movement of wildlife and detect poaching threats. We have helped them obtain the optimum satellite images at the right time so they could effectively see animals and synchronise with field teams. Using our 30cm resolution Pléiades Neo images, they were able to identify a tragic poaching incident by spotting the carcasses of three deceased rhinos, which allowed park rangers to understand the time of death. This satellite imagery will also equip the park with up-to-date road maps for tactical deployment resource and help monitor the successful impact of rewilding efforts.
The IUCN project has the goal of mapping forest restoration in certain areas to verify where exactly the forest is being restored. We have a dedicated team working on this project, and regular progress meetings are held with the organisation.
How will the Pleiades Neo satellites help NGOs make their work easier? 
The new Pléiades Neo constellation opens up a wide range of applications; it's very exciting! The CCF already has been using Pléiades Neo images to detect large animals such as elephants and rhinos. In addition to delivering the highest resolution available on the market, the Pléiades Neo satellites also offer at least two revisits a day anywhere on Earth and better agility for emergency tasking. The additional Deep Blue spectral band that can be used for hydrological and bathymetry applications will certainly unlock new possibilities in protecting our oceans and monitoring waterholes in drought-affected areas.
What is next in viewing the world from different angles?
There are many things that we can imagine for the future! The Airbus OneAtlas platform – which provides access to satellite imagery, innovative geospatial analytics and industry-specific insights – as well as the global trend of digitalisation will definitely help more and more organisations access our Airbus data, even in remote areas. 
Numerous NGOs are developing their own geomatic skills, and we must keep on supporting them in this development, as it is key that they understand the value of satellite imagery and know how to extract knowledge and insights on specific disaster management cases. In terms of applications, the range is infinite. Furthermore, a number of machine-learning algorithms that will make it possible to detect more and more endangered animal species, and specific types of crops and terrain while analysing their health. 
The progress in 3D modelling also will enable better assessment of landslide or mudslide risks, and help build preventive action. Additionally, Airbus' Zephyr high-altitude pseudo satellites that is currently under development will be capable of flying continuously for months over crisis areas, providing images with 18-cm resolution.