The Tiger HAD is Airbus' multi-role attack helicopter, designed to perform armed reconnaissance, air or ground escort, air-to-air combat, ground fire support, destruction and anti-tank warfare, day or night and in adverse conditions.
The reference in attack helicopters
The Tiger has proven its capabilities during operational deployments in Afghanistan, the Central African Republic, Libya and Mali.
Superior inside the cockpit
With its tandem-seat glass cockpit layout, both the pilot in the forward position and the aft-seated gunner can manage the weapon systems and primary flight controls, switching roles if necessary.
Each crew member's pair of multifunction LCD displays is used to display sensor data and information on internal systems, as well as to interact with the aircraft's systems.
An additional display system is provided with the helmet-mounted display (HMD) – which presents flight and fire data with digitally-enhanced optics to the flying pilot. The HMD also enables the gunner to interact with, and control, the on-board weapon systems and view targeting data.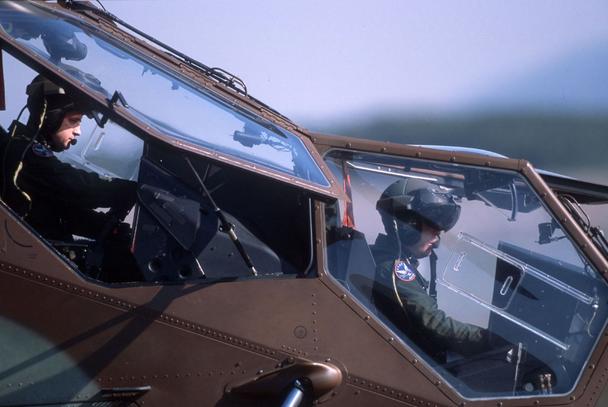 Powerful, modern and capable
The Tiger HAD is highly agile, benefitting from a 13-metre, four-bladed hingeless main rotor. It is likewise powerful, thanks to two enhanced MTR 390 turboshaft engines.
Avionics incorporated on the Tiger HAD are the EUROGRID battlefield management and digital map display systems, integrated radio and satellite communications and data transfer links, an IFF transponder/interrogator, and a high-authority 4-axis digital automatic flight control system.
The gyro-stabilised roof-mounted sight has a TV camera, thermal imager, laser rangefinder, laser designator, and a laser spot tracker capable of simultaneously following up to four targets.
In addition, the Tiger HAD has combat external fuel tanks for longer mission flight times, an extended flight domain in which Spike and Hellfire anti-tank missiles can be fired, and digital communications for the modern digitised battlefield.
Tiger HAD Block 2 helicopters are also "navalised," allowing operations from ships and in maritime environments.
Maintainable in the field
As demonstrated in operational deployments, the Tiger HAD is easy to maintain. It does not require heavy infrastructure for maintenance operations – including engine change – and the need for manpower is limited by design.
Learn more about HCare services.
Survivable
The Tiger HAD's agility during flight, combined with its flat and narrow silhouette, low radar infrared signature and passive weapon system, significantly reduce this helicopter's vulnerability on the battlefield.
Further enhancing survivability are the Tiger HAD's ballistic protection, high crashworthiness and self-sealing tanks, and system architecture with designed-in redundancies and segregation.