Modern and versatile, the H145M offers a wide range of tactical options for battlefield roles.
It offers the crucial capability of delivering troops and materials quickly with minimum delay, can rapidly apply fire power to neutralise or destroy opposing forces, offers support for friendly forces in combat, and is ideal for acquiring information, interpreting and exploiting it.
This high-performance, versatile, rugged and reliable helicopter can be equipped with a large range of equipment and provides outstanding mission flexibility to military operators.
Considered as the reference in its civil version for law enforcement organisations and military services, the H145 is in service with the US Army, which operate its UH-72A Lakota version.
Adaptable for demanding operations
The H145M is the answer to today's most demanding operations for which high versatility, high performance and cost effectiveness are needed.
Superior performance for multirole missions
A key feature of the H145M is the wide range of available optional mission equipment packages that can be rapidly installed and removed, based on the requirements of the mission. Within minutes, the aircraft can be reconfigured from troop transport with seats to a search and rescue mission with rescue hoist and stretchers, or to an armed helicopter with a set of weapons and ballistic protection.
The H145M's power, range, endurance and payload capability provide a variety of deployment possibilities, especially when operating in sand and dust and in high and hot conditions at altitudes of 6,000 feet and temperatures of 95°F/35°C.
Mission readiness of the H145M is furthered by the rotorcraft's two Safran Arriel 2E engines with dual-channel full authority digital engine controls (FADEC) and an upgraded transmission.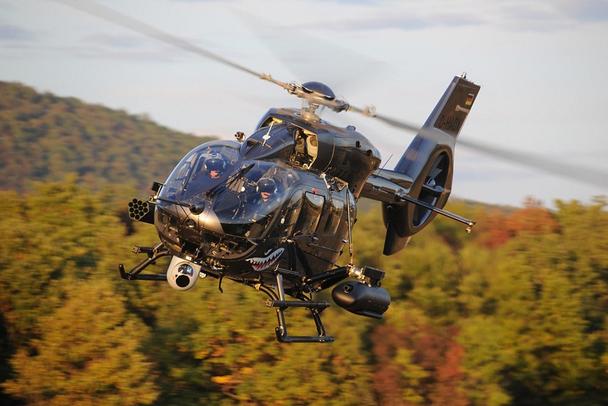 HForce for fire power and accuracy
The H145M can be equipped with Airbus' HForce weapons system – an incremental, modular and cost-efficient weapon system that can be used on any military version of Airbus' civil helicopter range (H125M, H145M and H225M). 
Three different packages are available which increase the capability of the aircraft, from ballistic firing through helmet mounted display, to ballistic firing through electro-optical system (EOS) or guided weapons firing.
Rugged and high tech
The H145M's compact airframe provides a low profile, enhanced by the helicopter's agility in flight and designed-in system redundancy.
Contributing to its survivability are self-sealing fuel tanks, ballistic protection and infrared suppressor, along with crashworthiness designed into the fuselage and seats.
The electronic warfare system and chaff/flare dispensers bring an extra level of protection in high-threat environments.
The H145M is equipped with a modern digital glass cockpit (Airbus' advanced Helionix® avionics suite), is night vision goggle-compatible, and has a 4-axis digital autopilot that drastically reduces pilot workload.
Enhancements include an upgraded transmission system and incorporation of Airbus' signature Fenestron® shrouded tail rotor for improved anti-torque control.
In service as the US Army's light utility helicopter, the UH-72A Lakota version has demonstrated an availability rate of greater than 90%.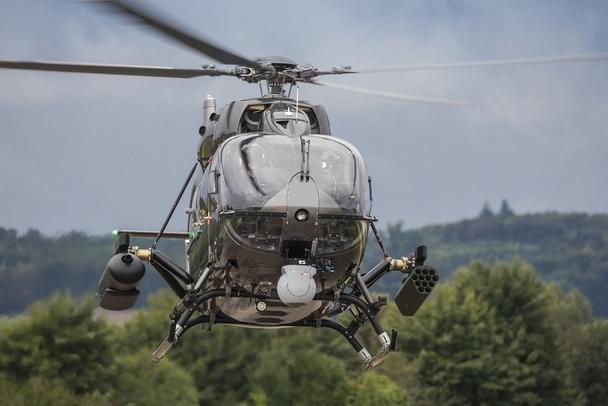 Cost effective
Optimised maintenance and high reliability are key factors for cost effectiveness in demanding operations.