Located in both Rio de Janeiro and Itajuba, the Airbus Helicopters Training Academy Hélibras in Brazil has honed the skills of hundreds of pilots and technicians. The Training Academy's mission is to offer customers services that are best suited to their specific needs, allowing them to perform missions safely and efficiently.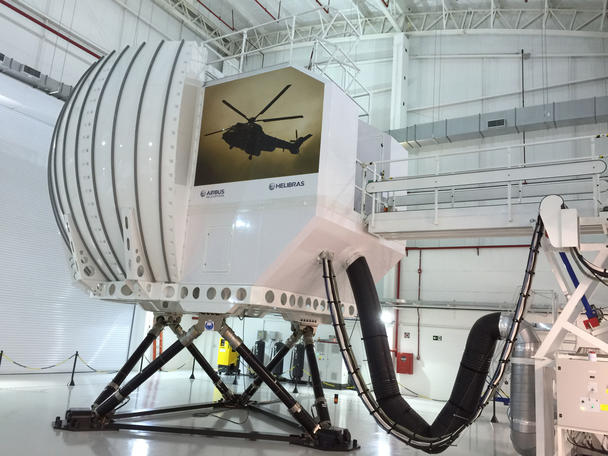 Airbus Helicopters Training Academy Hélibras in Brazil
All training courses are designed to cover the full range of your training needs and can be adapted with the most effective training solutions to meet the needs of each organisation. In Itajubá, the training centre is dedicated to courses for technicians and pilots (theoretical and practical trainings). In Rio de Janeiro, the training centre is dedicated to the Full Flight Simulator.
The team of instructors is composed of experts in their fields with the utmost operational experience and knowledge. The centre is equipped with the latest training means and is approved by Civil Aviation Authorities worldwide. In addition to ground instruction and simulators, flight training averages around 520 flight hours per year.
The Airbus Helicopters Training Academy looks forward to welcoming you.
The course content was very useful, and touched on important points in technical knowledge related to safety standards.
Technician trainee
The program covers topics relevant to emergency training and focuses on what is most important, quickly moving through smaller topics.
Pilot Trainee
I would like to highlight the professionalism, dedication and didactics of the instructor, and highlight the zeal and professionalism of all the training centre employees.
Pilot trainee
Course schedule
Click on the below links to learn more about the courses available in Spain or to request to register.
Contact
Customer assistance & accommodations
Customers can reach us during business hours:
Monday to Friday from 07:00 a.m to 17:00 p.m local time
Phone:  +(35) 2143-4001
Email: centro.treinamento@helibras.com.br                    
HELIBRAS Itajuba – Centro de Treinamento
R. Santos Dumont, 200
Distrito Industrial, Itajubá - MG,
37504-900, Brésil
HELIBRAS Rio de Janeiro – Simulation center
R. Jorn. J Paulo, 1207
Recreio dos Bandeirantes, Rio de Janeiro RJ,
22790-697, Brésil
Learner portal
Free online self-assessment for a successful training experience
At Airbus Helicopters, we are making a constant effort to improve our range of training courses in line with the highest quality and safety standards. For all maintenance and pilot courses, customers will benefit from a free-of-charge online self-assessment on our Learner Portal to ensure the training will perfectly meet their requirements.
---
Training academy network
Click on the location of interest below to see more information.