Forget economy or even business class: imagine being able to design your own cabin. Enter a world of luxury where you get to choose more than just your seat. Where you can feel at home, get down to business, dine in style, or even sleep in total comfort.
Welcome to the exclusive ACJ TwoTwenty creative studio!
This brand new studio - dedicated to ACJ  customers - offers an immersive creative space where you can literally step into a real-size section of the cabin, then take a virtual walk through your imagined space. 
The studio opened in Toulouse, France in May 2022.
 
The designer tour for exclusive travellers 

Great designs are born from inspiration and creativity. And when French contemporary and urban artist Cyril Kongo was invited to design an ACJ TwoTwenty special cabin edition with wow factor, he certainly felt inspired to be part of creating the optimum ambience through art.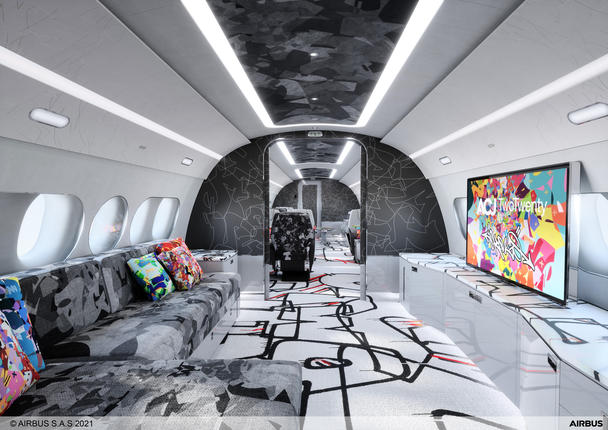 Our ACJ Creative design team accompanies VIP customers on their own creative journey and brings their cabin to life.  Now what if that VIP were you? Come with us and let's help you imagine your perfect cabin.
 
Think about your ideal flight 

What do you most want in your 73m2 (786ft2) of personal space where you can invite up to 19 guests on board? Maybe a high-tech office to video-conference from the air and negotiate that latest deal. Or a comfortable lounge to chill out with family or friends. Ever dreamed of a good flight's rest in a real US king-size bed when you're flying for more than 12 hours? Just add a private and exceptionally quiet bedroom. And to ensure you arrive refreshed after your trip, why not include an en-suite bathroom with a rainfall shower?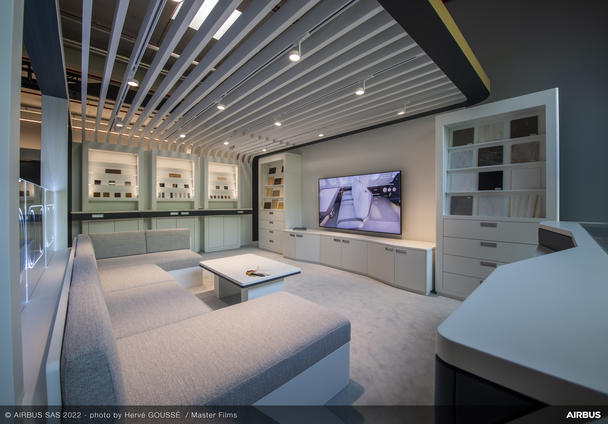 If you prefer to leave the overall look to others, simply choose one of the 3 stylish designs proposed by ACJ. From chic and calm, to modern and contrasting, to serene and natural…you decide.
If you're feeling more creative, we can take some time to explore the options.
And if you are keen to take control, why not try the immersive experience and play around with the options yourself whilst you move around your virtual space?
Let's continue. As you step through the life-size cabin archway, notice how much space there is from one side of the cabin wall to the other, just waiting for you to fill it with your ideas. Then explore different floor plans to compare cabin layouts. 
 
The personal touch

Here in the creative studio's VIP lounge is where you get to add your personal touch, guaranteed to have an instant impact on the lucky ones you invite on board. Whatever your style, the overall VIP experience of the ACJ TwoTwenty will be reflected in the rich textures and fabrics, the subtle lighting, the feeling of space and ultimate comfort.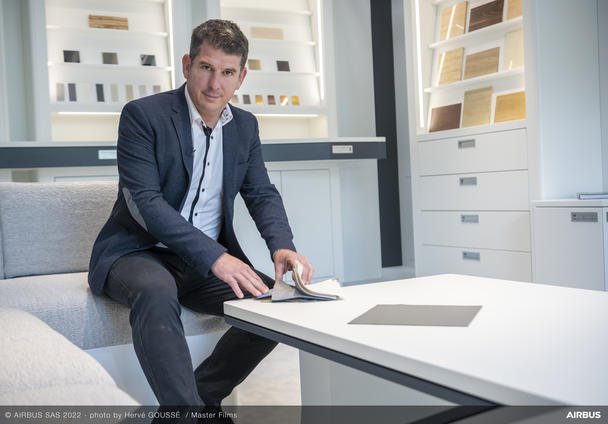 Run your hand over more than 260 samples of soft natural fabrics, plush carpets, smooth wood veneers and cool metal finishings. Study the array of colours under different lighting before deciding your colour schemes for seating, carpets and walls or the wood effects and finishes for the handcrafted cabinets. 

If you are wondering how that polished chrome finish will look with walnut wood tables, just place the samples on the interactive table… and  your cabin design will appear on the tv screen before your eyes. Not convinced by the result? Simply put another sample down to instantly update the image.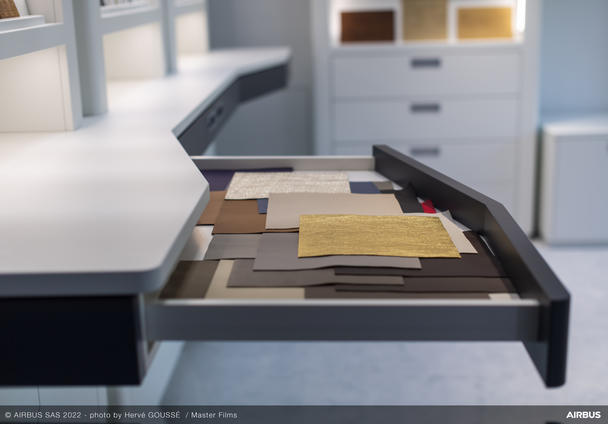 The whole cabin experience - whether for working, dining, relaxing or sleeping - wouldn't be complete without electro-chromatic windows, high-quality multi-media and powerful connectivity. With so many choices, ACJ designers and technical specialists can help guide and advise you along your visit. 
 
The dream enters into service

For customers eagerly awaiting the entry-into-service of the ACJ TwoTwenty in 2023, the brand new creative studio means they can already explore their ideas, see them develop, adjust and review… before finally immersing themselves in their perfect cabin. Lucky them!
And let's just add some specifics for ACJ customers.

For the first time in business aviation, they get an aircraft with twice the space but at the same price point as the largest ultra-long range traditional bizjet, with running costs a third lower. What's incredible is that even with the extra space inside, there is no need to extend parking space outside. This, together with efficient engines and impressive take-off performance, means the aircraft can easily access the smaller airports often favoured by bizjet customers.