The team faced many challenges and constraints in the past, but with support from our head office in Europe and our local management in Singapore, we overcame each hurdle and emerged closer and stronger than ever. At Airbus, I have experienced one of the best team dynamics .
An engineer by training, Edna started her career in the aviation industry in 2006 as a Technical Service Engineer, after graduating with a Bachelor of Mechanical and Production Engineering from the Nanyang Technological University, Singapore.
In 2019, Edna took a leap of faith to take on a role with Airbus as a Customer Programme Manager. Prior to that, Edna assumed multiple roles in logistics, procurement and operations. However, what was missing was the experience of contracts and commercial work.
"The leap of faith paid off. It was a steep learning curve, but also the most exciting part of my career thus far. There are so many helpful colleagues in Airbus who have assisted me along the way", says Edna.
As a Customer Programme Manager under the Flight Hour Services-Tailored Support Package, Edna's team provides all aspects of commercial support to the airline such as fleet management, material management, operations, planning and MRO management.
"Throughout my three years in this role, I was given opportunities to develop myself through on-the-job training and leadership courses. With the different divisions in Airbus, the opportunities to explore new roles are there."
Edna shares two of the most interesting developmental opportunities she had.
First being a trip to Toulouse, France, where she met the extended team in the same programme. "The trip helped me align and internalise the Airbus way of working. The team there guided me through procedures and processes. I got to build my network which allows me to know who I can approach for  various topics," She adds. With this trip, Edna was able to guide her team and provide the best services to our customers.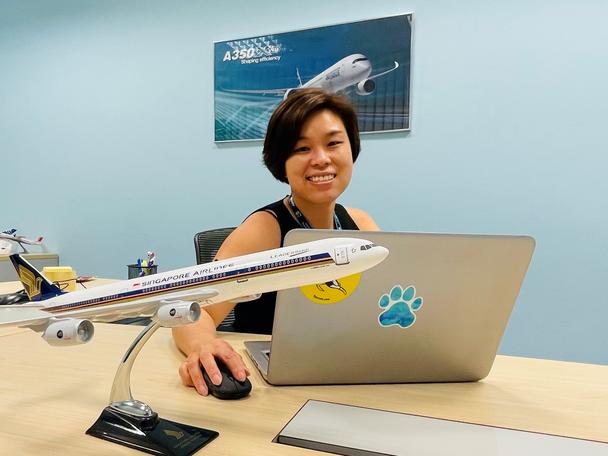 Another interesting opportunity, was one where she was nominated to attend a leadership training.. Through this training, she learnt about self-empowerment,  mindfulness and stress management. She is confident that these skills enable her to be a better leader, communicator and team manager.
"Airbus is one of the dream companies for anyone in the aviation industry. It is every Engineer's dream to join!"
Before joining Airbus, Edna had heard many good reviews about the company and its culture – especially about giving all employees an equal chance to shine based on meritocracy, regardless of gender, race and nationality.
She says it has always been her dream to be part of this big family. "The experience here has surpassed my expectations. At Airbus, you truly feel empowered and see how the organisation lives up to its name in embracing diversity and encouraging inclusiveness."