Article: Belén Morant
Media: Airbus Helicopters; Jonny Carroll; DTX Media
Learn more about the Texas Department of Public Safety (DPS) in Rotor Magazine 118.
When it comes to offering an adequate, effective and rapid response to natural disasters there's no room for improvisation, particularly when a number of different agencies are involved. Tim Ochsner, Chief Pilot of the Texas Department of Public Safety (DPS), explains the key to the success of the SAREX (search and rescue exercise) conducted by more than 20 different agencies since 2015, which has now established itself as the benchmark for rescue training in the US.
How did the need arise to organise rescue training on such a large scale as SAREX?
In 2011, the state of Texas had huge problems with wildfires, and the following years we had two major floods. All the agencies equipped with aerial capability for these kinds of situations were involved: the Army with their Lakotas, our local EMS agencies, the Austin Police Department with their H125 and San Antonio Police Department with an H125 as well…
We all quickly formed a team and worked together out of necessity due to the flooding. We didn't have time to set much up – we just did it.
After those events, we thought we needed to come up with a better plan for training, establish a communication plan and standard operating procedures. We had to establish a cooperation framework that was independent to the parties we tend to work with, because at the end of the day these things can change. That's how the SAREX exercise came about.
How did the SAREX training help to face real-life situations?
We conducted the first SAREX exercise in 2015, and it got bigger and bigger every year. It really helped us to be prepared for Hurricane Harvey in 2017.
Actually, Harvey was one of the largest aviation responses to an incident because of the geographical area involved. There were more than 120 aircraft in the air in south-east Texas and 25 agencies involved.
Thanks to SAREX, we all knew what everyone was going to do and we organised ourselves very easily. All the other agencies that also participated just fitted in with the SAREX plan.
Post Harvey, we have done the SAREX exercise three more times, which helped us to respond to tropical storms in Houston, for example.
Last year, we had 23 agencies participating in the SAREX exercise from various different states.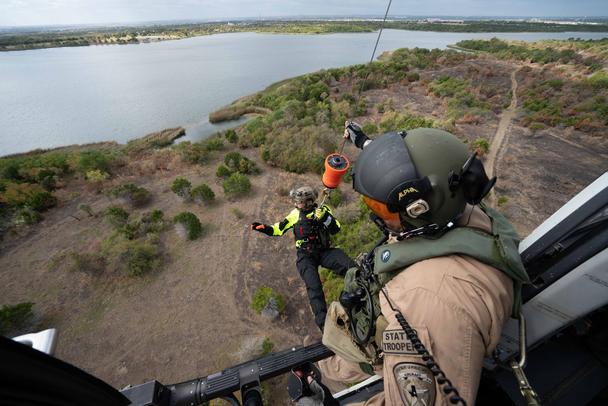 Do you think that exercises like this could be useful for other agencies or other countries?
It is a very good program and we're firm believers in it. We know it's a big undertaking in terms of logistics and support, but it's worth it: It's a great way to discuss communication, coordination, techniques and tactics.
Every time we do these types of exercises, it's like a rehearsal for a big event. You get to know people; you know exactly what kind of communication plan you're going to use and how the logistics will work… When the moment of truth arises, all we have to do is say: "Hey guys, we're doing exactly what we did during SAREX." That really improves safety, efficiency and logistics. 
If any other agencies or organisations are interested in this exercise, we'll be happy to assist them to put something like SAREX in place!