Article: Heather Couthaud
Images: STARS air ambulance
Read more about STARS in Rotor Magazine 118
Greg Barton has been a paramedic for 27 years, 18 of them with STARS, a non-profit air ambulance service headquartered in Calgary, Canada. Rotor asked him what he most enjoys about his job, and the challenges of being a flight paramedic.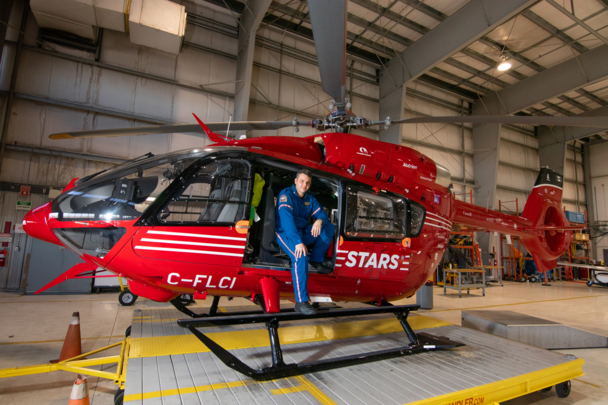 Greg Barton has just arrived for the start of his 12-hour shift as a flight paramedic at STARS. He prepares for his day by completing a crew safety briefing with the pilots and other crew members on for the shift.  Next, aircraft equipment is checked to ensure it is ready for the next mission that may come in. 
Following equipment checks and while waiting for a mission, Barton completes ongoing continuing education and training to ensure he's current with a wide variety of equipment and procedures that he needs to know. He is describing what it takes to become a flight paramedic, treating critically injured or ill patients. "Most people in the paramedics profession have the ability not to become nauseated, since we're trained to work  in a ground ambulance. It's a different environment in a helicopter, where there are so many planes of movement," he says.
Factor in working under stress in extremes of temperature (cold and heat) with a patient under duress, and your next dispatch coming through on the satellite phone.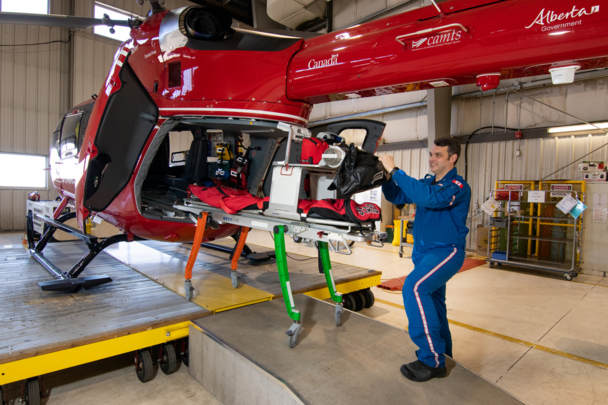 Hard work, big rewards
It's not a predictable job but that's part of what makes it interesting. "You never know what you're going to experience from day to day. The variety comes from the uncertainty of what we deal with and the environments we work in. In Calgary, we could be at 30 degrees Celsius and have to fly into the mountains and end up at a high altitude where it's zero degrees. Also, we're working under a running helicopter, so one of the challenges is the exposure to the elements, not to mention the patient's exposure – trying to keep them warm in a time critical circumstance, where cold is actually bad for them. The best part is being able to make a profound difference in the lives of so many people. Seeing those survivors validates the hard work we've put in and keeps us motivated."
For the vast majority of missions, the two-person medical crew is activated through the Emergency Link Centre and, with the captain and co-pilot, are airborne within eight minutes. A swift routine follows: talking to the ground providers to get an update on the patient's status, landing at the scene, getting a report handover from the EMS crew or helping if there's an extrication. A paramedic may then spend up to half an hour at the scene performing critical care management of the patient before heading  to the nearest trauma centre or hospital. 
Airborne intensive care
STARS paramedics are qualified on procedures  absent from ground ambulances. The H145 is equipped with a ventilator, as well as two units of O-negative blood. Barton and his colleagues are trained to send an ultrasound diagnosis to the trauma centre, for instance. These aren't just frills; the scene of an accident could be several hundred kilometres from help and three hours' journey by ground ambulance. The STARS helicopter is in essence an intensive care unit.  
Which brings Barton back to the helicopter's challenges. "Paramedics need to work in low light conditions – albeit our new H145s are exceptionally well lit – and under focused pressure. We train for that, so we notice all aspects of what's going on in the back of a helicopter."
That's one reason he is able to appreciate the organisation's new fleet. "The H145 is an incredible platform to work on. The ability of our crews to provide care is significantly improved. And the heater's fantastic! It may seem like a small thing, but we work in the cold, and it's an improvement for patient comfort," Barton adds.