As requirements of the Middle East and African space sectors continue to evolve rapidly, a complete range of Airbus products and services are available to meet these regions' needs in telecommunications and Earth observation – as well as for the training of personnel that will operate the satellites in-orbit.
A current example is Egypt's TIBA-1 civil and governmental telecommunications satellite, which is to be orbited on 25 November on an Ariane 5 launcher. Owned and operated by the government of Egypt, TIBA-1 carries a Ka-band relay payload and is designed for an operational lifetime of more than 15 years. Airbus Defence and Space is co-prime contractor for the TIBA-1 spacecraft, as well as the direct customer to the launch services provider for tomorrow's liftoff.  
Airbus' relationships throughout Africa and the Middle East
TIBA-1 continues Airbus' established relationships in Africa and the Middle East region, which have included programmes for such operators as Arabsat in Saudi Arabia, Nilesat in Egypt and Al Yah Satellite Communications in Abu Dhabi. For space-based Earth observation, Airbus' is present through its participation in systems that include ALSAT for Algeria. 
Airbus offers the full scope of capabilities for the Middle East and Africa, from the development of telecom and observation satellites to their production and deployment, along with services and the training of those who will operate the satellites from the ground.
- Eric Truelle, the Satellite Sales Director in the Middle East and Africa for Airbus Defence and Space
Among the Airbus products particularly well adapted to the Middle East and Africa is OneSat – a satellite product line that is fully-reconfigurable in orbit. By using standard building-blocks and a design-to-manufacture approach, the OneSat spacecraft can be delivered more rapidly than any other telecommunications satellite today.
"OneSat is a true game-changer," explained Eric Truelle, the Satellite Sales Director for Airbus Defence and Space in the Middle East and Africa. "The spacecraft is well-suited for operators that may not yet have a long-term view of all their service needs today – enabling them to meet the mission requirements now, and then adapt in terms of coverage, frequency and power…and even the orbital slot…as the needs evolve."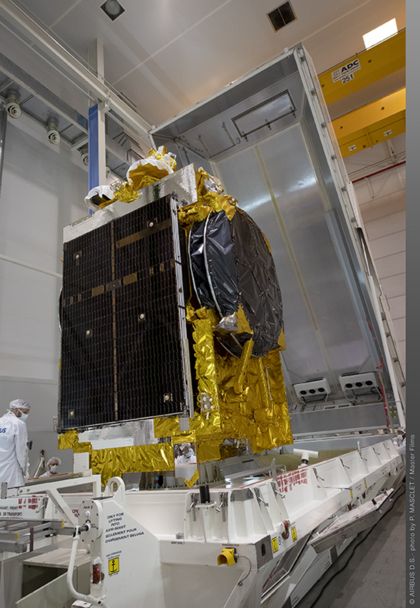 Airbus Defence and Space is co-prime contractor for the TIBA-1 communications spacecraft built for the Government of Egypt
OneSat's heritage from the Eurostar telecom platform
The "ready-made" OneSat satellite relies on Airbus' heritage from its highly reliable Eurostar telecommunications platform, combined with the company's experience in mega-constellation manufacturing – in particular, the "Industry 4.0" manufacturing approach undertaken for the Airbus/OneWeb joint venture that is building hundreds of spacecraft for affordable high-speed Internet access.
Airbus has already signed a contract for its first three OneSat satellites, which will be produced as Inmarsat's next generation of geostationary Ka-band relay platforms: Inmarsat GX7, 8  and 9. 

OneSat
Support services tailored to Airbus customers' needs
Airbus' relationships in the Middle East and Africa extend well beyond the sale of its products, with an important emphasis on support services – including the Airbus Space Academy for customer training. The academy supports customers throughout their learning journey, from newcomers to those with significant experience, by providing technical and operational training while establishing strong links with customers' teams.
Additionally, Airbus brings a partnership approach to the Middle East and Africa, with an emphasis on contributing to the development of next-generation engineers, technicians and decision-makers. 
Preparing for the future with Airbus partnerships 
One of its initiatives in this context is "Future Scientists," a commitment by Airbus to support the United Arab Emirates' diversification strategy through the localisation of skills and knowledge. Conducted in collaboration with the Al Bayt Mitwahid Association, Future Scientists provides young and talented Emirati high school students with an interactive, in-depth learning experience to gain extensive knowledge of the aviation and aerospace industries.