When it comes to electric aircraft design, all conventional rules can be thrown out the window, according to Team NL. The group of engineering graduate students hopes this fresh approach will bring them to victory at Air Race E in their push to explore concepts that were not possible before. 
Rick Boerma has long dreamed of building his own aircraft. By his own admission, he was not sure whether to go with the tried-and-tested technique of thermal combustion or take a novel approach with electric propulsion. The aerospace engineering graduate student, who specialises in structures and materials, finally found a reason to go 100% electric thanks to Air Race E. Not finding a participating team in his area, he opted to form his own, gathering a group of his student friends to build an aircraft "from scratch."
The most interesting aspect of electric flight is that conventional rules can be thrown out the window. New concepts can be explored that weren't possible before.
- Rick Boerma, Head of Team NL
5 questions with Rick Boerma, Head of Team NL
Q. Why did your team decide to enter Air Race E?
I've loved aviation from a young age and started flying gliders at 14. While studying aerospace engineering in university, I began to dream of designing and building my own aircraft. Then I heard about Air Race E. I looked for a team in my area to join, but couldn't find one, so I decided to form my own! 
Q. Can you give us some insight on the aircraft you're currently working on? What is your approach?
We're designing a new aircraft from the ground up specifically for the race. It's a conventional low-wing aircraft with two electric motors that power two contra-rotating propellers. Fun fact: the battery design is no longer driven by the amount of energy required but by the power the batteries can deliver. One important aspect, of course, is obtaining an airworthiness certificate. We're in contact with the Dutch authorities to explore our options.
Q. What sets your team apart in this race?
We're a team of engineering graduate students who are designing our own electric aircraft!
Q. For you, what is the most exciting aspect of the race?
Designing and building the airplane, completely from scratch, with the newest environmentally friendly propulsion technologies available. And with the inaugural competition planned for sometime next year, it will be a race in itself to complete the aircraft on time.
Q. How important is electric flight to the future of aviation?
If we want to reduce the impact of aviation on the environment, electric flight does provide some interesting possibilities, and we've already seen some electric aircraft with remarkable performance. However, I'm not sure if it will be a suitable option for large airliners: batteries are too heavy and hydrogen requires too much volume. But, the most interesting aspect of electric flight is that conventional rules can be thrown out the window. New concepts can be explored that weren't possible before—look at the urban air mobility sector. It's definitely an interesting time in the aerospace industry.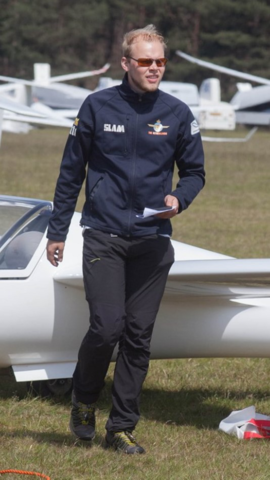 Rick Boerma is head of Team NL, a participating team in Air Race E, which will become the world's first all-electric airplane race when it launches its inaugural series of international races in 2020. The demand for speed, performance and power management under the rigors of a competitive race environment provides the perfect platform for the development and promotion of cleaner, faster and more technologically advanced electric motors. Airbus is the Official Founding Partner of the series.