Article: Heather Couthaud - Photos: Airbus Helicopters/Anthony Pechi. Article adapted from Rotor magazine #115.
Over the past 18 years, Heli Austria has expanded their fleet of Airbus helicopters for HEMS, heliskiing and aerial work.
"When you grow fast as a company, you hire guys with outside experience, but they still need training for this area because it's special. Weather, geography… it's the same air but the whole thing around you is special."
Roy Knaus is talking about flying in the Austrian Alps, where his company Heli Austria, a multi-mission helicopter operator, is based. Knaus is the second-generation owner and CEO of Heli Austria after his father, Johann Knaus, founded the company in 1982 in St. Johann im Pongau, 35 miles south of Salzburg. In 1997, Roy took over the business, acquired additional bases throughout and beyond the borders of Austria, and gradually expanded the fleet to its present 30 helicopters.
Multi-mission
Under Roy's watch, the company branched into different types of operations. "We try to be progressive and forward thinking, and see where we can find our market opportunities," he says. In winter, helicopter emergency medical services (HEMS), avalanche blasting, heliskiing and sightseeing keep them busy; in other seasons, the fleet adds utility work, long-line and sling operations, and firefighting to their roster. Most recently, they sent two H125s and one H130 to Iceland for heliskiing and sightseeing tours.
In summer, Heli Austria will deploy an AS355 to meet a demand for twin-engine, multi-mission capability in Iceland. This is one of the operator's strengths: a large portfolio of helicopters to meet a range of needs. Their most recent acquisitions include ten H125s, two H130s and in November 2019, their first H145.
"The performance of the H125 is very good and so is its total usability as a utility platform. It is a stable aircraft for aerial work and logging. The H130 is better for passenger transport, with a better experience for passengers," says Knaus. The H145 in its turn will complement the twin-engine members of the fleet.
The performance of the H125 is very good and so is its total usability as a utility platform.
- Roy Knaus, CEO of Heli Austria.
Special equipment
"We have our own design organisation because we make minor changes and STCs so we can adapt the helicopters to what we need operationally," says Knaus. Such modifications include upgrading four repurposed Super Pumas with new Garmin equipment and long line releases for utility work, and certifying the fleet with tactical radios. "Safety is important for us, so our helicopters have cable cutters, a lot have UMS systems, and we ordered our new aircraft with crash-resistant fuel tanks. Airbus offers a retrofit kit, so we ordered the retrofit for our other aircraft, too." 
Firefighting
Where: Sardinia
When: summer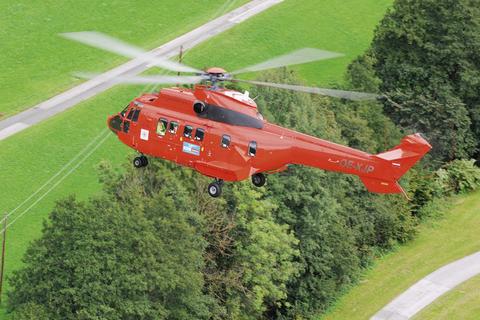 Mission: In 2016, Heli Austria acquired four H215 Super Pumas which they converted for heavylift aerial work and firefighting. "In 2016, we deployed the Super Puma to Sardinia for firefighting, and in the meantime we have received a three-year contract with the island. The Sardinia customer liked the performance of the Super Puma, especially with the big Bambi bucket carrying 4,000 litres of water. With its fuel consumption, it can stay on the fire about three hours. And with its speed, it arrives quite quickly to the fire."
Heliskiing
Where: Iceland
When: winter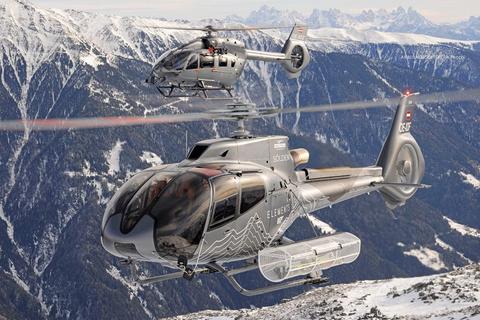 Mission: "Heliskiing usually involves several groups of people per helicopter. One group is up to four people plus the guide," says Knaus. "The helicopter needs a ski basket and bear paws [on the skids]. The pilots have a lot of different spots on the mountain where they bring the group. When they're on the top of the mountain, the helicopter descends and waits. There are some places where it is close to the sea, which is a very special element about the heliskiing in Iceland. Another specialty is you get very long days in summer, so customers want to enjoy the skiing as much as possible." 
Snow blasting
Where: Austria
When: Winter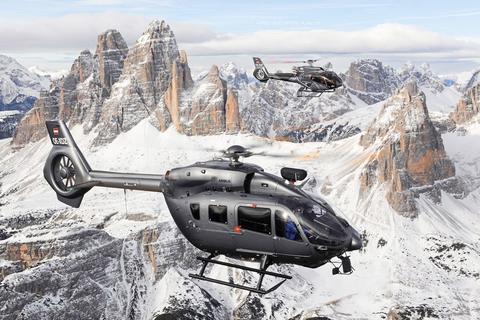 Mission: "In January 2019, we had a lot of snow in a short period. We had so much snow that the trees were hanging into the roads and in order to be able to open roads, we were washing the snow off the trees with the downwash from the helicopters. We did that for power lines; we did it for the railroad companies, because they were in danger of closing the railroads. We did it for ski resorts, because all the trees were hanging into the trails. One day, we had three Super Pumas flying, and another day, 20 helicopters were flying from our total fleet. We flew close to 500 flight hours within one week."
About Heli Austria
Founded: 1982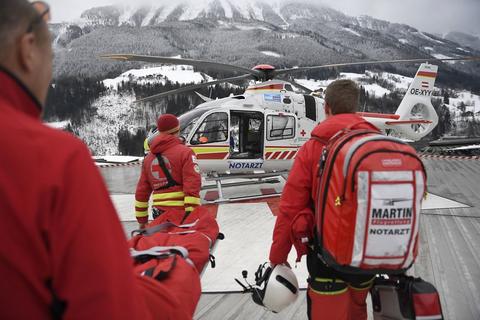 Base: St. Johann im Pongau, Austria
Fleet:  30 helicopters, of which 2 x AS355, 12 x H125/H130, 6 x H135, 1x H145, and 4 x H215 
Staff: 40 pilots, 150 full-time staff including inhouse maintenance and design/STC organisation
Operates in: Austria, Italy, Switzerland, Germany, Iceland, France, Croatia, Poland, Sweden, Norway, Belgium, Spain
Missions:  HEMS, aerial work, avalanche blasting, heliskiing, firefighting, passenger transport, sightseeing, aerial photography