Historically, the aerospace industry was dominated by men – yet each generation of women successfully reduced the barriers, opening the field to more of their gender, accessing previously unavailable careers and gaining recognition for their contributions. More are joining the industry every year, and Airbus is at the forefront of advancing women in the workplace and developing female talent, helping to redefine the future of aerospace within the company and across the industry through partnerships and other initiatives.
To celebrate International Women's Day, observed around the world today, and to recognise some of the talented women leading the way in aerospace, Airbus is featuring industry executives and a test pilot who discuss their professional lives in the helicopter sector. 
Andrea Robertson – President and Chief Executive Officer, STARS (Canada)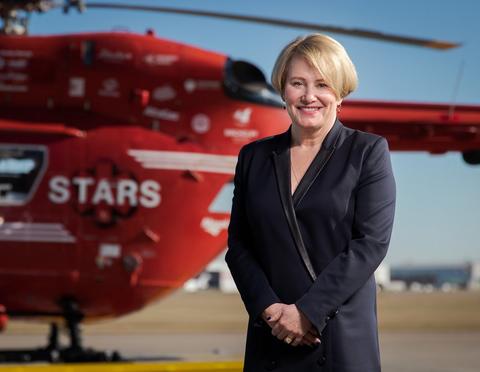 Andrea Robertson's career has been a life-long commitment to healthcare. Starting as a nurse in critical care, she progressively assumed leadership roles in the industry, from director of a number of critical care programmes to the chief nurse of the Canadian province of Alberta and to vice president positions that allowed her to run hospitals and even plan the development of a new type of hospital facility. Robertson serves as the president and CEO of STARS, an organisation that combines healthcare and aviation, allowing her to go back to her roots of critical care – while using helicopters to achieve the company's healthcare goals. STARS, where Robertson has spent eight years, delivers critical care across three provinces in Canada and positions itself primarily in the field of saving lives – with aviation helping it fulfil this mission.
Robertson's academic achievements include a bachelor's degree in nursing, a master's in healthcare administration, completion of an executive fellowship from Wharton University and Ivey School of Business, as well as an executive leadership program at Harvard.
Andrea Robertson (STARS) on finding balance in work at the intersection of two industries – healthcare and aviation:
"Aviation is far more complex than I realised when I came to the industry; it was a huge learning curve just to understand all the intricacies, regulations and safety requirements – which are absolutely imperative in rotary-wing aviation. We spend a significant amount of time and effort on this, and invest a great deal of money in safety – and aviation safety in particular. The beauty of bringing aviation and medicine together is that we learn a lot from each other in terms of safety and how it can be improved. The STARS team is very tightly knit, and we do a lot of situational and safety training. Crew resource management and keeping the mission safe are very important goals, and there are some real benefits of running two very complex and risky organisations together."
Andrea Robertson (STARS) on the proudest moments in her work:
"This job is pretty unique: our teams are extraordinary, and what we do at STARS impacts so many people. When we airlift a critical care patient, it usually is the worst day of that person's life – and the effect our help has on their family is unbelievably impactful. And when I look at our crews and what they achieve every day…when I reflect on our entire team and the impact it has on so many people's lives – this is my proudest moment, that we can pull this all together and continue to provide care. It is astounding to hear our patients tell their story and to know that the reason they survived is because our teams are so incredible."
Maura Hughes – Chief Executive Officer, Boston MedFlight (USA)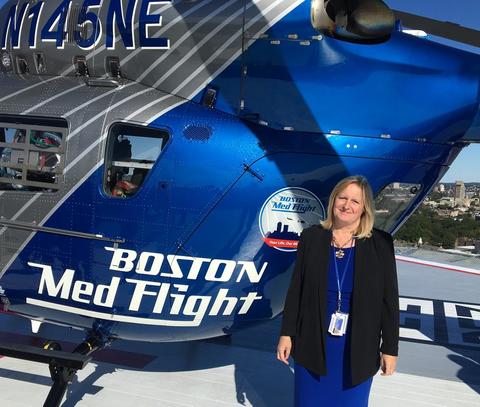 With an undergraduate degree in accounting and an MBA in Finance, Maura Hughes began her career as a public accountant. In this role, she audited a number of non-profit organisations, which gave her an appreciation for everything they do – and resonated with her own values and professional aspirations. Having audited Boston MedFlight as one of her clients during her accounting career, Hughes took the opportunity to join the company when they were looking for someone for the finance role, as the organisation's goals aligned with her own principles. As a result, Hughes has been with the critical care transport company for over two decades – serving as Chief Financial Officer for the first 18 years and as Chief Executive Officer for the past three. She helped grow Boston MedFlight from a small-scale patient care non-profit to an organisation with over 160 staff and flying five helicopters and a fixed-wing aircraft, along with seven ground ambulances.
Maura Hughes (Boston MedFlight) on finding her place in the industry and how aviation benefits her work:
"When I was in public accounting, my auditing of many non-profit organisations gave me a real appreciation for everything that non-profits do for individuals – and I realised that I wanted to be a part of that. It was a natural fit for me to work for a mission-driven non-profit organisation like Boston MedFlight (which was one of the organisations I audited as an accountant).
This industry is very rewarding. Working at Boston MedFlight, I am fortunate to have the opportunity to talk to patients and their families, who are all so grateful for the services we provide and the change we make in their lives. This work is about the mission and making sure we have the best staff, training and equipment in addition to investing in safety and technology. And aviation is an important tool that helps us care for our patients and achieve our healthcare goals."
Maura Hughes (Boston MedFlight) on improving gender equality in the industry:
"If we are going to move the industry forward, we need to have more women in senior roles. I think it is very important to have female leaders – and show other women that there is a real career path for them and that they can achieve great things in their careers in general as well as at a specific organisation. It is much more meaningful to say that our CEO, CFO, Chief of Human Resources and our Chief Pilot are all women – because then others can see that women have a say in the organisation and have opportunities to grow within the company. It is very important to show young women who are starting work that they can have a very rewarding career path and encourage them to strive for professional development and growth, knowing it is possible."
"Sophie" – test pilot for the Direction Générale de l'Armement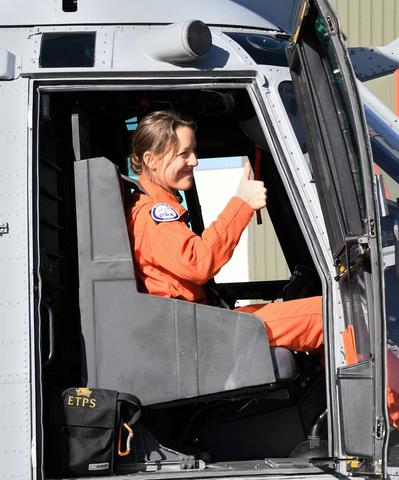 Having studied aeronautics at the l'École nationale supérieure l'aéronautique et de l'espace, Sophie today is the first French woman helicopter test pilot for the Direction générale de l'armement ("DGA," the French Defense Procurement Agency). Her first job after graduating school was at Airbus Helicopters, where she worked on the H225 cockpit in the design office. After a year, she applied for the French Air Force and expressed a keen desire to pilot helicopters. She performed CSAR (Combat Search and Rescue) missions, had two tours in Afghanistan on the Caracal and finally flew VIP missions for top political officials in Paris. After applying to be a test pilot, she went to the Empire Test Pilots' School (ETPS) in the UK where she received her diploma. Earlier this year, Sophie was hired as a test pilot at DGA Flight Testing in France.
"Sophie" on what has been her most career-defining moment
"Each step was really important and each one had an equally strong impact on me: my first day at Airbus Helicopters, my first days on mission in Afghanistan, the first time I transported VIPs such as the President, and of course the year of schooling to become a test pilot. Each step was important in its own right – a brick in the foundation on which I've built my career."
"Sophie" on the biggest challenges facing women in this industry
"I don't think we're really in an era where we can still be considered 'pioneers' in this industry – there are so many female pilots today! The ratio between men and women, while not perfect, has gotten a lot better. This is a career that is open to women should they choose to pursue it. The challenges are not any different than the ones men face: we have to learn the same things as our male colleagues, we have to work just as hard and we have to integrate into the team just the same… My own opinion on it is that in this job, we are equal to men. I'm just another pilot – yes I am a woman – but I'm mainly just another pilot at the end of the day here!"
What advice they would give to someone starting a career in aviation:
Andrea Robertson: "If this is your passion – follow it. You do not see many pilots who stopped being pilots, as this is what they love doing. If you have a career in aviation, whether as an engineer or a pilot or in administration, if that is your passion – the rewards of pursuing it are phenomenal, even if aviation takes a lot of dedication and commitment."
Maura Hughes: "Look at the organisation you want to work for and make sure your values are in line with those of the organisation – it will help you grow with the company. Look at who your mentors are going to be – because no one is getting where they are going without a mentor to help and guide them."
"Sophie": "Improving equality in this sector is a question of allowing young girls today to think to themselves that yes, I can do that too! There are other women doing this which means that I can as well! You don't have to be a superhuman to be a pilot. I think we should stop saying that it's exceptional that a woman does this kind of job and rather – it's perfectly normal that a woman does this job! So that young girls understand that they too can do this should they want to."