With a workforce of some 134,000 people – and activities that range from the manufacture of aircraft, helicopters and spacecraft to delivering security and communications solutions – Airbus offers a true variety of career opportunities.
Adil Soubki, for example, is a data scientist at Airbus' Flight and Integration Test Centre, a job created by the company a year ago. When flight test specialists cannot find the cause of an aircraft engine or system problem, they turn to Soubki.
Soubki and three data analyst colleagues work at an integrated grouping known as the Digital Factory Plateau in focussing on predictive maintenance, anomaly detection and root cause analysis. "Last year, we mainly worked on writing algorithms to detect abnormalities," he says. "This year, our team is building a search engine for flight test and certification data."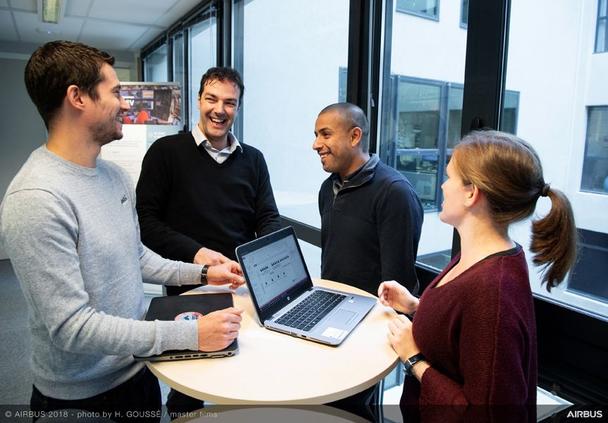 As an Airbus data scientist, Adil Soubki (second from right) relies on collaboration and dialogue with teammates and experts.
Timeline
Soubki's results are promising, according to Pallarols. "He generated an ultra-performing model that can open doors to other cases," she added. "I've now asked him to run the algorithm on all production aircraft: in this way, we can obtain a clearer picture, as we will be analysing hundreds of flights." 
I love solving problems. I continuously learn more about aircraft because I work with specialists.
- Adil Soubki, a data scientist at the Flight and Integration Test Centre