Determining the best way to maintain, repair or replace an aircraft component in crowded or tight environments – such as the avionics compartment or an engine pylon – could be a challenge. With digital technologies, it's as easy as putting on a pair of virtual reality glasses.
​Virtual reality (VR) brings real benefits and value, making it possible to simulate and reproduce situations in a safe environment that would otherwise be costly, complex or even dangerous. In recent years, virtual and augmented reality have become more mobile and easier to use than ever, creating the potential to completely transform many areas of business.
Airbus has been at the forefront of virtual and augmented reality technologies in the industry, implementing VR software tools throughout the aircraft design process, as well as on the digital shop floor and for inspection purposes. 
Adapting existing Airbus VR programmes for new maintenance operations
During an aircraft's design and development phases – and when modifications or updates are implemented – Airbus engineers need to check and improve the feasibility of the related maintenance activities. The aim is to support high levels of operational reliability and minimise direct maintenance costs for airlines.
This has generally been done with traditional digital technologies such as CATIA (a computer-based modelling system), and the DMU (digital mock-up). Depending on the situation, physical verification also can be performed on the aircraft for more complicated items and processes at a later phase in the development. The downsides of these traditional verification methods are their requirements in cost, time and engineers' experience.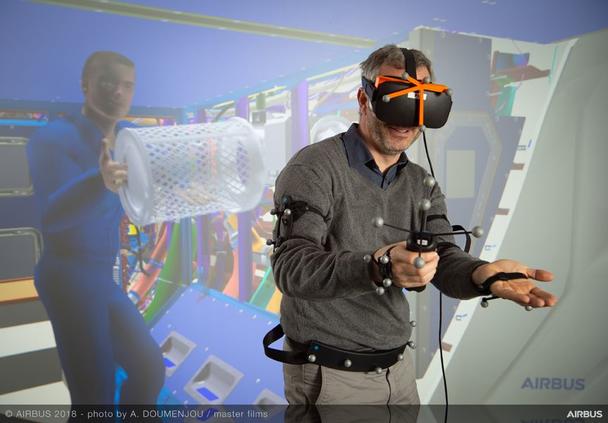 To seek more efficient maintenance validation methods, Stephane Benazet, Head of Fuselage and Pylon Operability and Design Maturity, worked with Airbus' IT teams to explore new technologies – partnering with augmented and virtual reality architect Xavier Laville to adapt existing Airbus virtual reality programmes in meeting the needs of an operability engineer.
For many years, Airbus' RHEA (Realistic Human Experiment Analysis) rooms have offered a full-scale, immersive experience based on the aircraft's digital mock-up – where cameras are used to track sensors installed on the user's arms and legs, while the headset accurately displays the body movements. Now, the team has created a "portable RHEA" kit that includes a virtual reality mask, touch pads and two infrared cameras, allowing users to work in a similar immersive environment without leaving their desks.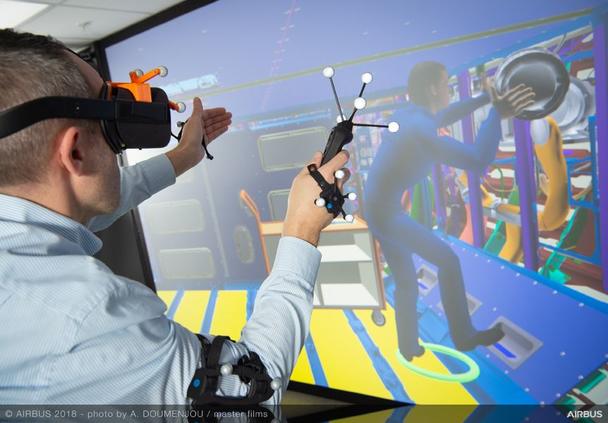 Virtual reality is truly helping us with our real daily tasks, while reducing time and costs.
- Stephane Benazet, Head of Fuselage and Pylon Operability and Design Maturity
"This technology puts you in the place of an airline mechanic," explains Benazet. "If there's an issue that does not let you gain access or remove a component – the system won't let you do it."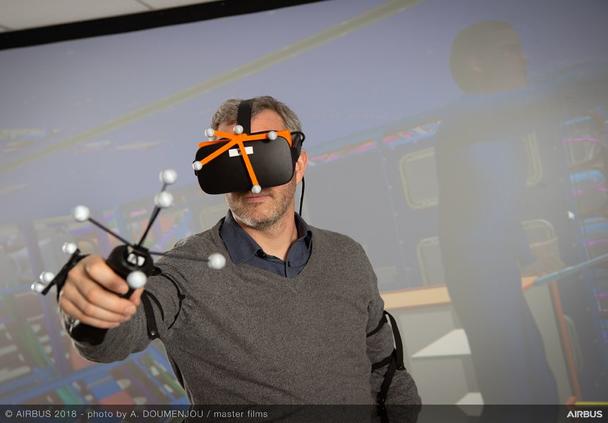 In addition to portability, the VR-based system has further advantages: learning how to use it takes just one day. "The feedback has been great," says Laville. "It's a beautiful technology that enables users to perform verification and validation activities in just 25% of the time needed for traditional CATIA and DMU methods."
Training and deployment are set to begin in 2019. "We can optimise procedures and tasks included in service bulletins – such as those before launching retrofits on in-service aircraft, for pre-design, or for system architecture reviews," added Benazet. "We have engineers in multiple countries, so the portability and accessibility of RHEA lets us deploy the system wherever we have people, reducing onboard physical verification."