Article: Heather Couthaud - Photos: Fishtail Air and Air Dynasty. 
Article adapted from Rotor magazine #112.
The challenges of climbing in the Himalayas are legendary. So are the challenges of flying there, yet many a climber owes thanks to the H125 and its pilots.
"Our pilots have to take precautions," says Suman Pandey, CEO of Fishtail Air. "There are many things they need to be careful of."
Flying in the Himalayan mountains is no picnic, yet the pilots and helicopters that carry out thousands of mountain rescues annually play an essential role there. Every year, people come to Nepal to experience one of Earth's most extreme environments. Mount Everest, at 29,029 feet (8,848 m), draws high-altitude climbers and trekkers. With no road transportation to Lukla's TenzingHillary Airport – the staging point for Everest expeditions – air transport is the only way travelers can make the trip from Kathmandu—or be evacuated back. Flights are a technical feat, as the majority of rescues are at altitudes from 12,000 to 17,000 feet. Many more take place from Everest's Base Camp 2, at 21,000 feet (6,400 m).  
CHALLENGES TO MAN AND MACHINE
"Our pilots have to be careful about altitude, so they go oxygen-equipped before taking off," says Pandey. "They have to be careful of the wind. When there is snow on the ground, there are problems with light reflections. They have to be careful at the landing area, and the hardness of the ground." The pilots' physical burdens are matched by those placed on the aircraft. To perform at such a high density altitude, the helicopters can't be too heavy, so they take off from Kathmandu with marginal fuel and refuel on their return journey. Engines are kept running during rescues. Takeoffs are done into a head wind to help with lift, since many landing spots are in a bowl in the mountainside, surrounded by peaks.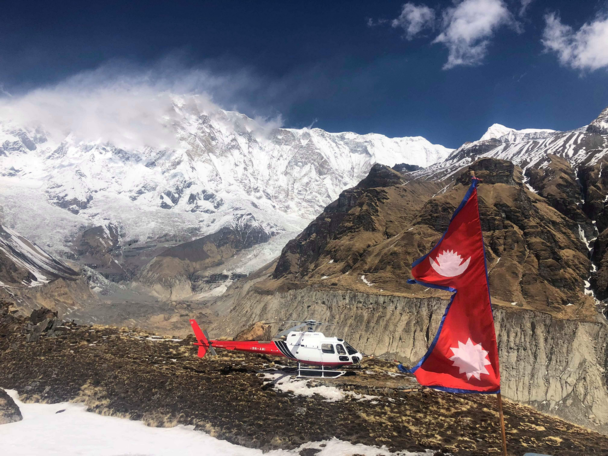 The H125 is the best machine that I've flown in my 14 years as a pilot.
- Shashwot Dulal, captain with Air Dynasty.
NOT FOR THE FAINT OF HEART
The majority of rescues happen during the fall and spring, yet operators undertake missions year-round. Climbers succumb to frost bite, heat exhaustion (spots on the mountain can reach 90 °F or 20 to 30 °C), snow blindness, and altitude sickness. "We have people who get sick in the high altitude and our main mission is to bring them down," says Pandey. "Some fall and have accidents. Some get lost and we do search and rescue evacuation. Some are stuck at high altitudes, including Annapurna rescues [another Himalayan peak], and we evacuate them at different elevations, and by using a long line."
The H125 is the acknowledged pro, comprising 85% of the light single-engine fleet in Nepal. "The H125 is the best machine that I've flown in my 14 years as a pilot," says Shashwot Dulal, a captain with operator Air Dynasty. "It has good performance. At Camp 2, it's difficult to carry anything but we always have engine power, so we can rescue from those altitudes."
For Dulal, one rescue stands out. "I conducted a flight at Lobuche, at around 16,000 feet," says Dulal. "The climber had broken her leg and was suffering from altitude sickness. The weather was really bad. I took off from under the clouds and went to the glacier. It took time to bring up the passenger and I saw the clouds starting to come in, and almost impossible conditions. We always do a takeoff into the wind but that time, I had to take off tailwind, and I had to use a lot of power to climb. It was a big challenge for me, bad weather at 16,000 feet and a critical patient on board. I could have waited, but the patient would not have been in a good condition, so I came down to Lukla and back to Kathmandu. That was really a top mission for me."