Since its establishment in 2007, Airbus Helicopters Singapore has become the reference training centre for Airbus Helicopters in South East Asia.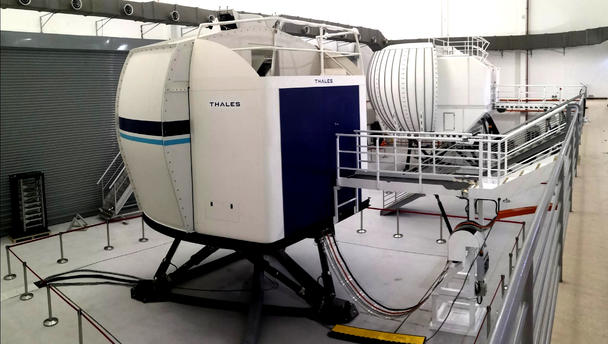 Airbus Helicopters in Singapore
Our training center works hand-in-hand with Airbus Helicopters Malaysia to ensure high-quality training services for customers around the world. Through this joint effort, 8 pilot instructors and 7 technician instructors qualify more than 500 trainees with more than 600 flight hours and 800 simulation hours each year. Our training center is equipped with the latest training means and is approved by Civil Aviation Authorities worldwide.
Travel information
Required documentation
For pilot and technician training:
Completed bio-data form
Scanned copy of passport
Scanned copy of license
For pilot training only
Copy of medical certificate
Visa Procedures
Trainees will receive letter of indemnity from our training centre and trainees will have to apply for their own visa if required.
Course timetable
Monday to Thursday: 8:30am to 5:30pm
Friday: 8:30pm to 5:30pm    
On your first day
Reporting time will be at 8:30am at the main entrance of the Training Academy.
Please inform the security guard that you are coming for training and he will direct you to the company reception area. The receptionist on duty will show you the way to our training centre and your instructor will be there to welcome you.
Pick-up information
Customers can take a taxi from their hotel to Airbus Helicopters South East Asia Training Centre or a bus service 117 from Punggol MRT station (North East Line) and bus service 103 from Serangoon MRT station (Circle and North East Line). A right at bus stop 68091 after Baker street and follow the shelter walkway to Airbus Helicopters South East Asia Training Centre A.
Daily Shuttle
There is a complimentary morning shuttle from our partnering hotels to pick you up in the morning. For more information on travel arrangements, please contact our main reception Monday to Friday from 8:30am to 5:30pm.
Tel.: +65 6592 7110
Our Training Centre is pleased to help you book a hotel for your stay with us. Please note that you can benefit from preferred rates in our partner hotels. Please contact us for any assistance, booking or additional information.
Opening hours: Monday to Friday: 8:30am to 5:30pm
Tel.: +65 6592 7110
Lunch is included in your training package at the pantry, located on our training campus and special menu is available upon request. During your breaks, snacks and beverages are availble in our lounge. This area has free Wi-Fi access.
Prohibited items on Airbus site
Alcoholic drinks, toxic and explosive substances
Weapons
Inappropriate clothes, such as shorts and flip-flops
There are sectors with restricted access, being allowed only with prior authorization
Smoking policy
Smoking is permitted only in designated areas. Please ask for the list of areas at the Welcome Reception.
Safety equipment
For practical training, protective equipment is mandatory for safety reasons.
• Technician trainees must wear safety shoes in the Maintenance Building and other safety equipment when indicated.
• For flight instruction, pilot trainees must wear protective equipment according to regulations on the specific type of flight.
• For simulator training, a simulator safety instruction will be given during your check-in at the reception counter.
Electricity
In Singapore, following electrical sockets are used: Type G. if your electrical appliance's plug doesn't match the shape of these sockets, you will need a travel plug adapter.
Voltage: 230 Volt
Frequency: 50 Hz
Currency
The Dollar ($) is the official currency in Singapore.
The most accepted credit cards are ©Visa and © Mastercard.
Please note that bank notes bigger than $1000 are usually not accepted.
You can pay by cash, and credit cards are accepted almost everywhere (most shops might require a minimum amount to pay by credit card).
Phone & Internet
There are 3 main telecom operators in Singapore:
• SingTel
• M1
• Starhub
You can buy prepaid sim cards if you have a sim-free mobile phone and they usually come with data plan for internet connection to your smartphone.
In general, hotels, shopping malls, restaurants and stores have free Wifi connection available
Contacts
Customer Assistance & Accommodation
For all matters, customers can contact our welcome reception
during opening hours: Monday to Friday from 8:30am to 5:30pm.
Phone: +65 6592 7110
Location
Airbus Helicopters Southeast Asia Training Centre is located 19
km from Changi International Airport.
AIRBUS HELICOPTERS SOUTH EAST ASIA
110 Seletar Aerospace View, Singapore 797562