Airbus Helicopters has established its presence in Malaysia since the opening of the Simulation Center in 2013 with the aim of getting closer to local customers and providing them with state-of-the-art training means and associated services.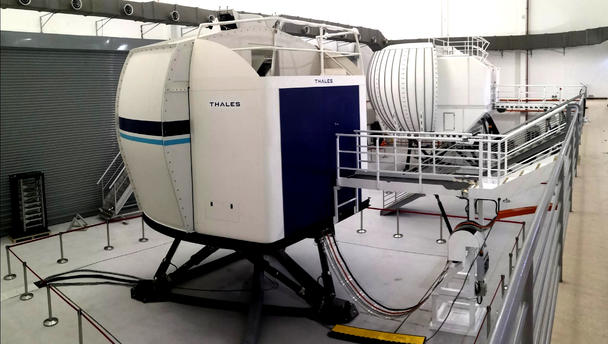 Airbus Helicopters in Malaysia
Since 2013, our team of experienced instructors has qualified more than 2,200 pilots and registered in total 18,000 hours of flight simulation on AS365 and H225. Both simulators are equipped with OEM Datapack and are approved by EASA. Today, our Simulation Center in Malaysia enjoys the confidence of more than 40 organizations in 25 countries.
Simulator Training
AS365 Simulator FFS B/FTD Level3
H225 Simulator FFS B/ FTD Level 3
Travel Information
Required documentation
• Security Clearance Form
Foreign pilots undergoing training in Malaysia must fill and submit this form at least one month before training starts
• Pilot Registration Form
Pilots attending a WET training must fill and submit this form with the following documents attached at least one month before training starts
- Medical certificate
- Pilot license with type ratings
- Last page of pilot log book
- Copy of passport in colour
Visa Procedures
Trainees from outside Malaysia shall check whether or not a visa is required.
Trainees who need an official letter of invitation in order to obtain visa shall request this document by mail with the following information:
• Full name
• Date of training
• Title of training course
• Passport number
Please send your details and request for the letter of invitation to list.sim-cust-support.ahm@airbus.com.
Course timetable
Monday to Friday: 8:30am to 5:30pm
On your first day
On the first day of class, please enter our facility through the main entrance and check in with our customer service, in order to pick up your access card, welcome kit and simple briefing about the facility. Access card is to be returned to the front desk or dropped into the white box at the entrance on your last day of training.
Internet access
Customers and visitors will be given the terms and conditions of WIFI access during check-in. Please sign and return the form to the reception desk.
Pick-up information
If your company has chosen our hotel and transport package which include the pick-up service at the airport, a driver will wait for you at the airport terminal after the arrival of your flight, displaying an "Airbus Helicopters" sign. Please get in contact with your supervisor to get more details.
Detailed information will be sent to your mailbox through the crew briefing.
Daily shuttle
If you are not taking our hotel and transportation package, a daily shuttle can be available upon request at the reception counter within the list of partner hotels.
Taxi
If you need taxi services, our Welcome Reception will be pleased to make arrangements.
Tel. : +60 (3) 7848 7800
email: Request help for accommodation (list.sim-cust-support.ahm@airbus.com)
Our Welcome Reception is pleased to help you book a hotel for your stay with us.
Please contact us for any assistance, booking or additional information.
Opening hours: Monday to Friday: 8:30am to 5:30pm
Tel. : +60 (3) 7848 7800
email: Request help for accommodation (list.sim-cust-support.ahm@airbus.com)
The pantry is available for lunch purposes and are serving only Halal food. Please inform us of any food allergies or special dietary requirements. Do help yourself with the complimentary soft drink and juices in the fridge at our customer pantry. Light refreshment will be served every day after 3pm. There is also a customer lounge on the 1st floor, along with a customer resting corner situated on the 2nd floor.
Prohibited items on Airbus site
Alcoholic drinks, toxic and explosive substances
Weapons
Inappropriate clothes, such as shorts and flip-flops
There are sectors with restricted access, being allowed only with prior authorization
Smoking policy
Smoking is permitted only in designated areas. Please ask for the list of areas at the Welcome Reception.
Access card
Customers and visitors are given an access card on their arrival at the Welcome Reception. The pass gives access to the training area only.
Please make sure you carry the access card with you any time during your stay in the Training Centre.
If you arrive by car and you need a parking lot, please send your request to our reception.
Safety equipment
For practical training, protective equipment is mandatory for safety reasons.
• Technician trainees must wear safety shoes in the Maintenance Building and other safety equipment when indicated.
• For flight instruction, pilot trainees must wear protective equipment according to regulations on the specific type of flight.
• For simulator training, a simulator safety instruction will be given during your check-in at the reception counter.
Contacts
Customer assistance & accommodations
Customers can reach us during business hours: Monday to Friday, from 8:30 a.m. to 5:30 p.m. local time (France)
Customer Assistance & Accommodation
Phone: +33 4 42 85 68 75
Training sales department
Location
Airbus Helicopters Malaysia is located approximately 24.6 km from Kuala Lumpur City Centre and 58.2 km from Kuala Lumpur International Airport (KLIA).
Airbus Helicopters Training Academy
AIRBUS HELICOPTERS SIMULATION CENTER SDN BHD
Helicopter Centre
Malaysia International Aerospace Center (MIAC)
Sultan Abdul Aziz Shah Airport
47200 Subang, Selangor, MALAYSIA
Learner Portal
Free online self-assessment for a successful training experience
Future trainees can benefit from a free online self-assessment in order to evaluate their pre-requisites and familiarise themselves with the course level.