Applications are now open! 
About
At Airbus our people work with passion and determination to build and create amazing products – perhaps an aircraft you may already have flown on, or the satellites that help keep you connected! We look for people who have a passion for learning and want to work in an industry that is always looking to the future.
The highly technical nature of the aerospace industry has created a huge demand for skilled and qualified specialists in the UK. That is why, at Airbus, we have carefully designed our apprenticeship programmes to give you valuable practical training while you complete your studies.
Our programmes provide a clear route for you to make your career fly.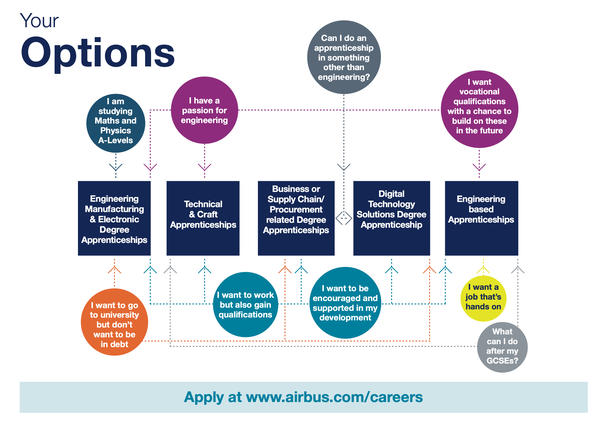 A Degree Apprenticeship is a fantastic opportunity to undertake a degree with one of our many Educational Partners whilst also developing experience onsite at Airbus. In addition to being part of an Apprentice community, building transferable skills and achieving your academic potential, you will also be able to earn whilst you learn and avoid gaining student debt as Airbus will cover all fees.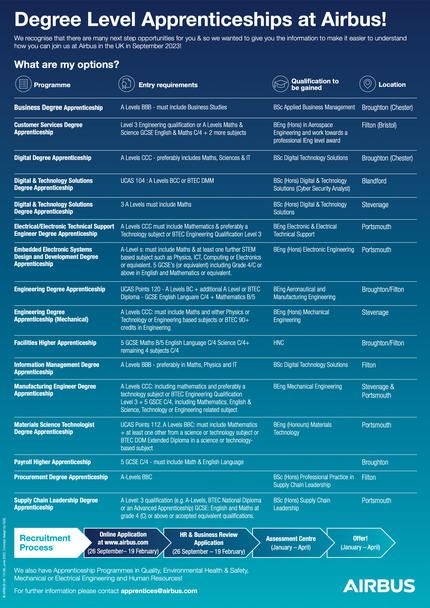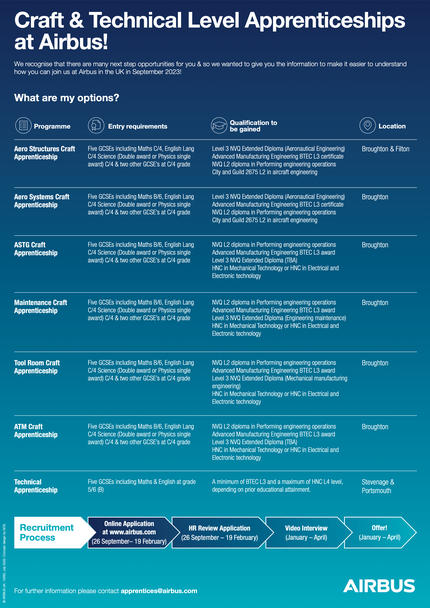 Good to Know
 
Benefits
As an apprentice, you will always be rewarded for hard work. In addition to discretionary company success sharing bonus and optional participation in company share purchase schemes; we will make sure you enjoy the following benefits: 
Right to work in the UK:
In the UK, Airbus offers a range of apprenticeship opportunities to all candidates who meet the Airbus apprenticeship entry requirements.  Should you be successful during the Recruitment and Selection process, you will be legally required to provide evidence of your right to work in the UK and subject to a background check in line with our security requirements.
Our apprenticeship roles do not meet the minimum requirements set by UK Visas & Immigration to enable sponsorship of migrant workers. Therefore, we cannot progress applications from those who require sponsorship to work in the UK. We recommend that you review the available options to come to the UK on the Home Office website.
How to Apply
Applications for our Apprenticeship Programmes open now open!