As the founding member of the Airspace cabin family, as well as the winner of two prestigious design awards in 2016, the A350 creates the perfect space for airlines and passenger well-being.
#01
Award-winning design and ambience
The ambient lighting technology and large windows help turn the passenger experience into one travellers cannot wait to repeat. The quietest cabin in its class, the A350 allows passengers to whisper – not shout – and still be understood.
#02
Setting new comfort standards
The A350's cabin cross-section was specifically designed with comfort in mind, allowing more personal space for everyone. With unparalleled flexibility, seating configurations in the A350 can easily be adapted to meet different comfort needs – be it on Business, Premium Economy, Comfort Economy or Economy Class. The A350 always provides more space at shoulder level thanks to its straight sidewalls.
Featuring larger overhead storage compartments, you can store more hand luggage – minimum one roller bag per passenger in all classes – for stress-free boarding and easier access in flight.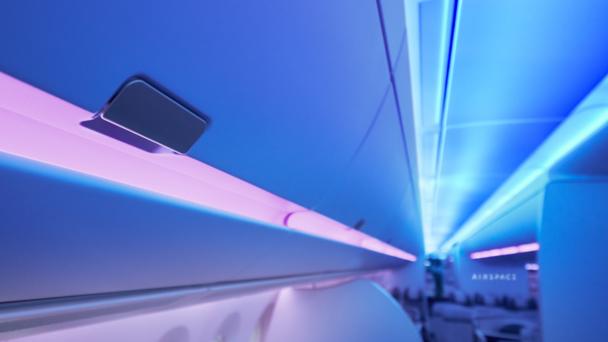 The A350 is a pioneer in in-flight entertainment (IFE) and connectivity, as it has offered connectivity services from service entry. The state-of-the-art 4th generation entertainment products are smartly integrated into the A350, maximising under-seat foot space with a unique flat floor. Thanks to high-bandwidth fibre optics, high-definition video becomes a reality for all passengers, on screens of up to 13 inches in Economy class.
Inspired by A320 Family and A330neo concepts, the latest solutions for lavatories and galleys maximise seating space and increase comfort for passengers and crews.
---
Our family of aircraft cabins