Airbus pioneers sustainable aerospace for a safe and and united world at ILA Berlin Air Show
At the first major European airshow since 2019, Airbus presented a wide range of its cutting-edge products and services, demonstrating how it pioneers sustainable aerospace for a safe and united world.
Static and flight displays
On the static display, some of Airbus' state-of-the-art aircraft, unmanned aerial systems (UAS) and helicopters took centre stage: Visitors were able to explore the A350-900 MSN 2 (Airspace Explorer) and the oversize cargo transporter BelugaXL. They also got to see the multi-role tactical airlifter C295, a full-scale replica of Europe's first large-scale military drone Eurodrone as well as Heron TP, Aliaca and DT25 UAS and a UAS ground control station. The static display also featured state-of-the-art helicopters such as the H145M, H225, an NH90 replica and drones such as Luna NG or DT25  that were used in recent manned-unmanned teaming demonstrations.
Airbus military aircraft was also in action on the German Luftwaffe display, both on ground (Eurofighter and A400M) and in the air (Eurofighter, A400M, A330 MRTT and Tornado).
Exhibitions
On the Airbus main stand in hall 4, visitors could experienced how the company pioneers sustainable aerospace for a safe and united world. This commitment was brought to life through a variety of assets such as video screens and large-scale models: ZEROe, CityAirbus NextGen, CS C295 FTB 2, A321XLR, Eurofighter and Remote Carriers, A400M, Eurodrone, H160M, H225M, H145M as well as Eurostar Neo and OneWeb satellites.
In the space hall (hall 6), Airbus also presented its cutting-edge space systems on a dedicated stand: the Orion ESM (European Service Module), the Cis-Lunar Transfer Vehicle (CLTV), the Large Logistics Lander (EL3), Eurostar Neo satellites, HRWS NG and a wide range of other space products.
Read here entire #ILA22 wrap up
#ILA22 Highlights
Amparo Valcarce, secretary of Defence of Spain with Michael Schoellhorn, Chief Executive Officer (CEO) of Airbus Defence and Space and Alberto Gutiérrez, President of Airbus in Spain, among other personalities during the signature of Eurofighter HALCON - ILA Berlin Air Show 2022
Lufthansa Technik AG, as prime contractor, today handed over the first of two Airbus A321LR (Long Range) troop transports to the German armed forces at the ILA Berlin airshow. In the presence of Lufthansa Technik COO Soeren Stark and Airbus CEO Guillaume Faury, the State Secretary in the German Ministry of Defense, Benedikt Zimmer, and the German Air Chief, Lieutenant General Ingo Gerhartz, formally took delivery of the aircraft with the tactical registration 15+10.
The 2022 ILA Berlin Airshow's impressive static display includes aircraft from Airbus' commercial, military and helicopter product lines
Chancellor of Germany, Olaf Scholz, René Obermann, Chairman of the Board of Directors of Airbus SE, and Mike Schoellhorn, Chief Executive Officer of Airbus Defence and Space at Airbus Static Display
An A330 MRTT MMF ( Multinational MRTT Fleet) on flying display alongside two German Eurofighter Typhoon and two Tornados during ILA Air Show 2022
Live from ILA Berlin 2022
Static & Flight Display #ILA22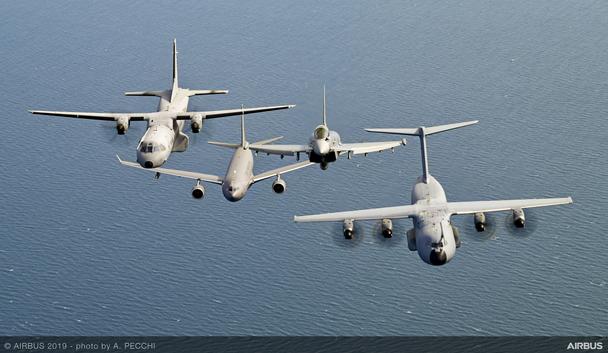 Military Aircraft
Airbus' current product line includes the world's most versatile airlifter, the A400M; the robust and reliable C295 tactical transporter; and Eurofighter, the most modern swing-role fighter ever conceived.
Airbus in Germany
As one of the countries that was key to the creation of Airbus, Germany has a rich history of aircraft design and construction and is home to some of Airbus' largest and most important operations. Working across 27 sites, employees represent close to half of the country's entire aerospace workforce.