Airbus presents concepts for zero-emission aircraft
The world's first zero-emission commercial aircraft is taking shape. Airbus has presented three concept aircraft to deliver on this ambition by 2035. Hydrogen used as an energy source plays a key role. For the energy transition in aviation to succeed, efforts by society as a whole are now necessary.
Aviation is inching one step closer to climate-neutral flying. Airbus has unveiled three concept aircraft for the world's first zero-emission commercial aircraft with an expected entry-into-service by 2035. Each concept explores a different aerodynamic configuration on how to integrate hybrid-hydrogen technology. Over the long term, Airbus aims to lead the transition to zero-emission technologies for aircraft in order to support the long-term decarbonisation of the aviation industry.
Hydrogen as an important energy carrier
In all three concept aircraft, hydrogen serves as the primary energy carrier. Airbus is currently exploring alternative-propulsion systems fuelled by hydrogen, including hydrogen combustion in modified gas-turbine engines, hydrogen fuel cells and the combination of both via a hybrid-hydrogen propulsion chain. Hydrogen is a high-potential zero-emission technology that, once mature, is expected to complement other emission-reduction solutions for aviation, such as sustainable aviation fuels.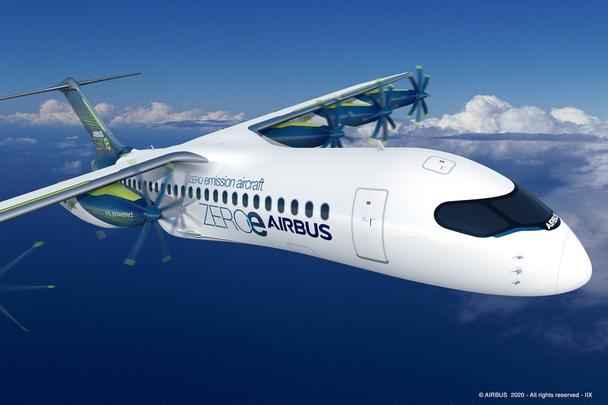 The turboprop concept aircraft features two hybrid-hydrogen engines. 
Energy transition in aviation
The widespread adoption of hydrogen to fuel future aircraft requires decisive action by all parties. Climate-neutral flying is of concern for all of society. For the energy transition in aviation be successful, close cooperation between governments, institutions, and technology and industrial partners and suppliers will be essential.
The priority today is to create incentives to encourage the market adoption of hydrogen. These incentives will help support the growth of the hydrogen economy, including the development and provision of hydrogen infrastructure and transport, the cost-effective industrial production of green hydrogen via renewable energies, and the establishment of hydrogen hubs at airports.
Status: Sept 2020
Unmanned aircraft against climate change 
Climate change has noticeable impacts on the lives of many people. The utilisation of drones and satellite data has an important role to play to better understand changes in the climate and to find innovative solutions to this problem.
The World Economic Forum in Davos has emphasised the role drones can play in the fight against climate change. Unmanned aircraft are in a unique position regarding environmental and climate questions. These aircraft can observe changes in the climate, can help combat ramifications and can be deployed in unreachable areas. The detailed and reliable observation of the climate forms the basis of a robust understanding of climate change. Numerous satellites circle the globe at all hours of the day, tracking all developments. 
Strengthening farming despite climate change
Weather phenomena and rainfall patterns are fundamentally changing in many parts of the world. Agriculture is facing existential problems: absent or overdue rainfall, persistent drought, flooding and heat waves. Modern agriculture must stringently plan planting and harvesting seasons based on these changing patterns. Data procured form space and from unmanned aircraft can help. Examples of this are the services Verde and AgNeo. They deliver data from space to make weather predictions and crop production more precise. This makes farming more efficient and, at the same time, more sustainable.
Patrolling the oceans with data from space
The competition for valuable resources in international waters is increasing. This results in significant overfishing of the seas. In order to secure a sustainable and fair use of the oceans, observation and control of vulnerable locations are of vital importance. The Ocean Finder Programme plays a key role in this mission. This programme uses satellite images to follow ships, to recognise illicit activity and to prepare maritime missions. This results in safer and more sustainable seas. 
Avoiding deforestation from space
Deforestation accounts for 10% of global CO2 emissions. Often, the observation of forests is complicated and the difference between reforestation and deforestation is difficult to determine. This is changing thanks to the innovative satellite service Starling, which delivers high-definition images of forests taken from space, all year long. These images enable precise observation and decided counteraction against deforestation.
Climate change is changing the world. Innovative solutions help to overcome these effects. Data from above play a central role—whether that data comes from space or from unmanned aircraft. This guarantees the prosperity and security of the modern world.
Status: February 2020
Fuel dumping: An internationally recognised standard procedure for emergencies
Recently there have been reports that aircraft have occasionally dumped kerosene before landing. There is no such dumping of fuel in regular flight operations.
Fuel dumping is subject to a mandatory internationally recognised standard procedure to be used exclusively for air traffic safety. This procedure is only used in rare emergency situations. According to the German Aviation Association (BDL), this happened on average only 21 times a year between 2010 and 2019, so it is extremely rare.
The need for this measure may arise from the fact that the take-off weight of large passenger aircraft may exceed the maximum permissible landing weight, depending on the amount of fuel used. If this difference between the maximum take-off weight and the maximum permissible landing weight is particularly large, the aircraft must be able to dump fuel for safety reasons. Therefore, only long range aircraft such as the A350 or A380 have a fuel dump mechanism. For smaller aircraft, such as those in the A320 family, this is not necessary because they are lighter. When designing these systems, the aircraft manufacturers strictly abide by the requirements from certification authorities such as EASA in Europe.
Dumping means that an aircraft can land safely during a medical emergency, for example, where every second counts. Other factors also play a role in the decision to land, such as aircraft design, runway length and current weather conditions. As a general rule, no aircraft operator gains from dumping valuable fuel for no reason and without there being an emergency. Such a measure would not be cost effective either.
The implementation of such an emergency measure is done in consultation with the air traffic control unit in charge, such as German Air Traffic Control (DFS), and only at a minimum flight altitude in an airspace with low air traffic density over uninhabited areas. In addition, the amount of kerosene dumped is strictly limited.
Further information can be found on the German website of the BDL.
Status: Sept 2018