Satellite building on an entirely new scale
Airbus Friedrichshafen has opened Europe's most state-of-the-art satellite integration and space technology centre, known as the Integrated Technology Center (ITC). By tripling the clean room space available, the centre makes a quicker building of satellites, probes, space instruments and experimental technologies possible.
Bigger and Better: The ITC-Building
Comprising of a total of 4,000 m2, cutting-edge satellite and space technologies will be developed in this space. The ITC building is part of an expansion of the current satellite integration hall, which means that projects can be executed more efficiently and economically. The expansion also enables the development of many new, exciting projects for the future, as large space telescopes can now be manufactured in Friedrichshafen.

Complex Clean Room Spaces Make High-Tech Developments Possible
The very heart of the ITC is comprised of its large clean room. The final integration of satellites will take place under clean room conditions of various "cleanliness classes". Wherein a highly-complex system circulates air through the clean room and thus ensures that there is a consistent elevated air pressure and a controlled humidity and temperature.
Manufacture of lighthouse projects of European Space Travel
The first two projects have already moved into the ITC, they are the European environmental and security programme "Copernicus" with four sentinel satellites, and the European-Japanese earth observation satellite EarthCARE. Within the first half-year of 2019 the integration work for JUICE, a mission to the icy moons of Jupiter (starting in 2022) is set to begin, thus meaning that the ITC in Friedrichshafen will contribute massively to the development of European space travel.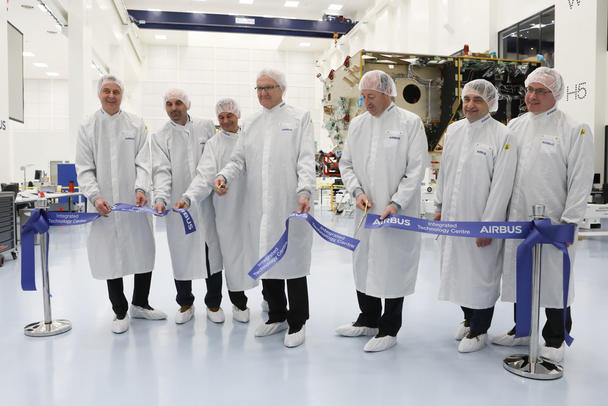 Winfried Kretschmann, Minister-President of German state Baden-Wuerttemberg during the opening ceremony of the ITC.
Government Supports Venture
"Airbus' significant investment in this building also represents an investment in the future – both for the Airbus site at Lake Constance and for Baden-Wuerttemberg as an aerospace location", said Baden-Wuerttemberg's Minister-President, Winfried Kretschmann. "When it comes to space technology, we are now a step ahead of the rest of Germany – in terms of science and research, development and technology, and enthusiasm for the aerospace industry."

"Thanks to the new satellite hub, production at Airbus' Friedrichshafen site is optimally positioned in terms of both quality and quantity compared to our competitors", added Nicolas Chamussy, Head of Airbus Space Systems.

Status: Feb 2019
Copernicus: Airbus provides access to valuable data resource
To date, Copernicus is the most ambitious Earth observation programme worldwide. The European project delivers accurate, reliable and easily accessible information. The benefits for society are considerable: the data is used to improve environmental monitoring, to understand and minimise the effects of climate change and to ensure civil security – Airbus plays a key role both in building the satellites and in providing the data.
In mid-December 2017, the European Space Agency (ESA) selected Airbus as one of four suppliers for the Copernicus Data and Information Access Service (DIAS). DIAS will make data and information easily available to end users through a cloud computing architecture, enabling enhanced coordination and cross-fertilization at European Union (EU) level and for Member State initiatives.

Mining the data resource
The programme produces huge amounts of data: in just one year, the Sentinel satellites used in the Copernicus programme have provided the equivalent of 50 years of Envisat mission data, ESA's previous environmental satellite. In the interests of better data dissemination, the European Commission and ESA decided to allow users to exploit Copernicus data and information without having to manage transfer and storage on their own computer systems. 
Part of a powerful consortium
Airbus will work in conjunction with Orange, Capgemini, CLS and Vito to further develop and manage DIAS. Airbus is responsible for the management and coordination of all of the technical suppliers, as well as for system engineering and integration. Furthermore, after the entry-into-service of DIAS, Airbus will be responsible for managing, operating and further developing DIAS, in close coordination with a large number of stakeholders across the globe.
"As a major contributor to the Copernicus programme, Airbus is proud to be part of this new phase that combines Earth observation data acquisition with new and efficient technologies like cloud computing. DIAS will simplify data access for European citizens and will boost the creation of new business models based on Earth observation data," said Mathilde Royer-Germain, Head of Earth Observation, Navigation and Science at Airbus.
Early operations are due to start in mid-2018 with the demonstration of the infrastructure capabilities, preliminary access to data sets and initial service provision.
DIAS will also bring together all of the existing Sentinel product access services in a "One-Stop-Shop" on the Cloud, with in-situ data and third-party mission data. These services will provide easy access to Copernicus data for EU citizens, the scientific community, the public and companies who wish to process this data to provide their own Copernicus-based services ("Front Offices").
Status: Feb 2018