What may sound like science fiction to many is now fast becoming reality. Direct Air Carbon Capture and Storage (DACCS) – which removes human-induced CO2 directly from the air – could help multiple industries meet their net-zero carbon emissions targets. For hard-to-abate industries like aviation, it is emerging as a promising complementary solution to sustainable aviation fuel and hydrogen.
The sunrises in the Permian Basin, located in southwestern USA, are spectacular. Hundreds of kilometres of pancake-flat, arid scrubland stretch almost endlessly, until they meet the enormous Texan skies on the horizon. 
There isn't much to catch the eye around these parts. But as the road continues and the sun climbs higher into the deep blue sky, the view suddenly changes. Seemingly out of nowhere, a grey and black metal structure – hundreds of metres long and several storeys high – appears shimmering in the distance.
Move closer, it soon becomes clear: this massive structure is unlike anything else around. Embedded within each hangar-like block, a multitude of enormous fans spin like giant air conditioning units. And beyond these fans lies what looks like a manufacturing plant – a maze of metal pipes and storage tanks amid the rugged, dusty landscape.
This is a direct air capture facility through which hundreds of tonnes of carbon are being drawn in from the air. Here, in the year 2030 and in the heart of the Lone Star state, this spectacular creation is now a key bastion in the fight against climate change and the world's transition to a net-zero energy system.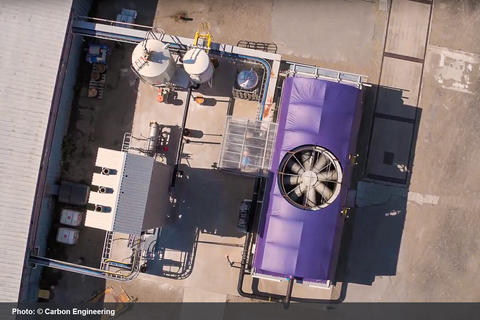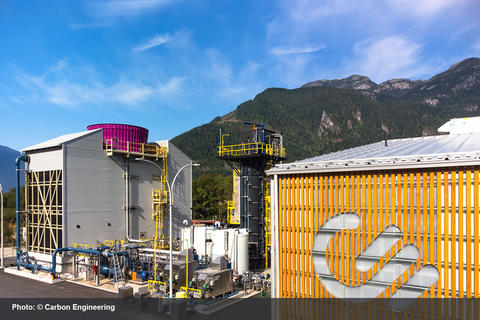 DACCS: how it works
A direct air capture – or DAC, for short – facility acts like a large-scale, highly efficient tree: it sucks air out of the atmosphere and extracts the CO2 present there. In 2030, there will likely be dozens of them around the world. Back to the present day, however, and this technology is still in its infancy.
Carbon Engineering is looking to change that. The Canadian company has pioneered a direct air capture technology at its pilot plant in Squamish, Canada and has now set its sights on large-scale deployment. 1PointFive – Carbon Engineering's licensed US partner – is developing these facilities at a megaton scale in the United States and elsewhere. The DAC facility, targeted to become operational in 2024 in the Permian Basin, is expected to capture up to one million tonnes of CO2 from the air per year once fully operational. This is roughly equivalent to the work – or absorption capacity – of approximately 40 million trees.
The technology is simple: a large fan draws air into an air contactor, which is modelled on industrial cooling towers. The air passes over thin plastic surfaces with a non-toxic potassium hydroxide solution flowing over them to trap the CO2 molecules as a carbonate salt.
The carbonate salt is separated from the solution using a pellet reactor. The carbon pellets are then heated in a calciner to release the CO2 as pure gas. Lastly, the processed pellets are hydrated in a device called a "slaker" and recycled for use in the original capture solution.
The captured pure CO2 can then either be stored underground or reused for the production of, for example, Power-to-Liquid fuel through a complementary process called AIR TO FUELSTM. The former, known as carbon storage or sequestration, involves injecting the CO2 into saline formations more than a kilometre below the earth's surface. As a result, CO2 is permanently and safely stored underground.
 
Bringing affordable and scalable carbon removals to aviation
In October 2021, the aviation industry adopted the long-term climate goal of net-zero carbon emissions by 2050. Multiple decarbonisation solutions – technology innovation in aircraft design, new fuels like hydrogen and SAF, efficiency improvements in airport operations and air traffic management, and market-based measures – have all been earmarked to help achieve this goal. But these alone will not suffice to reduce aviation's CO2 emissions to the required levels.
According to the Intergovernmental Panel on Climate Change (IPCC), simply eliminating emissions will not be enough for the world to reach net zero by 2050 – removing CO2 from the atmosphere will also be necessary. And because hard-to-abate industries like aviation cannot capture their emissions at the source, direct air capture is considered a more suitable negative emissions solution.
This is why Airbus has partnered with 1PointFive to bring carbon removals from direct air capture technology to the aviation industry. In fact, Airbus has pre-purchased 100,000 tonnes of carbon removals per year over four years – or 400,000 tonnes in total – from 1PointFive as part of an initial offtake.
Several airlines have shown interest to collaborate with Airbus in this area with the objective to promote direct air capture as an essential pathway, among others, to achieve the industry's net-zero target. As the aviation industry further refines its course towards net zero, it is partnerships like these – which bring together key stakeholders from both inside and outside the industry – that will be essential to bringing climate-neutral air travel ever closer to reality.