Airbus Helicopters reinforced its support and services with three European customers at the European Rotors trade fair in Cologne, Germany, further demonstrating the company's commitment to providing solutions that respond to operator requirements.
Airtelis/RTE: High availability to support powerline construction and maintenance
An HCare global support customer since 2011, Airtelis/RTE is renewing its HCare Smart Parts by the Hour (PBH) contract to cover its fleet of three Super Pumas and five H135 helicopters for an additional five years.
RTE (Réseau de Transport d Électricité, EDF Group) and its subsidiary Airtelis mostly perform power line construction and maintenance and have developed Supplemental Type Certificates to customize their helicopters for powerline operations. "We are very pleased to renew our PBH support contract with Airbus Helicopters as it enables us to achieve the highest availability levels possible, which is essential for our public service missions," says Remi Magar, technical director of Airtelis.
Heliswiss Iberica: joining our global network of service centres
Spanish lessor and MRO provider Heliswiss Iberica SA signed an agreement to become a certified Airbus Helicopters service centre, joining Airbus Helicopters' strong global network of approximately 90 service centres. Heliswiss will perform maintenance for a large range of aircraft, including depot-level maintenance on Ecureuil family helicopters. The company also purchased one additional H125.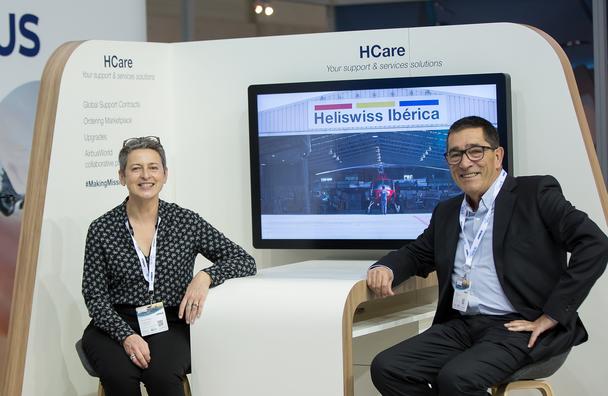 Air Zermatt : Retrofitting for more power and greater safety
Swiss customer Air Zermatt recently retrofitted four of its H125s with the new H125 power upgrade, which provides extra payload and increased safety. "The power upgrade gives us a lot more possibilities. Since the first flight we could feel the difference especially at higher altitudes where we fly at 2,000 to 4,000 meters," says Air Zermatt pilot and CEO Gerold Biner. "With the retrofit we did not have any down days and could operate immediately the next day."
Power upgrade completed, Air Zermatt will now proceed with the retrofit of H125s with the Crash Resistant Fuel System.
HCare services: with you on every flight
HCare is Airbus Helicopters' support and service offer, providing superior customer service support in five domains: Material Management; Helicopter Maintenance Repair and Overhaul (MRO) and upgrades; Technical Support; Training & Flight Operations; and all optimized by Connected Services.