Uncontrolled fires have become a distressing annual occurrence in recent years. The link between climate change and the increasing severity of wildfires is so well documented that few deny its existence. Firefighting, traditionally considered to be just one of the many aerial roles of helicopters, is now becoming one of their most critical tasks, especially in summer.  
"Unprecedented" 
Wildfires are increasingly becoming larger, faster, and more difficult to control. Climate change is one reason for this. The hotter global temperatures have created drier conditions, sapping vegetation's moisture. The depopulation of rural environments and the shift away from mountain living, as well as human actions, are some of the factors that make the new generation of fires more difficult to control.
Attacking on all fronts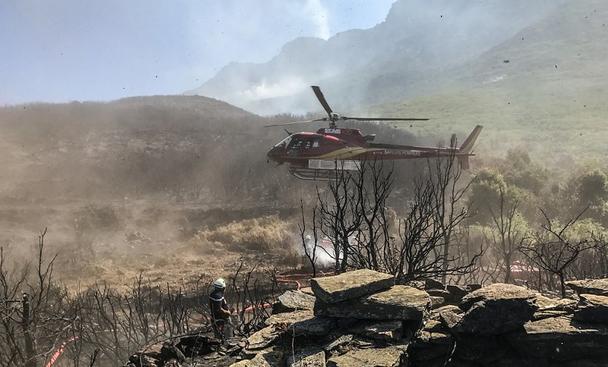 An Airbus-built rotorcraft operated by Mont Blanc Helicoptères supports firefighting efforts, complementing ground crews.
Country by country, the resources and response to fires vary. Fighting wildfires is a seasonal business that on average takes no more than three months; many countries' aerial fleets are multi-purpose, flying other missions during the offseason. Subcontracting is another answer: to deal with unprecedented events, many national or state firefighting agencies call on a list of private operators specialised in firefighting. Increasingly, agencies are investing in dedicated firefighting resources, as in the case of the Tokyo fire department, which operates an H225 primarily for urban firefighting.
An actor today and in the future 
Whether those aircraft are fully dedicated to fighting blazes or are seasonal, the market is in full swing. Firefighting makes up the second-largest segment (after law enforcement) in Airbus Helicopters' global public services fleet, which includes around 4,950 units in flight, of which firefighting counts for 14% of the market.*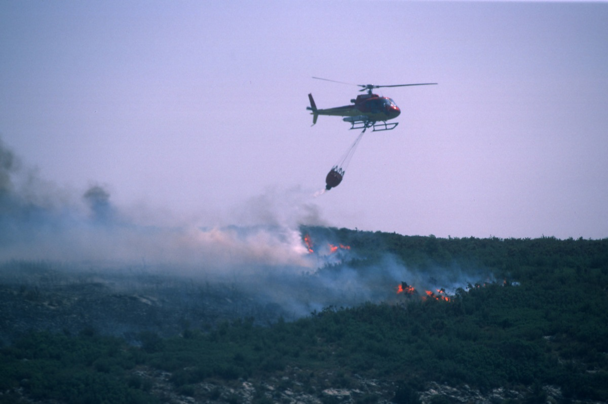 An Airbus-produced H125 helicopter deploys a bucket-type water dispersal system to support firefighting efforts.
What are a helicopter's missions during firefighting? 
Denis Bargès, Head of the Bouches-du-Rhône fire service's Forest Fire Group Doctrine and Flight Service, explains the different types of helicopter interventions in the event of a fire:
"When a fire breaks out, helicopters offer the best way to reach the scene very quickly. Therefore, this is the solution that we look to first. During such an intervention, water bomber helicopters equipped with a supple bucket called a 'Bambi Bucket' or a Simplex kit, will contain the fire and slow down its progress by dropping an average of about 800 litres of water each time the helicopter flies over the fire (about 800 litres for an H125, 1,200 for an H145, and up to 4,000 for an H215). The helicopter's main advantage compared to a plane is that it can drop water every two or three minutes if there is a water source nearby. If the fire is contained, the helicopter hands over to the fire trucks so that the ground personnel can finish extinguishing the fire."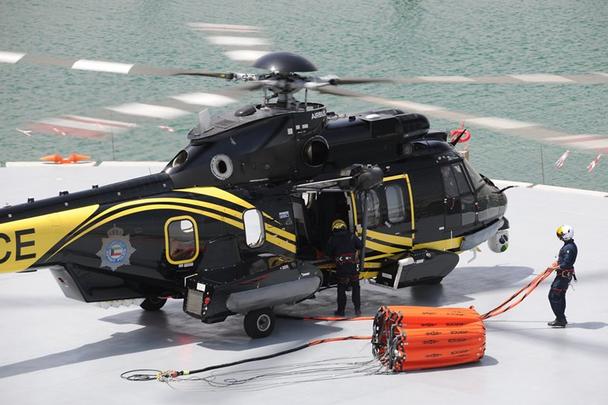 Kuwait's Ministry of the Interior uses Airbus-produced H225 helicopters for firefighting missions.
"However, if the fire becomes too large, the water bomber helicopters are replaced by planes that can easily drop 6,000 litres of water each time they fly over the site. In parallel, the second mission – coordination – starts for helicopters deployed in firefighting. Personnel, vehicles on the ground, helicopters and planes all have to be coordinated. Ensuring that all these resources are used without interfering with each other is the work of the onboard air officer transported by the helicopter."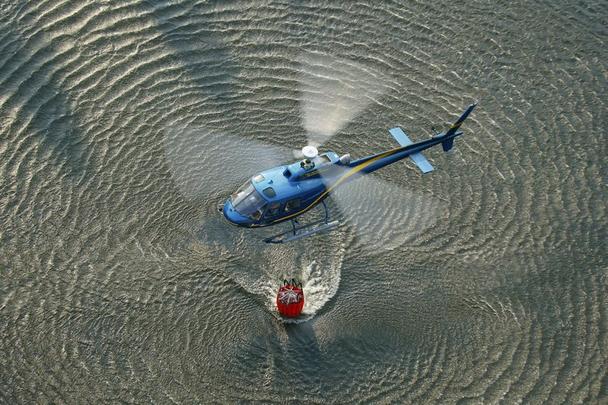 In firefighting operations, the Helicopter Transport Intervention Detachment involves carrying equipment, personnel, or water that will be emptied into reservoirs for the teams on the ground.
"The helicopter's third key mission in firefighting is known as the Helicopter Transport Intervention Detachment. This involves carrying equipment, personnel, or water that will be emptied into the 3,000-litre reservoirs provided for the teams on the ground. This type of flight also is very technical owing to the risk of collision with trees or obstacles on the ground and the difficulty in avoiding smoke. All this explains the very close relations between the firefighters and helicopter pilots (to whom we rent aircraft on average two or three months a year and who we know well). It is precisely the skill of one such pilot that saved my life a few years ago when the Bambi got stuck on the side of the water basin and the helicopter started to nose up as we took off. In order to be able to deal with any situation aboard a helicopter, we spend most of the winter months training and we work in the forests to prepare for the coming season by installing water sources so as to secure the area. Water sources every two kilometres guarantee a bombing rate of every two to three minutes." 
*Figures from 2019 data