The Decathlon Easybreath full-face mask is among the most popular snorkelling accessories, enabling users to breathe comfortably underwater without invasive tubes. Today, the Airbus Humanity Lab is developing 3D-printed adaptor prototypes to transform it into a non-invasive ventilation mask for patients, as well as personal protective equipment for healthcare professionals on the front line of the COVID-19 pandemic.
When the Easybreath mask first hit the shelves of French sporting goods retailer Decathlon, it became an instant best-selling hit. And it is not hard to see why: unlike other snorkelling accessories that use mouth tubes for breathing, the Easybreath enables users to breathe comfortably via their nose and mouth thanks to a full-face mask configuration.
Today, this unique design—with the addition of potentially compatible accessories—is showing real promise to provide non-critical respiratory assistance to patients and to help protect healthcare professionals at hospitals across Europe. The Airbus Humanity Lab project team is bringing together industry players to develop 3D-printed adaptor prototypes that could transform the way the Decathlon Easybreath snorkelling mask is used during a health crisis.  
One mask, two innovative applications
The idea to use the Easybreath for medical purposes first gained traction in Italy, after medical equipment shortages forced doctors to improvise respiratory assistance solutions. Thanks to ad-hoc adaptors, the full-face masks were attached to ventilators, which pumped pressurised air into the masks thereby avoiding the need for patient intubation. The concept proved feasible, however, further refinement was needed. Immediately, Decathlon halted the sale of the Easybreath to reserve its stock for medical purposes, and the healthcare community encouraged the development of low-cost accessories that could achieve this purpose.
In March, as the COVID-19 outbreak hit Europe, Airbus began collaborating with local hospitals on a project to further develop Easybreath mask applications. The project, which was selected as part of the COVID-19 hackathon organised by the Airbus Humanity Lab, focuses on adapting the Easybreath for two different applications: as personal protective equipment for healthcare professionals on the front line of the crisis and as a non-invasive ventilation mask for patients.
The success of this project lies in collaboration, agility and solidarity. It's a great example of Airbus values and know-how. I'm very proud to be a part of this multinational team.
- Alvaro Jara, Head of Airbus ProtoSpace Getafe
The leap from concept to reality
Today, the project team is developing a complete kit of 3D-printed parts—including adaptors and valves—in preparation for large-scale production.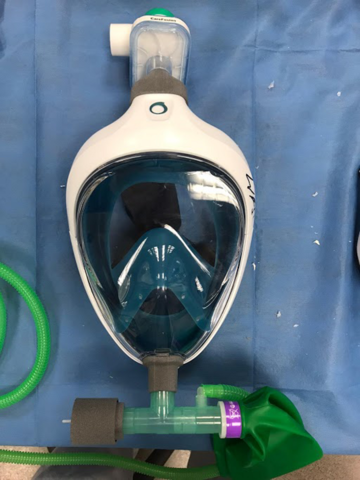 At the Infanta Leonor hospital in Madrid, the 3D-printed parts have already been tested and used with the masks, a modular prototype design that can be used both ways as personal protective equipment and as a ventilation mask. Clinical trials in Spain are ongoing. In France, a prototype for personal protective equipment was provided to medical staff at Clinique Pasteur in Toulouse and CHU Bayonne. The project team then collaborated with a French consortium—including the industrial company BIC and retailer Decathlon—to develop and mass-produce a similar part, which is now authorised for use across the country. Airbus UK has also succeeded in manufacturing adaptors based on the Italian concept.
"The 3D-printed adaptors for the Easybreath mask are a simple, cost-effective solution that will make a real difference in the lives of doctors and patients during the COVID-19 pandemic," says Christophe Debard, Founder of the Airbus Humanity Lab.
The collaborative team—composed of Airbus ProtoSpace in Toulouse and in Getafe, Airbus St. Eloi and Seville production sites, local fab-labs, individual makers, Safran Electrical & Power, and CT Ingenieros in Spain—will continue to organise parts production over the next few weeks. Airbus' role is to coordinate and support design and manufacturing activities, as well as logistics. 
"The success of this project lies in collaboration, agility and solidarity," says Alvaro Jara, Head of Airbus ProtoSpace Getafe. "It's a great example of Airbus values and know-how. I'm very proud to be a part of this multinational team."