Airbus innovation is a special ingredient in U.S. team American Magic's ongoing quest for sailing's oldest trophy – the America's Cup – with the company providing out-of-the-box thinking and technical support on site. 
American Magic – which represents the New York Yacht Club – sought out Airbus to optimise the performance of its racing yacht's design process, particularly looking to leverage the aerospace industry global pioneer's   expertise in engineering and simulation.
The America's Cup yachts (AC75) for this competition are a totally new breed of 75-foot foiling (flying) mono hulls. The project management demands to build the AC75-class vessel are staggering, with both partners Airbus and American Magic excelling in such complex tasks.  
Airbus is the proud to be the Innovation Partner for the American Magic team
This is where the magic happens
Few sports competitions offer such fascinating areas where open collaboration might yield interesting results, and none are quite like the America's Cup. It is effectively a challenge to competitors' capacity to conduct technological innovation under demanding time, cost and human resource constraints. 
Airbus engineers like Laurent Dalbies and Lilian Ronceray were up to the challenge, moving outside of their comfort zone (sometimes literally when collocated with other American Magic team members in the U.S.) to help bring aircraft technologies into the world of competitive sailing. 
Q&A with Laurent Dalbies and Lilian Ronceray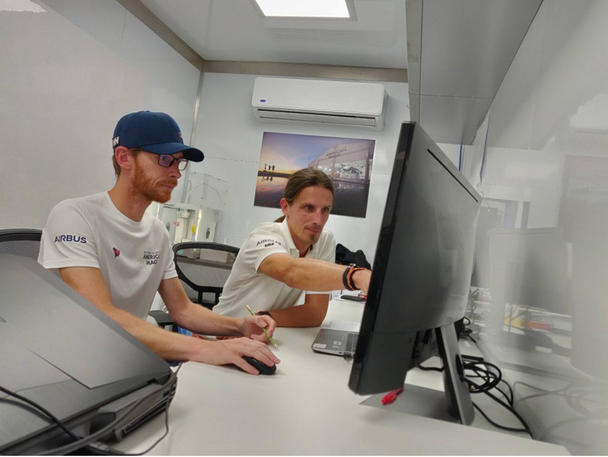 Airbus engineers Laurent Dalbies and Llilian Ronceray (left to right) work together at American Magic's base in Newport, Rhode Island.
Q. How long have you been involved with American Magic and what do you do?
Dalbies: I was looking for a new challenge when I heard about the discussions with American Magic. A position related to simulation was open and I realised that I ticked all boxes, it seemed like a great opportunity. I've always been interested in racing teams such as Formula 1 and it sounded like that…but on water! I'm involved across several work packages, mainly supporting system simulation for the designers.
Ronceray: I started about a year ago, splitting my time evenly between Airbus work and the American Magic boat. Now I'm more like full-time on the simulator, optimising the boat controls so I'll be spending a lot of my time in the U.S., fully integrated into the team. Our know-how was first requested for the smaller test boat known as the "Mule." Now we're working with it on the full-sized boat too – it's huge and out of the water the hull looks like a whale!
Q. Is there a typical day?
Dalbies: In Santander, where I spend most my time, the usual office pattern although days are maybe longer, in the USA everything works around the boat. Whether it is on or off the water dictates what we do, after sailing there is a capture meeting with the crew to find improvements and that sets up what we do next.
Ronceray: An early breakfast with the shore team is followed by four or five hours of sailing. Sometimes we are out on the chase boat but often working on shore. Once the boat is back in the shed, we debrief.
We intend to win the America's Cup.
- Laurent Dalbies
Q. Differences and similarities with Airbus?
Ronceray: The cycle is very similar to when I worked on the A350 XWB flight test campaign, but you go through it in a day rather than a month. The pace and size of the team are different, and you need to be your own project manager.
Dalbies: It is much the same pattern for me. My work follows the same principles and cycles although we iterate faster. The biggest difference is that I'm part of a much smaller team, there are 150 people in the American Magic team but in my area there are 50, 20 in Spain. That means you tend to work more broadly and quite independently compared to Airbus.
Q. How well did you adapt?
Dalbies: Quite smoothly. I wanted a new challenge, but the technical domain remained familiar. I'm also part of a very diverse team so everyone is used to bridging cultural differences. Being united behind a clear goal helps – we intend to win the America's Cup.
Ronceray: Below water, the boat is like an aircraft – but major factors such as tides and, crucially, relying on the weather for power levels are completely different. Nevertheless, we apply aircraft tools to gain advantages for the team. I've become accustomed to the differences, and spending more time close to operations will help me to adapt further.
We apply aircraft tools to gain advantages for the team.
- Lilian Ronceray
The first America's Cup World Series (preliminary races) will be held next April in Cagliari, Sardinia. The America's Cup races, the PRADA Cup and the America's Cup Finals, will take place in Auckland, New Zealand from January to March 2021.