From its first helicopter manufacturing facility in 1984 to the production of A220 Family single-aisle aircraft today, Airbus has significantly increased its presence in Canada. With locations in multiple Canadian cities, Airbus has robust industrial activity in the country, covering the commercial aircraft, rotorcraft, defence and space sectors.
The Canadian aerospace industry is the world's ninth largest, and Airbus is a positive factor for the Canadian economy: employing approximately 3,800 persons; creating more than 23,000 indirectly-sustained jobs in aerospace; working with more than 665 suppliers in nine provinces; and sourcing $1.8 billion CAD from Canadian companies.
Airbus' long-standing relationship with Canada was strengthened in 2018 with the creation of the partnership that saw the marketing, manufacturing, and support of the A220 Family transferred to Airbus' stewardship as these new-generation 100-150-seat aircraft were brought into the Airbus line-up. The A220 programme is under the ownership of the Airbus Canada Limited Partnership – now held 75% by Airbus and 25% by the Government of Québec.
The A220 Family programme is based in Mirabel, Quebec, near Montreal, where the operations include programme management, engineering, customer support & services, as well as the programme's main final assembly line (a second assembly line serving U.S. operators is in Mobile, Alabama, on the same site as the A320 final assembly line, which also serves the U.S. market).
Commercial Aircraft
A220 Family jetliners destined for Canadian and other worldwide customers outside of the U.S. are produced at the final assembly line in Mirabel, Quebec, near Montreal, where programme management, engineering, customer support and other services are also located. A220s for U.S.-based operators are manufactured at the new Mobile, Alabama final assembly line in the United States, which was inaugurated in May 2020.
Airbus jetliners have long been a popular choice of Canadian airlines: Air Canada, as of early 2020, operates a fleet that includes widebody A330-300s, along with the single-aisle A321-200, A320-200, and A319-100, as well as the A220. Air Transat's widebody fleet comprises A310-300, A330-200, and A330-300 aircraft, along with single-aisle A321ceo and A321neo jetliners.
Helicopters
Headquartered in Fort Erie, Ontario, with a team of approximately 250 employees, Airbus Helicopters Canada also has sales support in Montreal, Quebec and a 24/7 customer service network in place coast to coast, supporting more than 220 operators flying 760-plus aircraft. The company markets and manufactures rotorcraft, and provides services that include Supplemental Type Certificate and options for development, repair and overhaul, flight testing and training solutions.  
The Fort Erie facility is a centre of excellence for composite manufacturing and is the sole source supplier on eight different Airbus helicopter types flying all over the world, thanks to the expertise of its team and its competitiveness. It also performs dynamic component repair for the light helicopter product range worldwide.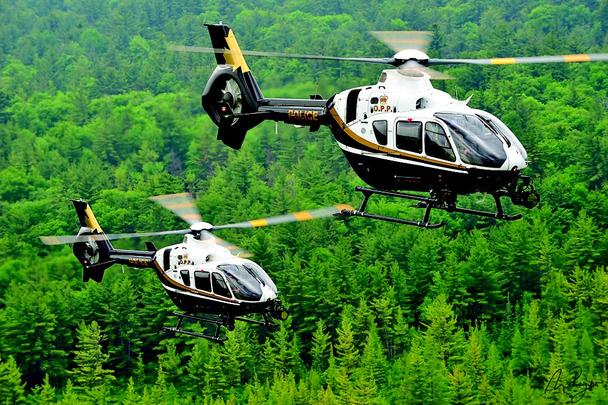 Airbus is the preferred choice of helicopter operators across North America, with a commanding 66 percent market share in 2019.
Airbus is the leading manufacturer of helicopters used throughout Canada in roles such as law enforcement, EMS, oil and gas, utility, transport: tour, corporate, and private business aviation. In Canada, Airbus helicopters are dominant in the utility and para-public markets. Operators include the Royal Canadian Mounted Police, with its fleet comprised of single H120, H125, and twin-engine H145 helicopters; the Ontario Provincial Police, utilising twin-engine H135s to support law enforcement operations across Canada's most populous province; and STARS providing air rescue services in western Canada.
Civilian operators include Niagara Helicopters, with a fleet of single-engine H130s for sightseeing aerial tours, including charters above Niagara Falls.
Defence
The Canadian aerospace and defence industry is the fifth largest in the world, generating $27 billion (Canadian dollars) in revenue during 2016 due to a strong economic base, a highly-skilled workforce and significant research and development infrastructure.
With regional headquarters in Ottawa, Ontario, Airbus is an established supplier of military systems to the Canadian government. In December 2016, Airbus won a competitive bid to provide 16 C295 search and rescue aircraft for the Royal Canadian Air Force (RCAF), as well as related support systems, including a training centre, initial spare parts, tools, support, test equipment and five years of maintenance and support for the aircraft.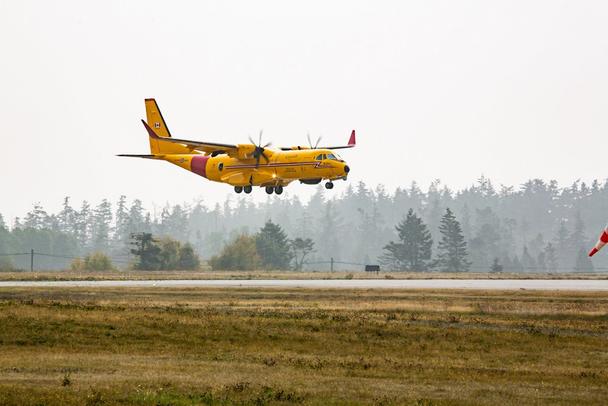 Space
Airbus is a successful provider of space technology and solutions to Canada's government, military, commercial and civil space markets. Airbus' commercial space credentials include providing advanced geostationary telecommunications satellites to Telesat, a leading satellite operator headquartered in Ottawa. The company's military communications accomplishments include providing military satellite communication terminal equipment and secure communications services to the Canadian Armed Forces.
Airbus also delivers Earth-Observation data and services to government, military and commercial users across Canada. The government of Canada has a National Master Standing Offer with Airbus that facilitates the purchase of its commercial satellite imagery products and data. Earth-Observation data from Airbus is collected using a constellation of company-built state-of-the-art optical and radar satellites.
Many Canadian satellites incorporate equipment and systems delivered by Airbus and its subsidiary companies. For example, through its UK subsidiary, Surrey Satellite Technology Limited – the world's leading small satellite company – it provided the agile bus platform used by the Canadian Department of National Defence's highly successful Sapphire satellite. Airbus has also provided equipment, such as the crypto module, GPS receiver, and star trackers, that are used by the Canadian Space Agency's RCM radar satellites.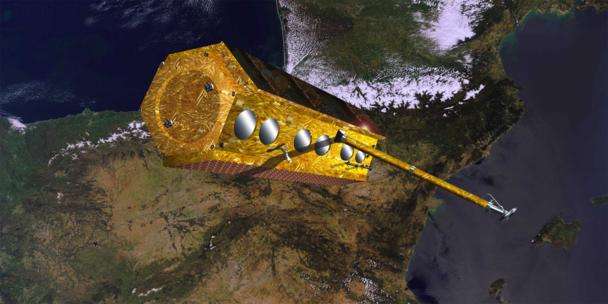 Airbus has successfully addressed many Canadian space requirements in the past. Today, they are well positioned to participate in several significant Canadian space projects (planned as of mid-2018), including SAR Data Continuity, DESSP, ESCP-P, Surveillance of Space 2, and the Terrestrial Snow Mass Mission. Airbus is developing mission concepts and solutions for these and other Canadian space requirements.
The CP-140 Aurora long-range maritime patrol aircraft operated by the RCAF will receive equipment upgrades that include the addition of Airbus' AirPatrol satellite communication terminals to provide high data-rate communications capability that will enhance their intelligence, surveillance and reconnaissance mission performance.
Other Airbus Companies in Canada
NAVBLUE
NAVBLUE is an Airbus Services company, wholly owned by Airbus, and dedicated to Flight Operations & Air Traffic Management Solutions. NAVBLUE provides digital solutions and services, and supports both civil and military environments, on the ground and onboard any aircraft and offers expertise in a range of areas, including digital cockpit operations, Operations Control Centre (OCC) systems, Flight Ops Engineering, Performance Based Navigation (PBN) and Air Traffic Management (ATM).
NAVBLUE employs 500 employees spread across the world, with offices in Canada, France, Sweden, Thailand, UK and US and representatives in several other countries across the globe.
Previously known as Navtech, it was acquired by Airbus in 2016, and was merged with Airbus LUCEM and Airbus ProSky to form NAVBLUE. To expend its expertise, NAVBLUE recently acquired (February 2020) AVIOLINX an innovative Crew and Operations software company based out of Sweden.
In Canada, the Software Factory is mainly based in Waterloo. Other functions include aeronautical raw data processing, Aircraft Performance System (APS) production, deployment, customer experience, quality, legal, finance, IT, sales and HR. The Waterloo office primarily supports OCC products.
STELIA Aerospace 
STELIA Aerospace is a wholly owned Airbus subsidiary and one of the world leaders in aerostructures, pilot seats, as well as business and first class passenger seats. Among its activities, STELIA Aerospace designs and manufactures the front fuselage sections for the entire Airbus family.
STELIA Aerospace has two subsidiaries in Canada:
- STELIA Aéronautique Canada
Based in Mirabel (near Montreal), STELIA Aéronautique Canada counts around 200 highly skilled employees. By 2023, STELIA Aéronautique Canada's mission will be to seamlessly integrate the A220 activities currently operated in the Saint Laurent site into the Mirabel site in order to build a single united team and so to optimize the logistical flow to the Airbus A220 final assembly line based in Mirabel.
STELIA Aéronautique St-Laurent was created when Bombardier decided to disengage from the production of A220 components back in February 2020.
Based in Montréal, STELIA Aéronautique Saint-Laurent Inc. counts close to 370 highly skilled employees. The A220 operations in Quebec include Design & Engineering, Production of Front and Aft fuselage of the A220 aircraft, as well as certain components of the A330 aircraft – acquired in February 2020 from Bombardier by Airbus. A220 deliveries from Saint-Laurent site since the beginning of the programme are over 160 shipsets of Front and Aft fuselage.
- STELIA Aerospace North America 
With three production sites in Canada (2 in Mirabel, Quebec and 1 in Lunenburg, Nova Scotia), STELIA Aerospace North America leverages its capabilities, synergies and expertise to offer design services, assembly, systems integration, manufacturing of complex composites and metallic structures, sub-assemblies and components. 
Headquartered in Lunenburg, and with over 27 years of experience, STELIA Aerospace North America composites manufacturing specializes in the design, development and manufacture of advanced composite structures and subassemblies for the North American and European aeronautic, space and defence industries.
STELIA Aerospace North America uses advanced manufacturing technologies including filament winding, automated fiber placement, hot drape forming, compression molding, out of autoclave manufacturing including resin transfer molding and liquid resin infusion.
STELIA Aerospace North America also specializes in co-cured, cobonding and secondary bonding processes.
Local partners
Working with more than 665 Canadian suppliers across nine provinces in the country, Airbus sources more than $1.8 billion (Canadian dollars) annually from Canadian companies as of mid-2020 – spending that supports approximately 23,000 skilled jobs. 
One of the ways in which Airbus gives back to the community is by inspiring and encouraging youth development through contact with the aerospace industry.
The Flying Challenge is an Airbus Foundation mentoring programme that aims at interesting local youth in the aeronautical fields through STEM activities (Science, Technologies, Engineering and Mathematics). More widely, the Airbus Foundation Flying Challenge encourages staying in school by focusing on self-confidence and self-awareness.
The Airbus Foundation Flying Challenge is now implanted in 10 countries and 25 Airbus sites throughout the world. It involves 600 of our colleagues internationally and touches more than 1,300 young people around the globe.
In 2020, a second edition of the Airbus Foundation Flying Challenge was launched in Mirabel. Two new local partners were selected to conduct this programme in Quebec: Grands Frères Grandes Soeurs de la Porte du Nord and Aviation Connection.
In this new edition, 30 young people from five different schools are taking part in the programme, and have the opportunity to meet our colleagues who became their mentors and to bond with them through STEM workshops and mentoring sessions.
Committed to support local communities in Quebec, Airbus Canada has been sponsoring many local organisations to help them address the challenges of our society: Canadian Red Cross, Centraides Laurentides, Jeunesse J'écoute, Fondation de l'hôpital de Saint-Jérôme…
This support allows these organisations to provide the vulnerable and isolated persons with basic needs and make sure everyone can enjoy equal rights and opportunities in their life.
Airbus has also supported numerous efforts to improve the lives of Canadians, such as participating in the Heart & Stroke Foundation of Canada's Big Bike charity event in Fort Erie, Ontario to raise funding for critical research to help prevent and treat heart disease and stroke.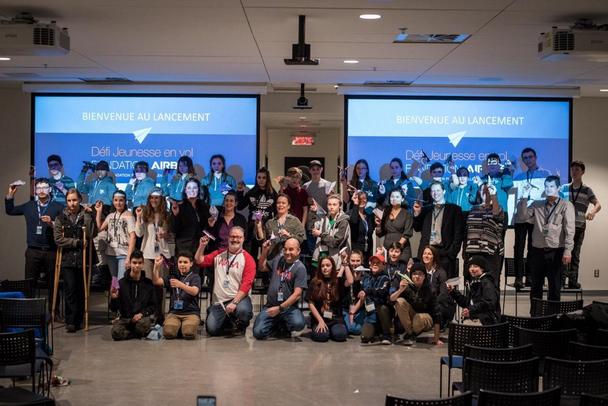 Innovation
Airbus is a frontrunner for innovation and skills in Canada with 24 active ongoing projects with Canadian expertise clusters related to artificial intelligence, autonomous flight, materials, electrification and pluri-disciplinary research projects with NRC (Canada's National Research Council), with applications to aerospace.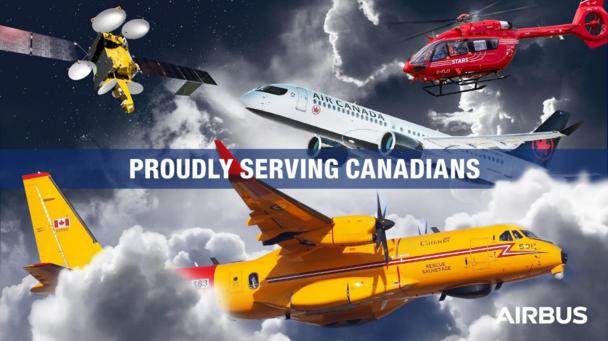 Canada's future
Airbus is proud to be a leading member of Canada's aerospace sector with a proven track record of delivering economic benefits from coast-to-coast. Canada is a strategic country for Airbus, and with more than 35 years in country, approximately 3,800 employees and the A220 Family partnership Airbus' presence in Canada will continue to grow.