Sustainable Aviation Fuel (SAF) is a proven alternative fuel that can reduce lifecycle CO2 emissions by up to 80% compared to conventional fuel. At Airbus, we believe SAF is one of the aerospace industry's best decarbonisation solutions that can be used in both in-service fleets and the flying fleets of tomorrow.
A "drop-in" fuel for immediate emissions reductions
SAF is a carbon-reduction solution that is available for use in aircraft and helicopters operating today. It is a "drop-in" fuel because it can be blended up to 50% with conventional jet fuel without any engine modification required. 
Today, there are a variety of SAF types, which are produced based on different feedstock sources. Examples include the following: 
Biomass-based: Renewable raw material, and various wastes and residues are the most common source of feedstock for SAF. 

Used fat, oil and grease
Municipal waste
Agricultural and forestry waste and residues
eFuel: Alternative sources synthesised with green hydrogen can produce SAF through power-to-liquid technology. 

Captured carbon 
Waste gases from industrial processes
Seven different pathways are certified by ASTM International – the world-renowned standards organisation – to produce SAF for use in commercial aviation. However, SAF based on the Hydrotreated Esters and Fatty Acids (HEFA) pathway is the only product that is commercially available today. It has powered over 95% of all SAF flights to date.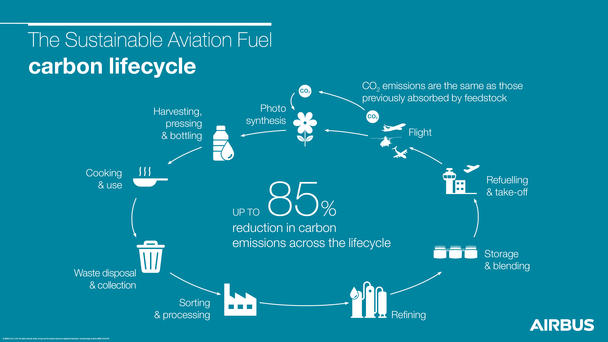 A key driver to achieve the industry's net-zero ambition
Since 2011, SAF has powered more than 360,000 commercial flights around the world. However, SAF represents 0.03% of fuel use and less than 1% of operated flights. 
Today, delivered SAF supply volumes reach over 600 000 tonnes – with an expected production capacity that could reach 330 million tonnes of SAF in 2050. Incentives and long-term policies that encourage SAF use will be essential to achieving this goal, which will help support the industry's ambition to achieve net-zero carbon emissions by 2050.
Airbus supports the large-scale development of the SAF ecosystem. For over a decade, we have been actively involved in the certification process for new fuel pathways, demonstration projects and flights, as well as SAF political advocacy. 
At Airbus Helicopters, advocacy initiatives have resulted in the creation of the SAF User Group, which is dedicated to the rotorwing community. The objective of this group is to collectively work on ways to accelerate the use of blended SAF for helicopters and to pave the way to 100% SAF helicopter flights for future fleets.
Towards certification of 100% SAF by 2030
All Airbus commercial aircraft and helicopters are certified to fly with up to a 50% blend of SAF. Our goal is to achieve certification of 100% SAF capability by 2030 for commercial and military aircraft and for helicopters. 
Following a successful first flight test in July 2022, the A400M can now also fly using a load of up to 50% certified blended SAF. Conducted with one engine using blended SAF, this flight test is another step on the long-term roadmap that Airbus has embarked on towards achieving 100% certified SAF readiness and certification for the A400M, with other military aircraft to follow.
Since 2021, we have undertaken a variety of research programmes to test the compatibility of unblended SAF with aircraft and helicopter engine systems. Highlights include the following: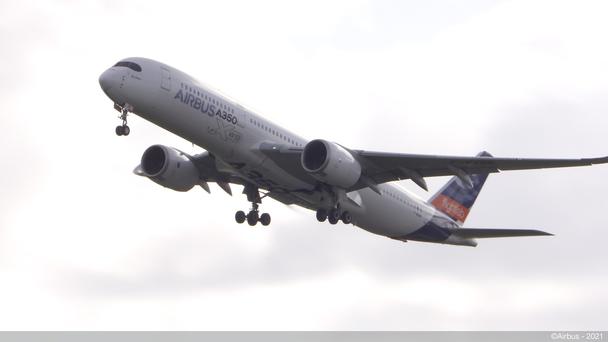 March 2021
First flight of an A350 operating one engine on 100% SAF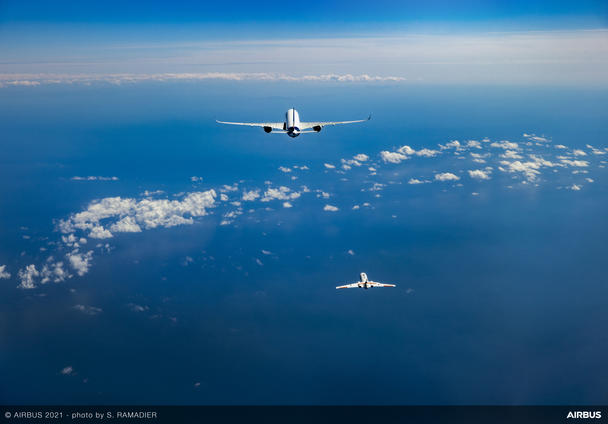 April 2021
Emissions characterisation test of an A350 operating both engines on 100% SAF and followed closely by DLR's Falcon 20E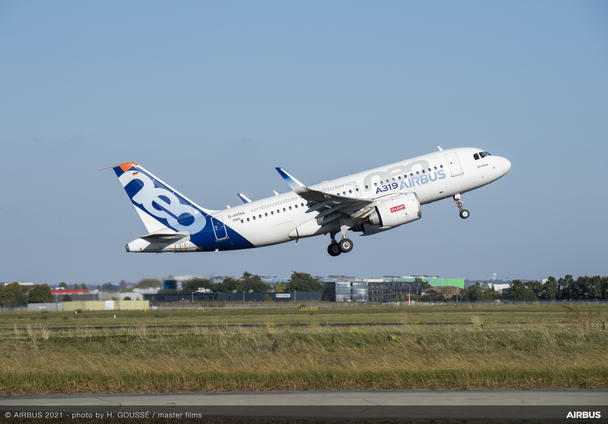 October 2021
First flight of an A319neo operating one engine on 100% SAF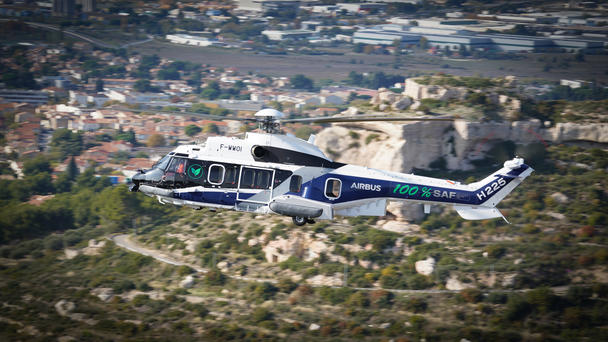 November 2021
First flight of an Airbus H225 operating one engine on 100% SAF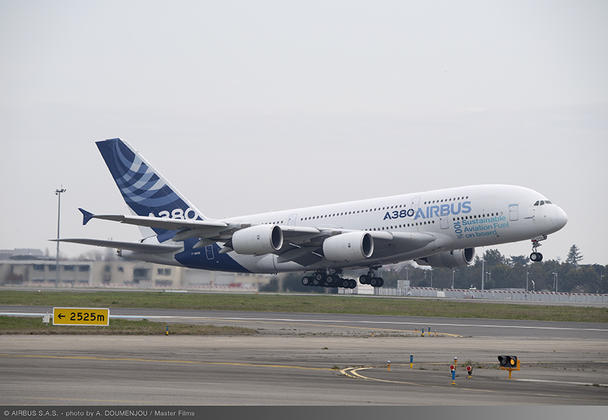 March 2022
First flight of an A380 operating one engine on 100% SAF
June 2022
First flight of an H225 operating both engines on 100% SAF
July 2022
First flight of an A400M operating one engine on 29% SAF
SAF to decarbonise aircraft deliveries and transport operations
In 2016, we were proud to become the first aircraft manufacturer to offer customers the option of delivering new aircraft powered by a blend of SAF. Since then, we have delivered more than 90 aircraft fuelled by SAF from our centres in Toulouse, France (2016); Mobile, USA (2018); and Hamburg, Germany (2020). This option will soon be available at our centres in Tianjin, China, and Mirabel, Canada. 
We are also committed to using SAF to reduce our own emissions. Since 2019, we have used SAF to fuel our Beluga fleet from Hamburg (2019), Broughton (2021), Bremen (2022) and Toulouse (2022) as part of our logistics transport operations. By 2030, we aim to use SAF on more than 80% of the Beluga fleet's flight hours. 
For the entire helicopter range, all development test flights, training initiatives and deliveries use a SAF blend.
---
Discover Climate Action at Airbus