Metric
Performance
| | |
| --- | --- |
| Hover ceiling OGE ISA | 792 m |
| Hover ceiling IGE ISA | 1,935 m |
| Maximum speed, Vne | 324 km/h |
| Recommended cruise speed | 262 km/h |
| Max range with standard fuel tanks at SL | 841 km |
| Max range with standard fuel tanks capacity | 1,119 km |
| Max endurence with standard fuel tanks SL / Aux Fuel tank | 4 hr, 05 min / 5 hr, 36 min |
| Max altitude flight | 6,095 m (PA) |
Dimensions
| | |
| --- | --- |
| D-value | 19.50 m |
| Rotor diameter | 16.20 m |
| Internal volume | 15.50 m3 |
Characteristics
| | |
| --- | --- |
| Crew + passengers | 1 or 2 pilots + 19 passengers |
| Max takeoff weight (MTOW) | 11,160 kg |
| Max takeoff weight with external load | 11,200 kg |
| Useful load | 5,401 kg |
| Max cargo sling load | 4,750 kg |
| Standard fuel tank capacity | 2,044 kg |
| Standard + aux. fuel tank capacity | 2,771 kg |
| Engine type | 2 x Safran Helicopter Engines Makila 2A1 |
| Takeoff power | 1,567 kW / 2,101 shp |
| One engine inoperative (OEI 30s) | 1,784 kW / 2,392 shp |
Imperial
Performance
| | |
| --- | --- |
| Hover ceiling OGE ISA | 2,600 ft |
| Hover ceiling IGE ISA | 6,350 ft |
| Maximun speed, Vne | 175 kts |
| Recommended cruise speed | 142 kts |
| Max range with standard fuel tanks at SL | 454 NM |
| Max range with standard fuel tanks capacity | 604 NM |
| Max endurence with standard fuel tanks SL / Aux Fuel tank | 4 hr, 05 min / 5 hr, 36 min |
| Max altitude flight | 20,000 ft (PA) |
Dimensions
| | |
| --- | --- |
| D-value | 63.98 ft |
| Rotor diameter | 53.14 ft |
| Internal volume | 547.30 cu.ft |
Characteristics
| | |
| --- | --- |
| Crew + passengers | 1 or 2 pilots + 19 passengers |
| Max takeoff weight (MTOW) | 24,250 lb (increase up to 24,603 lb) |
| Max takeoff weight with external load | 24,692 lb |
| Useful load | 11,907 lb |
| Max cargo sling load | 10,472 Ib |
| Standard fuel tank capacity | 4,506 lb |
| Standard + aux. fuel tank capacity | 6,108 Ib |
| Engine type | 2 x Safran Helicopter Engines Makila 2A1 |
| Takeoff power | 1,567 kW / 2,101 shp |
| One engine inoperative (OEI 30s) | 1,784 kW / 2,392 shp |
19 seats for passenger and offshore transport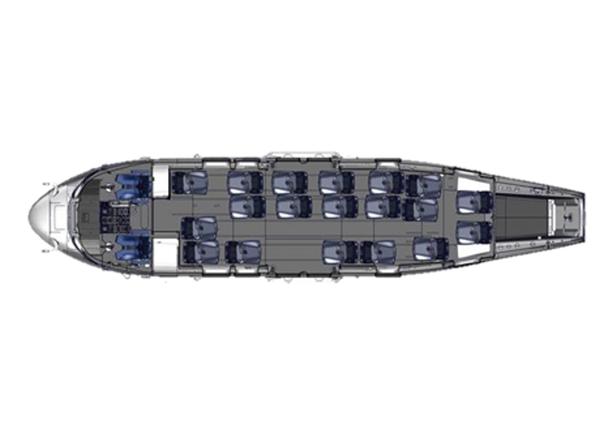 The two pilot and 19-seat configuration is adapted for commercial passenger transport and offshore operations. The air-conditioned cabin and energy-absorbing seats in a staggered arrangement increase passenger comfort, while a central "aisle" and large windows impart a sense of space. 
11 seats for VIP transport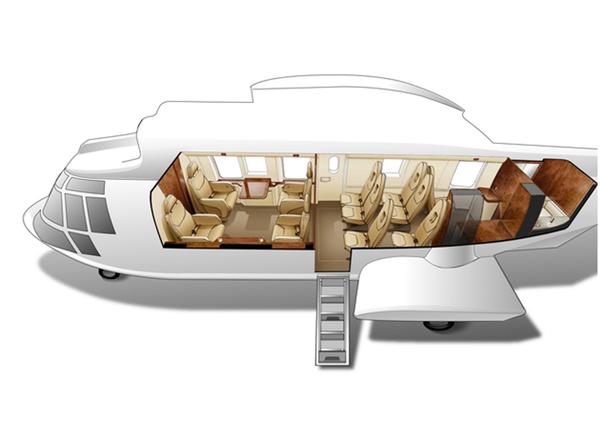 The two pilot and 11-seat configuration is a solution for VIP transport, with a front lounge outfitted with four armchairs, a second area with six comfortably-appointed VIP seats and one flight attendant seat, with room for a toilet. Sound-proofed and air-conditioned, the cabin's space and quiet benefit both work and conversatio 
SAR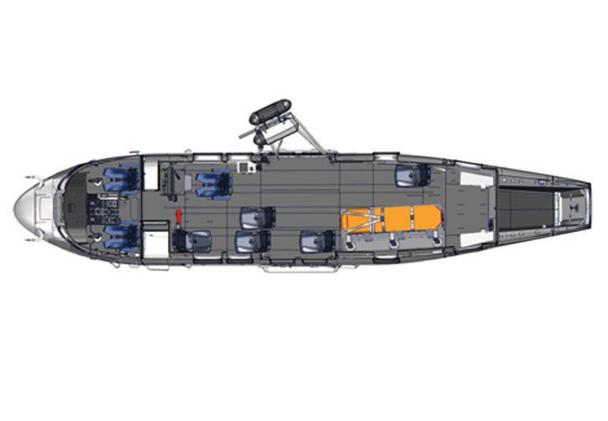 The two pilot and variable seating configuration is suited to search and rescue (SAR) operations. A sample layout consists of a seating for six in cabin for those rescued and cabin crew including one console operator. For high-volume rescues, the H225 can be configured with up to 18 seats or up to six stretchers. 
Documents
Airbus Helicopters Naming Convention
Pdf 33.57 KB
Airbus Helicopters renamed the majority of its products in 2015 to reflects its own rebranding as Airbus and to provide its customers with a coherent and easy-tounderstand product range.
Did you know?
 

| | |
| --- | --- |
| Total H225/H225M flight hours | more than 735 |
| H225/H225M operators | More than 40 |
| Operating countries  | More than 30 |