Worldwide, Airbus employees are going above and beyond to support health professionals who continue treating extremely high volumes of COVID-19 patients – with an emphasis on producing life-saving medical equipment.
Airbus employees in Spain are working around the clock to make visor frames for protective face masks using innovative 3D printing technology. This activity complements Airbus' series of transport flights from China – carrying millions of face masks to Europe for supply to hospitals and health-care workers.
More than 20 printers across Airbus sites in Getafe, Illescas, Albacete and Seville – supplemented by employees' own personal machines – have been working non-stop for weeks. Together, Spanish employees from all sites are producing 300 visor frames a day, with thousands already being donated.
It only takes a few hours to go from designing to printing, but then with 3D printing serial production is slow. If 300 people all do it at the same time, we can make enough pieces.
- Pedro Lozano from Airbus' Albacete, Spain facility
Every afternoon, the produced hardware is collected and distributed to local Spanish hospitals by those with special government mobility authorisation during the lockdown.
Airbus in Germany also is supporting the Spanish initiatives: ProtoSpace Germany, the Composite Technology Centre (CTC) in Stade, and the "Mobility Goes Additive" 3D printing network" are all producing visor frames for the virus-impacted Madrid region. And in France, Airbus' Survey Copter tactical drone division is making visors for use by Spanish medical staff.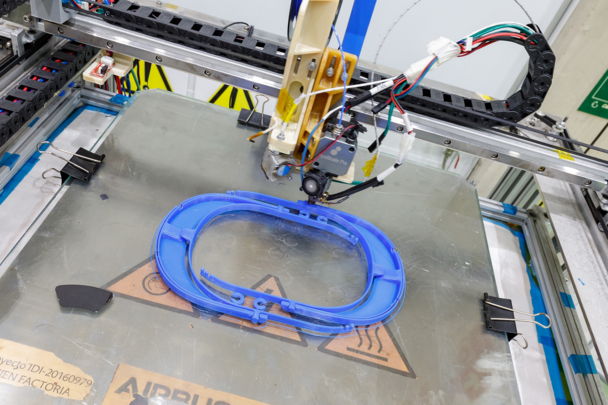 Taking action as a community
3D printing technology also is at the heart of COVID-19 support activities from employees at Airbus' Wichita, Kansas Engineering Centre in the U.S. – which normally focusses on wing design for the company's long-range aircraft.
Working remotely, these team members are helping 3D-print headbands for a crowdsourced protective face shield design from Prusa Research – which also consists of a polycarbonate shield and elastic strap.
Community members and businesses have been providing parts for the face shield, while several people from Airbus' Wichita facility perform quality control and final assembly duties. Completed face shields are delivered to the Wichita Police Department and Sedgwick County Sheriff's Department for distribution where they are needed.
Working remotely, Airbus' Wichita employees already have provided more than 300 units.
Meeting the challenge for ventilators
In the UK, Airbus and its employees are answering the government's urgent call for medical ventilators as part of the VentilatorChallengeUK Consortium. The UK's National Health Service (NHS) currently has access to approximately 8,000 ventilators, however it is expected to need up to 30,000 during the COVID-19 pandemic.
With an urgent order for over 10,000 ventilators to fulfil, the consortium – which also includes BAE Systems, Ford, GKN, Rolls-Royce, Siemens and Thales – is working at full speed to define its product and ramp up production.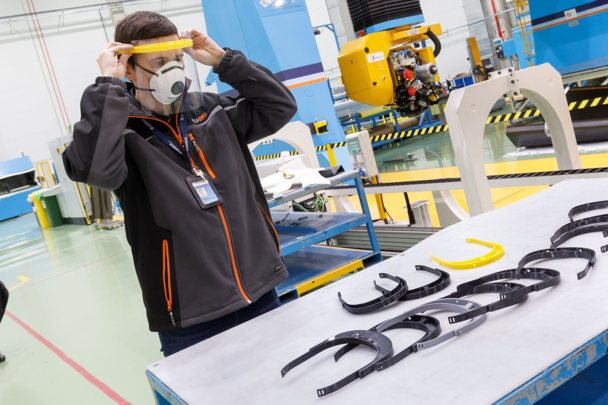 The consortium considered a range of options for its rapidly-manufactured ventilator system, developed by clinicians in conjunction with the UK's Medicines and Healthcare products Regulatory Agency. It is now moving ahead rapidly on production of two agreed designs, which are based on existing technologies and can be assembled from materials and parts currently in production.
Airbus has a crucial role to play in the fight against COVID-19. Our engineers and technology teams are working flat out to respond to the challenge, and I'm proud to be a part of it.
- Martin Bolton, of Airbus' Broughton facility in the UK
As the COVID-19 pandemic presents an unprecedented threat to daily life, Airbus' employees in France are working on "outside the box" ways to fight against the virus' continued spread.
On 30 and 31 March, Airbus' Humanity Lab organised a remote "hackathon" where over 200 participating employees considered, designed and quickly prototyped new solutions with a focus on helping medical staff and services, as well as protecting those affected by the crisis.
From the total of 116 ideas considered, 30 projects were launched, including a doorknob catch to avoid touching door handles. Manufacturing medical equipment such as filters for ventilators, masks, visors and glasses also were considered, as was a system for recycling masks.