CityAirbus NextGen is an all-electric, four-seat vertical take-off and landing (eVTOL) multicopter concept featuring a wing. It boasts an 80-km range and a cruise speed of 120 km/h – making it perfectly suited to zero-emission flight operations for a variety of applications in major cities.
A multicopter concept years in the making
The idea for an efficient air transport service between strategic locations in urban and suburban environments, and what we now call CityAirbus, first came from the company's belief that city commuting can be moved into the sky in a sustainable way. With decades of experience certifying aircraft, the Airbus team began by rethinking traditional aircraft architecture, creating a multirotor design based on electric motors. After years of dedicated research and innovation – including the successful development of two electric eVTOL demonstrators, CityAirbus and Vahana  – along with technology to improve sound emissions across Airbus' portfolio of products, CityAirbus NextGen was born. The lessons learned from this double-demonstrator approach have been essential to the creation of this new generation of eVTOL.
An innovative design with simplicity in mind
CityAirbus NextGen is designed to offer best-in-class economic performance in operations and support. The unique configuration incorporates the following design elements:
A fixed wing
A V-shaped tail
Eight electric-powered propellers as part of its uniquely designed distributed propulsion system
No moving surfaces or tilting elements
A spacious cabin with four seats and easy boarding 
The multicopter is optimised for hover and cruise efficiency, and does not require moving surfaces or tilting parts for the  transition from hover to cruise. 
After initial validations – including 242 ground and test flights with the Vahana and CityAirbus demonstrators covering around 1,000 km total as well as test flights with a subscale model  – CityAirbus NextGen entered its detailed design phase in 2021, with the prototype's first flight planned for 2023.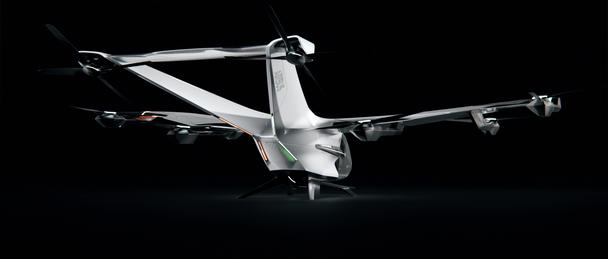 Improved performance in sound levels
Airbus is committed to ensuring CityAirbus NextGen integrates seamlessly into urban environments. Sound levels are a key factor to achieving public acceptance. To achieve this objective, Airbus is leveraging its extensive expertise in noise-friendly designs to drive CityAirbus NextGen's sound levels to new lows:
Below 65 dB(A) during fly-over 
Below 70 dB(A) during landing
Safe and reliable air mobility service
Safety is paramount to all Airbus activities. As with all of our products, we aim to work closely with regulators to comply with the most demanding safety standards. As a result, CityAirbus NextGen meets the highest certification requirements (EASA SC-VTOL Enhanced Category). Equipped with an operational automated flight mode, Airbus' eVTOL vehicle will first be piloted to guide the maturation of the Urban Air Mobility market.
A stepping stone for the future of urban transport
CityAirbus NextGen is a flagship aircraft, designed to help lead the way towards the decarbonisation of the aviation industry as a whole. It incorporates some of the main principles of Airbus' sustainability strategy into the design from the very beginning.  
Building on the expertise of partners in multiple urban environments, the prototype for CityAirbus NextGen is set to become a technological lever in the creation of a more efficient sustainable urban ecosystem. Beyond the vehicle, Airbus' approach to decarbonised mobility relies on collaboratively preparing the necessary infrastructure and intermodality to ensure the most useful service to urban communities.