Electric and hybrid-electric propulsion is rapidly revolutionising mobility technologies across industries, from automotive to marine. And the aviation industry is no exception. At Airbus, our work in electric flight aims to lay the groundwork for future industry-wide adoption and regulatory acceptance of alternative-propulsion commercial aircraft and urban air vehicles.
On the path to zero-emission flight

In 2010, Airbus embarked on its electrification journey, developing the world's first all-electric, four-engine aerobatic aircraft, CriCri. Since then, we have made significant progress in the electrification of flight. Our all-electric, twin-propeller aircraft E-Fan successfully crossed the English Channel in 2015. Our electric vertical take-off and landing (eVTOL) demonstrator projects, Vahana and CityAirbus, have completed many hours of rigorous and comprehensive flight testing programmes to ensure safety and high performance. E-Fan X, the successor to E-Fan that is 30-times more powerful than its predecessor, has provided invaluable insights on serial hybrid-electric propulsion.
EcoPulse™
A new approach to distributed propulsion for aircraft
EcoPulse is a distributed hybrid-propulsion aircraft demonstrator developed in partnership with Daher and Safran with the support of France's CORAC and DGAC.
CityAirbus NextGen
Safe, sustainable and integrated urban air mobility
This all-electric, four-seat multicopter demonstrator focuses on advancing remotely piloted vertical take-off and landing flight (eVTOLs). 
Vahana
Our single-seat eVTOL demonstrator
Concluded in 2019, this all-electric, single-seat, tilt-wing vehicle demonstrator focused on advancing self-piloted, electric vertical take-off and landing flight (eVTOL).
E-Fan X
A giant leap towards zero-emission flight
The E-Fan X is the next step in Airbus' electrification journey. Learn more about this ambitious project—in partnership with Siemens and Rolls-Royce.
E-Fan 1.0
This two-seat, twin-propeller monoplane was the first electric aircraft demonstrator developed in the Airbus portfolio.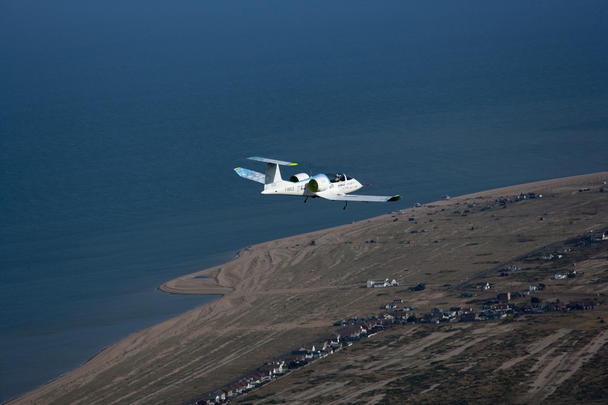 E-Fan 1.1
This 60-kW, all-electric aircraft was among the first of its kind to successfully cross the English Channel in 2015.