The aircraft that launched Airbus
Nearly forty years ago the Airbus adventure started with the A300B, an innovative response to airlines' requirements. In 1972 the world's first wide-body twin-aisle commercial aircraft performed its maiden flight, the first steps towards changing the face of modern aviation.
The A300B and its followers, the A300-600 and the A310, had a rather slow start, but as their reputation for economy and reliability spread among airlines, they went on to become market leaders in short to medium haul passenger operations, and the best selling freight aircraft ever. With more than 820 aircraft sold, the A300/A310 Family ultimately included variants, new build and converted freighters, combis, air tankers, military and VIP transport, and Airbus' fleet of five A300-600ST Belugas.
The constant design evolution across the family, along with the integration of new technology and materials, earned it a place in aviation with many industry "firsts": the first two-man forward facing cockpit for a twin-aisle, the first application of composites on secondary, then primary structures, the first use of electrical signalling for secondary controls and the introduction of both drag-reducing wingtip devices and centre of gravity control.
Such innovation ensured the A300/A310 Family maintained levels of economic and operational performance that continued to attract new customers and generate airline profits well into the 21st century.
Today, a third of Airbus' customers operate A300/A310 Family aircraft as part of a wider Airbus fleet and more than 200 of the 650 aircraft currently flying with some 80 operators will still be in service in 2025. The A300/A310 Long Term Support team will ensure that maximum customer satisfaction is maintained throughout the lifecycle of the A300/A310 Family.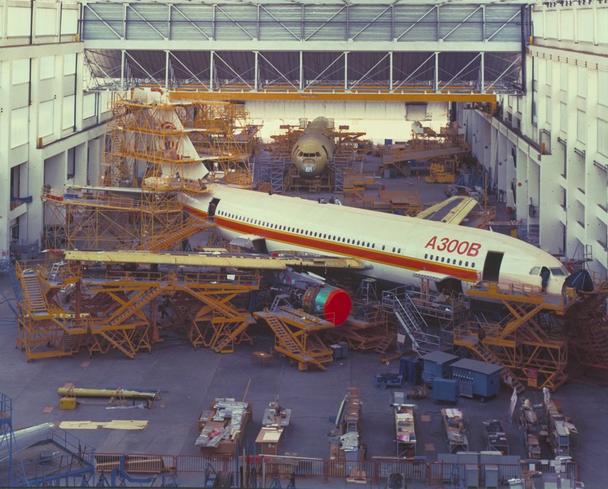 A300 Birth of a Saga Episode 1: A European ambition
A300 Birth of a Saga Episode 2: Towards first takeoff
A300 Birth of a Saga Episode 3: The time of doubt
A300 Birth of a Saga Episode 4: The A300 to the Airbus family
As we turn the page towards new generation aircraft like the A380 and A350 WXB, we would like to invite everyone to read people's fondest, funniest or most interesting memories of their A300 experience.
Nicolas Vernier – France
15 August 2007
I had the chance to be part of the European Space Agency Parabolic Flight Campaign and working on this European masterpiece, the Airbus A300-ZeroG, was an honour and I felt proud to be European. You feel so secure in it that you think it could bring you in space !!! Long Live Airbus, Long Live Airdream...
Steven E.Strickland - USA
12 August 2007
I just wanted to share my thought on your airbus300-600.Last year 2006, I traveled from Miami,Fl to Lima Peru via American Airlines.This was the fist time I experienced a larger Airbus, I had flown on your Airbus 320, via America West Airlines. My experience on AA Airbus 300-600 was excellent. It was a nice wide body aircraft and very roomy. I really enjoyed my flight to Lima and back to Florida. Airbus, please continue your excellent work and I am looking forward to travel on more of your airplanes in the future.
Ramzi N. MANSOUR - Jordania
29 July 2007
Good day . It is remarkable day at Airbus, a major chapter of Airbus history is now closed and the new chapter for the continued support of the program till 2050. I am an airlines / MRO engineer that has been working on the A310 since I joined my origination, Royal Jordanian A/L and Jordan Aircraft Maintenance ltd in 1996 . It was the first aircraft type rating I got. I enjoyed working on the aircraft for the past eleven years and always will as long as my company, Jordan Aircraft Maintenance ltd, will continue supporting maintenance on this aircraft type together with the A300-600 . I always loved the unique mix the A310 has between the conventional aircraft and the modern, fly-by-wire ones. I consider this aircraft to be " The link " between the old and new aircraft generations. Finally I would wish Airbus all the best in the coming programs , and as it said in French ….BON CHANCE AIRBUS ……………………..
Glenn - Cleveland, OH, USA
26 July 2007
I just wanted to share my fond memory of riding the A-300 from Bangkok to Denpasar Bali in December 1999. I enjoyed it very much and was one of my early experiences with THAI airways business class which is superb. I look forward to making the trip again.
Franklin Sternberg - Porto Alegre, Brazil
26 July 2007
Sirs, Ever since I was a little boy I always was (and still am) very interested and enthusiastic about commercial aircrafts. Still today, whenever an airplane crosses the sky I look upwards - and usually I can identify the aircraft. Your site I do visit once a month, on a regular basis. My first flight was back in December 1962 - and ever since I have kept track of all my flights. I have, up-to-date stepped 1.741 times in a plane, with a record of 171 times in a plane in the year of 1997. The first time I flew in the Airbus family: A300 - July 21st, 1978 - Paris/London - Air France (…) I am looking forward to still get on board of the A318, and the new ones A350 and A380 (of course). As you notice, I do fly a lot - always as a passenger. I have to admit that all flights on board of the Airbus aircrafts have been very pleasant. Many thanks for your attention.
Nicolas Vernier – France
15 August 2007
I had the chance to be part of the European Space Agency Parabolic Flight Campaign and working on this European masterpiece, the Airbus A300-ZeroG, was an honour and I felt proud to be European. You feel so secure in it that you think it could bring you in space !!! Long Live Airbus, Long Live Airdream...
Steven E.Strickland - USA
12 August 2007
I just wanted to share my thought on your airbus300-600.Last year 2006, I traveled from Miami,Fl to Lima Peru via American Airlines.This was the fist time I experienced a larger Airbus, I had flown on your Airbus 320, via America West Airlines. My experience on AA Airbus 300-600 was excellent. It was a nice wide body aircraft and very roomy. I really enjoyed my flight to Lima and back to Florida. Airbus, please continue your excellent work and I am looking forward to travel on more of your airplanes in the future.
Mandar Bagul (General Electric) - India
18 July 2007
In the year 1977, when I was just 6 years old, with my Parent we enjoyed the Flying Experience with A300. My first ever Air Travel . Operator was Indian Airlines , from Bombay to New Delhi. Indian Airlines had dozens of A300. Since our residence was near Bombay Airport A300 was common sight. Quiet in the Sky. A huge metal Alloy bird.
Ricky - Venezuela
18 July 2007
Back in the 80's I remember as a 14 years old kid my best friend's dad used to work for Pan American in the operations department at Caracas, Venezuela and one night he invited us to go to work with him. That night when the daily A300 coming from Miami and the A310 coming from JFK arrived, the magic began.,When we step inside the A300 it was huge. It didn't look that big when it was flying over my house every day, but I was wrong: that airplane it's huge inside and so roomy and comfortable; we had the opportunity to talk to the crew and as a young enthusiast in aviation I was fascinated with this wonderful piece of engineering. The cockpit was also wide roomy, a nice place to work! The galleys, the bathrooms, the cargo compartment, we check and look every part of the airplane that they allowed us. We taxied inside the airplane from the terminal to the remote area where the airplane stayed overnight. The mechanics gave us a ramp tour and they showed us all the work done between flight, how they clean the airplane inside and outside too, I noticed how important it was for the Panam staff that the airplane need it to look and work the best of the best for the comfort and safety of their passengers. It gave me that sense of pride that I still carry today about my job, "do it right" , a closed up to the engines and landing gears was impressive, the cargo bay, the tail so tall. I remember how cool it was to see how the passenger doors open. I didn't see that door system in any airplane before, it opens sideways really nice. (…)Thanks Airbus for creating the A300. "You did it right". Thanks for all those beautiful family of airplanes and nice job on the A380, which by the way I waited for when it came to JFK back in March. Beautiful landing, nice looking airplane, and very impressive how quiet it is, nicely done Airbus.
Bernard Bonnefoy (Technical Aviation Consultant) - France
18 July 2007
Good morning Airbus from the Airbus A300B 001 pioneering period old timer!!! The A300B reminds me of the good old days, it has been part of my life for more than 20 years chiefly as a field service engineer in Miami, USA, Baranquilla Colombia, Manila Philippinas, then resident customer support manager in Dakar Senegal, Sao Paulo Brasil ...and so on I got involved with the Airbus A300B as early as 1968 as an Aerospatiale tool design office senior draftsman in Toulouse Blagnac. In 1971, I joined the production prototype dept as a general foreman in the Aerospatiale Toulouse Saint Martin plant. On the 28 October 1972, I was in charge of the " A300B 1- 001" ( f-waub ) first flight preparation as a ramp general foreman (contremaitre principal de la piste Airbus proto 001 ). Later on I was hired by Airbus Support Division and assigned to Miami at Eastern Airlines' main base in 1977 as a field service engineer. Remember at that time we had not landed a sale contract for more than 18 months !! It was a challenge. We had to succeed by providing an outstanding product support to Eastern Airlines to transform four aircraft leasing contract into a buying one and we made it!!! We sold 23 planes to Eastern Airlines!! (special mention to my friend Georges Warde) To conclude the A300B is the forefather of all the actual family. Without it nothing would have happened, long life to the flying A300B Family.

 
Santosh Gajakosh (Manager-Training, Flight Operations, Kingfisher Airlines Limited) - India
17 July 2007
THE A300.

I remember this Aircraft from the day it was inducted into service with Indian Airlines in April 1976, where children of the employees were given a joy ride in the aircraft. Since my Dad was working with Indian Airlines, I got to know this aircraft very closely.

Indian Airlines was the world's first domestic airline to purchase the A300. Some are still flying today for the airline. It was called the "WAR HORSES" of the airline, where it generated more revenue and better payloads. AIRBUS, what I believe came to be known over the world was through the launch of the A300 and the A320.

The best thing about this aircraft when it was manufactured was:

Advanced Wings
Advanced aerodynamically efficient flight controls
Fuselage section for 8-abreast passenger seating and wide enough for 2 LD3 cargo containers side-by-side
First Airliner to be fitted with wind shear protection
Advanced autopilots capable of flying the aircraft from climb-out to landing
Electrically controlled braking system

I got to work on this Aircraft in the year 1997, where I had the privileged to join Indian Airlines. I was picked up for the LOAD MASTER training for the A300B2 & A300B4 and simultaneously for the A320.

The A300's Indian Airlines had:
A300B2 The first production version
A300B2-200: 142 Metric Ton MTOW, with Kruger Flaps (I was very keen to know more about Kruger flaps)
A300B4 The major production version. Features a center fuel tank for increased fuel capacity (47,500 kg)
A300B4-200: 165 Metric Ton MTOW

It was fun to do the load & trim for the A300, especially International sectors, where space control was important and segregation of loads had to be meticulously planned. But I realized that it had ample of space for any load and a very well balanced aircraft. You can load the aircraft to the brim and still its performance was marvelous. Load planning was a challenge in this aircraft yet so easy.

I also got a chance to get to fly in the cockpit from Mumbai to Calicut to Sharjah. WOW what a spacious cockpit and the conventional dials which needed to be adjusted and set and so very reliable. At present Indian Airlines have 03 A300 B4's (VT EHC / VT EFX / VT EVD). They still look elegant.I will always remember this aircraft.

Today I am proud to be associated (from the beginning of its inception) with a Beautiful growing Airline and have a fleet of A319/A320/A321/ACJ and looking forward for the induction of the A340/A330 and the Giant A380.
Dr Sven Helm - Germany
17 July 2007
Dear Airbus Employees,

Congratulations to the successful story of the Airbus A300 and to the development and building of this first European wide-body jet.

I am 37 years old and I am remembering well when I flew the first time in an A300. It was in 1978 when I was only 8 years old. It was on the route from Frankfurt to London-Heathrow on board of an A300 of Lufthansa and my mother explained the advantages of this new airplane especially from an ecological point of view and with regard to its capacity. And even today Lufthansa is operating this route with the A300.

And I am also remembering well my first flight with Lufthansa to Berlin in 1990 when Germany was reunified and Lufthansa was again permitted to approach Berlin after 45 years of prohibition - again with the A300.

Later, I was a fan of the A310, the "smallest" wide-body and I am also remembering the flights on board of this plane operated by Lufthansa, Pan Am and Hapag-Lloyd.

Also for your future planes, especially the A350, your new wide-body, all my best wishes!
G Bétinas (pst-dg Air Assistances) - France
17 July 2007
Une page se tourne pour cet appareil mais aussi pour nous qui avons vu apparaître cette révolution à l'époque, cet avion qui allait chercher les Américains sur leur propre terrain hégémonique.

Merci et bravo A300 et surtout à tes concepteurs et leur idée de génie, l'A300 "bête de somme", mi-pax mi-cargo, qui permettait de "monter" à PAR avec sa voiture en soute, génial....

Longue vie à ce dernier exemplaire qui volera encore en 2047....
Geoffrey Arend (Publisher) - New York, USA
17 July 2007
For A300

The last big airplane that Pan Am World Airways flew when Marty Shugrue tried to revive the airline after 1991 was A300/B4. I recall that aircraft sitting with it's billboard tube ; the words PAN AM in bright blue at LAX glinting in the early morning sunlight.

A300 was/is the airplane that proved EADS the company, when Eastern Airlines in some financial difficulty took the airplane and revived itself with spirit and new business for the Florida carrier during the 1980s. Sweet twin jet that has graced everywhere you fly, thanks for the ride.
Jaidev Mahambre – Mumbai, India
16 July 2007
FIRSTLY I CONGRATULATE ALL THE PEOPLE INVOLVED IN MAKING THE AIRBUS A300 A HUGE SUCCESS STORY!

I'm an Aircraft Maintenance Eng. Student from Mumbai, India. My Passions include Aircraft, Especially Commercial Aircraft. My career has enabled me to get close to the various aircraft.

I have always been an AIRBUS fan, and one aircraft, which always attracted my attention was the Airbus A300 especially the Airbus A300-200B4.

The main reason for this may be that the maximum flights I ever flew were onboard that aircraft with Indian Airlines. I was privileged to have flown approx more than 60 times with that aircraft, most of them being Bombay-Goa-Bombay flights.

I remember me coaxing my dad to book me a ticket to Goa during my vacations just so that I could travel aboard the Airbus A300.

I was lucky enough that my dad is also working for Indian Airlines in engineering-line maintenance. I always looked at pictures in the magazines and on the net to ask him about the various things that were installed on the aircraft and could get an idea as to why each part was there on the aircraft for a specific purpose, the most notable part which always amused me was the wing fence kind of a aerodynamic device on the leading edge of the wing about 3/4th of a distance from the root end of the wing along its leading edge.

The wide-body fuselage which is a Airbus trademark nowadays is one of the most comfortable cabins in the world, and having travelled many times in the aircraft, I still feel as if I should travel more.

When I logged onto the AIRBUS site this evening, I saw the A300 news of the last A300 being delivered to Fed Ex, the news made me sad at the same time put me back into the memories of Airbus A300 and the Flights.

Airbus A300 I feel is one of the most reliable aircraft in the industry and has provided excellent service to all its operators. I feel extremely lucky to have flown in this aircraft many a times. I always thought it was a beautiful aircraft to look at, especially its Cockpit or the Front fuselage section, which has that typical AIRBUS look, which was carried over to the A310, A330, A340.

The A300 provided a platform for many other a/c in the AIRBUS Line Up. I still gaze at the A300 aircraft as if takes off from Mumbai Airport and watch it till it's out of my eyesight. (…)

I sincerely congratulate all of the employees at Airbus who made the aircraft possible, all the cockpit crew who flew it all over the world, all cabin crew who catered to the needs of the people in the spacious cabin, all the Engineering Staff from the Airlines who kept the aircraft serviceable all the time, and all the lucky passengers like me who could enjoy travelling in such a beautiful aircraft. This is the aircraft which I believe told the world Airbus was ready to compete in the world market. This Aircraft has set the tone for all the other latest Airbus Aircraft to come in these years, which have ruled their respective markets. (…)

Congrats again for AIRBUS A300 and its Huge Success.
Leopoldo Burgos - Argentina
16 July 2007
I remember my first flight in Airbus A300 of a Brazilian airline, VASP, from Iguazú Falls to Sao Paulo. A great experience in my 18 young age. The list in my aviation life continues in A320, A319, and A340 and I really hope to be aboard the new A380 soon.

Thanks for the comfort and good times aboard of your jets.
Damien Boissay (Airframe & Avionics Engineer) - France
15 July 2007
I was just born when the first A300B took off for the first time. 25 years later, after aeronautics engineering course studies, I discovered for the first time what was a commercial aircraft at the EADS Sogerma facilities as airframe & avionics engineer.

Even if I spent many hours, crying, trying to change a simple part, because all the aircraft was built around this one, this aircraft, the A300B, permits me to learn and understand the Airbus state of the art.

Now, I'm working on A320 and A330, and all I know now, I owe it to this wonderful aircraft. As I like to say, I am Airbus wired !
Matthias Lankenau (Lufthansa-Flugbegleiter)
14 July 2007
Mein erster Flug überhaupt war 1986 mit einem Airbus A300 der Hapag-Lloyd von Hamburg (HAM) nach Palma de Mallorca (PMI). Ich war unheimlich nervös und hatte auch ein wenig Angst. ich war damals von der schieren Grösse des Flugzeugs überrascht und das Fliegen gar nicht so schlimm ist wie ich es mir immer vorgestellt habe. 13 Jahre später im September 1999 hatte ich meinen ersten "on-duty" Flug als Flugbegleiter der Lufthansa auch auf einem Airbus. Und zwar einem A310. (D-AIDD) Frankfurt (FRA) → Barcelona (BCN) →Frankfurt (FRA) → Mailand (LIN oder MXP???) → Frankfurt (FRA) und hatte sofort Blut geleckt. Wir wurden auch noch auf den Jumbo ausgebildet, aber 1999 flog Lufthansa mit dem A300 auch noch angstrecke und so bin ich mit dem A300 an Orte gekommen an die ich so vielleicht nie gekommen wäre. Ein anderer Vorteil war, dass der A300/ A310 eine kleinere Crew als die 747 hat und es so natürlich viel persönlicher ist als im "Jumbo".

Heute fliegt der A300 leider fast nur noch Kurzstrecke und ich fliege mittlerweile A320 family und A340/ A330, aber jedes mal wenn ich als Gast auf einem A300 fliege, einen sehe oder ihn höre (den erkennt man nämlich...☺) denke ich an die schöne Zeit zurück und natürlich an mich als kleiner Junge in Hamburg-Fuhlsbüttel und den "riesigen" Flieger vor dem ich damals soviel Angst hatte....

Schöne Grüsse aus Bremen!
Johannes Sulistyo - Indonesia
14 July 2007
(…) During my childhood (1990s), almost three times a year I travelled from Jakarta (CGK) to Surabaya (SUB). If you choose the best 2 airlines here, Garuda Indonesia and Sempati Air, both operated Airbus A300B4-203 and A300-600R on the route beside Boeing 737s. When I travelled to Singapore (SIN), Singapore Airlines used Airbus A310 on this route, so A300 is really the plane of my childhood. Nowadays, Sempati Air has bankrupted, Garuda retired their A300s, and so does Singapore Airlines with their A310s.

I could recall some of my memories with this aircraft:

It is the first wide body airplane that I flew with.

The second and the last time I tasted "First Class", on board Sempati Air from CGK to DPS (Denpasar, Bali).

The first airplane with video screen projector (hanging on the galley wall) I've ever known (at least in Indonesia).

The longest flight I've ever been is with an Airbus A310-200, from Singapore to Shanghai on board Singapore Airlines, and I have to say that it is quite comfortable for a kid like me to stay quiet for 5 hours on that plane.

(…) The plane is quite big, and the only wide-body that is operated in short-range routes like CGK-SUB, and my mother (who is having a phobia for flying) prefer this aircraft to any other aircraft, because it is so big and more steady in the air, despite many aviation enthusiast complained about the turbulence resistance performance of the aircraft.

(…) The airplane is quite huge (compared to other plane serving CGK-SUB route), and when in low season, all the economy seats were always almost empty, so I used to play hide-and-seek a lot with my brother when we were kids.

My passion for Airbus planes actually don't come from this aircraft, despite I have so many memories with this aircraft. Because its look is very ugly in my opinion. My love for Airbus came from Airbus A330-300, almost all of my friends in Indoflyer.net shared the same interest with this "sexy" winged aircraft.
Arif Rahmat Muharram
14 July 2007
A300 is my first wide body aircraft that I've ever been flown by...

A300 of Sempati Air flew from Changi to Soekarno-Hatta...

One of A300B4 Nosegear is placed at PP IPTEK Museum in Taman Mini Indonesia Indah....

I Love Airbus...
Stuart C. - USA
12 July 2007
I flew on the A300-600 with American Airlines in April 2007, it was my very first time on the aircraft. I was really amazed by the quietness of the aircraft and size compared to other aircraft in its category. Airbus created a remarkable machine and it has to be the longest aircraft to be still in production in its class. Airbus is nearly 40 years old and they have only retired their first family of aircraft from production now, I don't know if that is because of demand or because the aircraft was such a big hit. I love every Airbus aircraft and my favourite is the A330-200. American Airlines should be ordering more of these fabulous aircraft because everyone that I know of that gets onto one and sits down cant get over their size, storage, comfort and quietness.

Airbus I raise a glass of congratulations to you, you created the world's first twin engine, wide body aircraft in the world, with the world's first two man cockpit, all the best with your record selling A330/A340 and A320 that will soon outsell it counterpart the 737 and all the best on the A380 and A350XWB.

Thank you for building the world's best aircraft
Isaac Uwagwu – UK
12 July 2007
Congratulations!

The A300 was the Airbus Industrie consortium's first aircraft and greatest challenge.

Two questions were to prove critical and of great interest to watchers as events unfolded. One, "was the A300 going to be a "great product" straight out of the box?" and secondly, "would the consortium of "partner countries" hold together and go from "strength to strength" ?"

The A300 answered both questions with a resounding "yes!" and to critical acclaim.

It remains a great achievement from individuals and countries who had the vision to conceive, believe and commit to the dream of challenging the "American majors" and win!

Airbus ...I love you!
Alexander Alexeev - Yakutsk, Russia
12 July 2007
I am writing to salute you on completion of the Airbus 300 programme and the concluding delivery to FedEx! Actually it was surprising for me to read this news as I thought A300/310s were no longer built for a few years now. It's great to realise that the production continued up until now and it certainly is an indicator of how successful the series are with the airlines.

As an aviation enthusiast and used to be quite a frequent air traveller. Living in a far eastern region of Russia (Yakutsk), I first experienced flight on an Airbus aircraft in 1995 when for the first time ever A310 was operated on YKS-DME route previously dominated by IL-62 and Tu-154Ms. Needless to say the level of comfort provided by the A310 was unmatched by its Russian counterparts - most notably the twin-aisle, extra room in width and pitch, air conditioning and pressurisation of the cabin (I am esp. sensitive to this on take offs and landings). Also, the flight that normally took 6 or 6,5 hours on a Tu154 or Il-62 this A310 made into a 5,5 hour one! Not sure if it's the faster cruising speed or an altered route but definitely an added positive change that came with the introduction of A310 to this route. Our region is famous for its extreme cold winter conditions and A310 proved highly durable to ground operations in temperatures like 40 and 50 below 0 Celsius.

It is my ambition for near future to get on flights serviced by A330 and A340 just to experience what these exciting and aesthetically nice looking aircraft are like. A300/310 shall however remain in my memory as the first wide-body I had flown on - truly international and making a real difference (only this year our local airline leased a Boeing 757-200 for YKS-Moscow route, making it only second non-Soviet era plane we get to see on regular service... but it's a narrowbody... while Airbus A310 was already here 12 years ago).

Kind regards!

and good luck with the A350 programme!
Fabrizio Bucci - Arezzo, Italy
13 July 2007
Just a few words: the first aircraft I have flown (1991) was an A300, AZ I-BUSC (cn 106). An unforgettable flight!
Vive le A300!!!!!!!
Cristiano Arruda Cruz - Campo Grande, MS, Brazil
12 July 2007
I had more than one experience with the A300. The first one was when I saw an A300 from VASP flying above my home, it was searching the best winds to descend at the airport, it crossed above the region three times, it was pure ecstasy to watch that big aircraft with imponent wings and those engines giving me the best symphony flying above my home, it was a unique privilege, I felt like I was abroad like in France by that moment, I didn't feel like I was in Brazil right in Campo Grande where a wide-body had never landed before. Days later, I had the pleasure to see it taking off during three days whenever I walked towards the school in the mornings. The A300 operated for a few weeks in Campo Grande. I think I was 14 years old, today I am 31. In January 2001 I had the chance to fly on the A300 from Rio (Galeão) to São Paulo (Guarulhos). Its wings and engines proved that the A300 is a battlefield warrior. The flight was very pleasant, safe, fast, and although it was a day of turbulences due to the hot weather, the aircraft behaved pretty well. The legroom on that A300 was excellent. I remember the words of the pilot when he said that the traffic control tower had released us for the "paaaaarrrrrrrtidaaaa!!!!". "Partida" means "departure" in Portuguese or "the start of a soccer/football play". He did a pun, a play of words. It was very kind of him to make the passengers relax and have some fun as he did his speech. VASP really had the best pilots of Brazil indeed. The landing at Guarulhos was the best aircraft landing experience I ever had, the A300 touched the runway such way that nobody noticed any of the wheels touching, it was like that the A300 was hovering by the whole way towards the finger. Amazing! Incroyable!

After that, I never had another chance to fly an A300, but I hope to fly the A380 soon. My beloved aircraft. I want to taste the quietness of its interior and its amenities.

Thank you Airbus for starting right with the A300, a magnificent aircraft that helped to make the dream of Santos Dumont stronger, an aircraft that gave origin to the A380. The A300 is the first twin-engine wide-body of the world and the basis of the magnificent A350 that is to come. Very thanks!
Alessandro Lusardi - Italy
12 July 2007
GRAZIE per questi 40 anni di volo!!!
Michael Hermansson - Sweden
12 July 2007
Thanks Airbus for the A300/310 family.

Makes me proud to be European when flying any Airbus model.

My first experience with A300 was in the early 80´s flying charter to Spain.

I was surprised of the wide cabin and the great seat pitch for a charter airline, was a little bit tense cuz "of only two engines can fly so many passengers!!"

After that I´ve been in heaven with A300-B2 and -600R many times.

My next flight was A310-300 with PanAm from ARN to JFK 1990, very smooth ride over the pond I loved every second of it, that´s for sure... My hat off to you Airbus and hope to fly many more times with the greatest airline company in the world!
"Airbus SAS - Love them both" (I´m from Sweden)
Your devoted fan.
Heinrich Krueger - Hamburg, Germany
In 2003, one of the early A300 (MSN086), was serving the hajj pilgrimage. During one landing in Medina the aircraft experienced a spectacular tail strike: The damaged area was larger than I ever saw before. It was longer than a whole section 17 and seven frames broken. At that time I was in the Airbus repair department in Hamburg, working as stress engineer. The damaged aircraft could not be repaired in Medina. So we managed to perform a temporary repair to get the aircraft to Abu Dhabi, UAE. The permanent repair was carried out there, at GAMCO facilities. The complete lower shell of S17, including the frames had to be changed. I was sent to Abu Dhabi as an advisor, together with one team leader from Airbus. I stayed there for over 5 weeks, almost the whole month of August. Outside we had around 50°C at 90% humidity, but inside their large A300-hangar nice 19°C! Together in a very good motivated, real transnational and completely cross cultural team of Indian, Philippine, Arabic and European staff we worked hard and finished the repair days ahead of schedule. This was probably the best experience I ever had since I entered aviation industry.
Eric Delmas - Toulouse, France
My first experience with A300 is when I joined Aerospatiale in September 1985. I worked at the design office in the propulsion system department. Before, I had never been in a position to perform a flight on board of any aircraft. So in charge of tests conducted on the engine oil system I finally had the opportunity to perform the first flight of my life on board the MSN 252 - a flight test aircraft, inside the cockpit. This test was conducted the 23rd December 1986. After the flight it was not possible to get any stairs to leave the aircraft via the passenger door, so we had to leave the aircraft via the electronic bay and through the small door near the nose landing gear! This experience was a Christmas gift for me so I will never forget this day.
Patrick Tejedor - Toulouse, France
This is a true story.

In 1984, I was in charge of the working parties for the first A300-600 to be delivered to Saudia. To do these working parties, we needed to enter the aircraft into a hall, as we had to change the landing gears. The hall was the Cellule 4 in Saint-Martin (called also M67). The aircraft was entered with the rear in the corner of the hall, and nose close to the big door. We did the work, and changed the landing gears. We started to roll the aircraft out of the hall. But we had a problem:

the new landing gears were higher because they were not pressed by any landing.
the aircraft was longer than the previous A300.
the ground in this hall slopes, so the nose went down and the rear went upwards. The tailfin was trapped into the roof structure! It was not possible to roll out of the hangar! We needed to put the rear lower, and for that we had to add weight. I looked at all the people working close to the hall, and asked them to go into the aircraft at the rear. With around 20 people, we succeeded in getting the rear lower and then going out of the hall.

The first A300-600 was out of Cellule 4!
Steve Edge - Filton
I started my apprenticeship in Broughton in 1989 and I worked and learnt a lot of my trade on the stages of manufacture on the A300 wings, still to this day it holds special memory's of the camaraderie and level of skill required to assemble the first and best Airbus aircraft.

Thanks A300.
Peter Potocki - Toulouse
A Toulouse Brit, I joined Airbus Engineering in 1979, after working at Rochester, Toulouse and Paris on Concorde, another Airbus aircraft, since 1965. I'll be handing over my A300 responsibilities shortly. Lots of fond memories of the A300: Those 314-seat, nine-abreast Air Inter aeroplanes, with the orange seats and hatracks with doors, were so spacious, after sampling their Caravelles with the facing-each-other-seats front row. Much better than an eight-abreast B767 too!

Flight engineers sometimes quickly pushing a door with their foot, as part of the preflight check, so that the 'door closed' indication worked. It took us time to find out what was going wrong with those door switches.- Persuading airlines that our standard instrument layout was much better than the ones that they had been used to, with varying success. And many years later, having an airline engineer regret the way that they had spoiled the aeroplane.

Promising to get drunk when American Airlines bought the aeroplane.
The wonderful dependability of the A300.
And best of all, the friendly people of many nations who I worked with.

To quote Flight's Uncle Roger: 'Ah - the sweet nostalgia of that never-to-be-forgotten moment'.
Heinz Fock - Hamburg
The A300 has accompanied me since the first day of my working life with Airbus. In 1968 I began as an electrician apprentice with Airbus (Hamburger Flugzeugbau" at that time. In July 1972 my first assignment led me to the Final Assembly Line in Toulouse. I was 20 years young and qualified on the first (!) A300, specifically the socalled cable abrasion positions. At that time I did not know that the A300s would accompany me over many decades. First as electrician in the FAL, then for short time within cabin systems, and today in the engineering as a group leader responsible for data recording systems. In July when the last A300 is delivered, it does not mean the end of my connection to the A300, but rather the beginning of new challenges within the A300 success story. My latest involvement with the A300 is as pioneering as it was in the beginning. With the project 'Wide Body 2050', Airbus is capturing and retaining wide-body-specific knowledge from the A300 and passing this knowledge along to the generations to come - up to the year 2050. Today, 35 years later, I proudly look back on the achievements and look forward with confidence on all that is still to come.
Erich Feldkirchner - Toulouse
I joined the cabin interior department of Deutsche Airbus, Munich in January 1974. After the B1 building in Blagnac had been built, I moved in with the first group of around 50 people. My first long range flight with an A300B2 was with the 2nd Indian Airlines ferry flight to Bombay (MSN 034, if I remember correctly), via Dubai in summer 1975. I was responsible for the cabin definition. We were treated like kings. Huge advertising panels everywhere 'The Airbus is coming'. Not to forget, it was a big step for them. From some very old B737's and Caravelles to a modern wide body aircraft. It also was a big challenge to operate the aircraft. During heavy monsoon rains the hangar was inundated by 20 to 30cm. Snakes everywhere. One of their big problems were rats, which entered with the cargo. They managed to penetrate the electronic bay and worked on their preferred cable bundles. No modern means to get rid of hem turned out to be satisfactory. Traditional rat hunters where hired and paid per killed rat. Nethertheless Indian Airlines became a very important and valuable Airbus customer, followed by Air India, which received the A300B4's from bankrupt Freddy Laker Airways. But this is another story.

I visited Bombay and Delhi very often and will never forget the very professional and great people I met there.
Stephen Day - Filton
I was an engineering apprentice at Hawker Siddeley Hatfield Herts from 1967 -1972 . I worked for a time in the Stress Office and Structural Test . I can remember the wooden mockup of the wing which was located in a building beside the main Drawing Office and Stress Office. The general reaction to seeing it for the first time was how large it seemed in comparison to conventional civil airliners such as the HS Trident, BAC 1-11 Caravelle etc.The Main landing gear and rear spar were very deep. The general feeling at the time was that this aeroplane was a completely new concept as it was a wide-body, a first and ahead of the competition.
---
Discover more Airbus history