More than two billion people worldwide still lack access to safe drinking water. Today, an innovative plasma water purification system—funded by the Airbus Foundation for deployment in schools in Kenya—is improving hygiene, health and access to education for vulnerable populations.
For many of us, access to safe, readily available drinking water at home is something we take for granted. However, an estimated  2.1 billion people worldwide—almost 30% of the global population—still lack this access. 
Safe water, sanitation and hygiene are among the most basic requirements for human health, as the COVID-19 pandemic has shown. For this reason, the United Nations has made access to clean water and sanitation one of its Sustainable Development Goals (SDGs). In fact, the UN aims to achieve universal access to safe water across the globe by 2030. To achieve this goal, a variety of solutions will need to be developed—and technology is expected to play a key role.  
An innovative plasma water purification system is showing promise in this regard. Developed by inventor Alfredo Zolezzi at the Advanced Innovation Centre, the system has already delivered tangible results in Chile. Today, the Airbus Foundation—in partnership with the Kenya Red Cross Innovation Unit administered under the International Centre of Humanitarian Affairs—is supporting the deployment of this innovative technology to make a difference in the lives of vulnerable children in Kenya.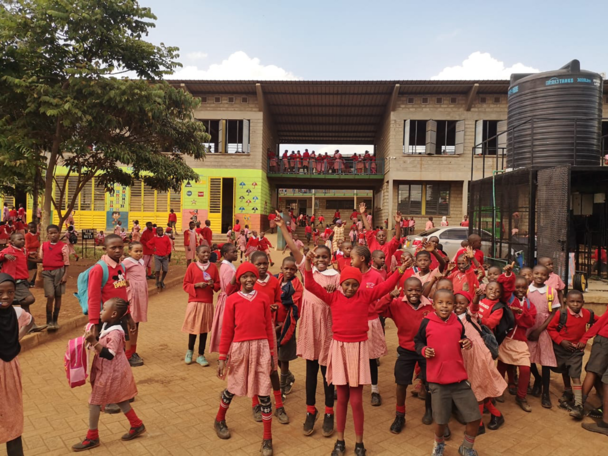 Children arriving at the Mukuru School in Mukuru, an informal settlement in Nairobi County, Kenya.
"We hope the impact generated in the Kenya pilot will inspire other corporations to follow Airbus' lead by working to make change globally."
 Alfredo Zolezzi, water plasma purifier inventor
Plasma power for drinkable water
For water to be safe and drinkable, it must be free of viruses and bacteria. Zolezzi used this as the starting point for his technical inquiry. But how to eliminate impurities at the source?
He found the answer in plasma. 
His purification system starts by transforming a continuous flow of contaminated water into a plasma state. Plasma is often referred to as the fourth state of matter, in addition to solids, liquids and gases. It is similar to a gas, but the atomic particles are positively charged rather than neutral. Once the water reaches a plasma state—thanks to a pressurised reaction chamber and electric current—oxidation, ionisation and reactive species eliminate the microbiological water content. The water elements are then recombined and condensed as drinkable water.
"According to our tests, the plasma procedure can eliminate over 99.9999% of bacteria, achieving an unprecedented efficacy," Zolezzi explains. "In doing so, the system can deliver access to safe drinking water to those in need quickly and efficiently."
So far, the system has been used in Chilean slums and rural schools to great success. However, the first version of the system has been costly to produce and difficult to transport. Recognising the plasma water purifier's potential, Airbus collaborated with Zolezzi's team via the Airbus China Innovation Centre to adapt a prototype that not only costs less but is also much smaller, providing a highly efficient distributed solution at the point of use.
"We hope the impact generated in the Kenya pilot will inspire other corporations to follow Airbus' lead by working to make change globally," Zolezzi says.
A plasma water purifier unit has been installed on the premises of the Gatoto Community Primary School in Mukuru, Nairobi County, Kenya.
Innovative solutions to tackle everyday challenges
Now that the plasma water purifier is easily transportable, the Airbus Foundation has teamed up with the Kenya Red Cross Innovation Unit and the Water, Sanitation and Hygiene (WASH) department to deploy this solution in an effort to reduce water-borne diseases in Kenya. As part of the partnership, the Airbus Foundation is funding the installation of seven water purifiers.
Currently, three units have been deployed in the Mukuru, an informal settlement in Nairobi County. The units are housed on school premises to enable children to access safe and pure drinking water. The children can also bring water home for use outside of school hours. Four more units will be installed in schools by the Plasma World team as soon as the COVID-19 situation improves and they are able to travel to Kenya again.
The implementation programme includes installation, extensive community outreach and impact measurement. Although schools have been closed throughout 2020 as a result of COVID-19, children are able to access the premises to collect safe drinking water for their families. Gatoto Primary School was one of the first schools to have received the units. To date, the school is still operational with over 1,000 students enrolled.
"The plasma water purifiers have made an enormous impact on the health, dignity and quality of life of children living in our community," says a school teacher at the Gatoto Community Primary School in Mukuru. "Not only does good hygiene improve health, it also supports greater access to education because the purifiers are placed in schools."
For the Airbus Foundation, the initiative builds on its mission to support communities, particularly in the context of youth development. It also enables Airbus to demonstrate its commitment to taking an active role in "Partnerships for the Goals," a global goal of the UN SDGs and a framework on which Airbus bases its sustainability contributions.
"Innovation is essential, but innovation with purpose can be world-changing," explains Rachel Schroeder, Airbus Foundation Managing Director. "We're very happy if the plasma water purifiers can make such a meaningful difference in the lives of youth in Kenya."