This partnership based on innovation involves in-kind support to American Magic in the form of Airbus engineering expertise, provided in several areas that contribute to the US team's boat design efforts – including system architecture design/testing, aero/hydrodynamic calculation and optimisation, boat control and instrumentation, as well as virtual reality.
This is where the magic happens
Airbus is proud to be the Innovation Partner for the American Magic team
Since 2018, the Airbus-American Magic collaboration brings together two partners known for out-of-the-box thinking and concepts, united to win sailing's most prestigious trophy designing a new type of ground breaking 75-foot foiling monohull, the AC75, which is capable of reaching speeds in excess of 50+ knots (approximately 100 km/h). 
"Having flown many aircraft in my life, I would compare this vessel to a fighter jet," said Jean-Brice Dumont, Executive Vice President - Engineering at Airbus. "It's extremely powerful, and it's a concentration of technologies that can work thanks to people's brains – not only muscles. Airbus was a natural fit for the American Magic team with the company's direct access to state-of-the-art engineering expertise and manufacturing facilities."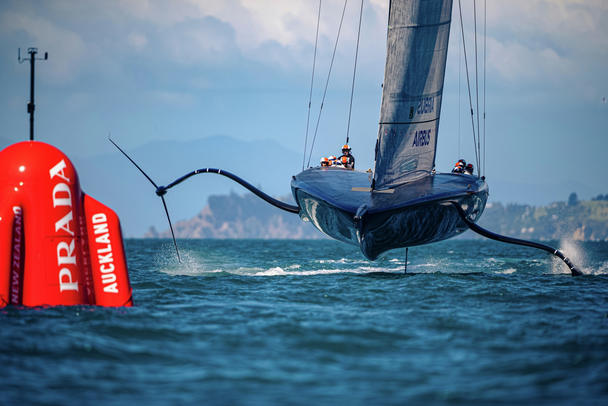 American Magic's AC75 PATRIOT in Auckland, New Zealand.
Optimising design, engineering, data capture, analysis and simulation were among the parallel priorities of the Airbus and American Magic teams. While an aircraft's wings produce lift, and the sails on a boat generate thrust, both interact with the air in similar ways. When the American Magic boat's hull lifts out of the water, aerodynamics become crucial to speed and stability as it "flies" across the water on foils shaped like the wings of an Airbus aircraft.
We love competition that pushes us…
- Jean-Brice Dumont, Executive Vice President - Engineering, Airbus
Airbus' competitive spirit
The 36th America's Cup competition – to be held in Auckland, New Zealand – will officially kick off on 17 December with a preliminary World Series and "Christmas Cup" exhibition involving all four competing teams - 3 Challengers and the Defender. The Prada Cup, also known as the Challenger Selection Series, will begin on the 15th of January, while the America's Cup Match presented by Prada is planned to start on 6 March. 
"This is a true challenge for the team to optimise technological innovation under such tight time and resource constraints," added Jean-Brice Dumont. "We love competition that pushes us to continuously improve, innovate, solve challenges, learn from experience and, ultimately, win. Our goal in this project was to help American Magic design the fastest flying yacht for 2021."  
American Magic's participation in the multi-stage America's Cup contest also is an outstanding opportunity to showcase Airbus' pioneering spirit in an entirely new context, as well as underscore its key industrial and market presence in the U.S.
From the 17-20th of December all three challengers (American Magic, Team Ineos UK & Luna Rossa Prada Pirelli) and defender, Emirates Team New Zealand will line up on the starting line for the PRADA America's Cup World Series and PRADA Christmas Race in Auckland, New Zealand. The America's Cup races, the PRADA Cup and the America's Cup Finals, will follow a month later and run from January to March 2021 in Auckland.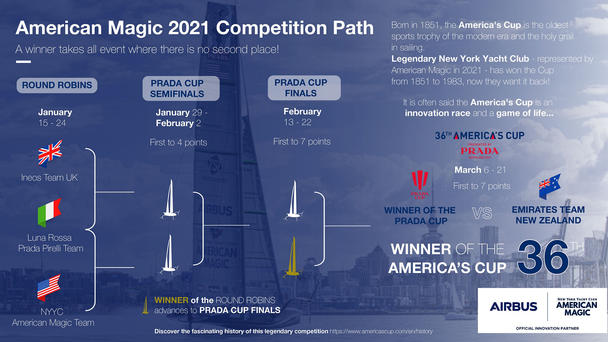 Visit the American Magic website.