We officially started the operation on Saturday, 2 August," explains Jeremy Heuls, the young chief pilot of Corail Helicopters Mauritius. "We had an H130 available, and help for three days from our AS355NP from Reunion Island. The Ecureuil then returned to its base and the H130 now remains the only aerial work helicopter being used at the site of the shipwreck."
Transforming into an aerial work platform 
The aircraft was stationed in Mauritius for passenger transport and tourist flights. But once the pilot door had been removed, equipped with its hook and a sling, it instantly became a high-performance aerial work platform with Jeremy at the controls.
"The first days of work were intense," recalls the pilot. "I started by transporting a large amount of equipment to the wrecked ship – pumps and generators – so that the salvage team could get to work. The heaviest load weighed in at almost 1.2 tonnes! We also delivered our 'task specialists' on board, either using the boat's helipad, or doing skid touches when the ship was listing too much. Our mechanics and our two other pilots received special training for the work on the different ships and work sites on shore. They did a great job and without them, it would have been a different mission…"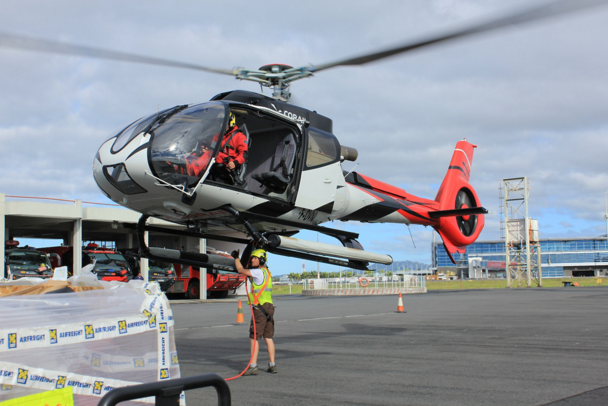 The proximity of the vessel to the shore has been a positive factor, as turnarounds times have been fast. Operations have also been helped by the weather conditions in the southern winter, with moderate temperatures and winds.
In a second phase, the removal of pollutants still present on the ship was carried out with IBC tanks, which can carry several hundred litres of pollutants. The H130 transported them to the ship on the sling four at a time, then brought them back full one by one to the shore. "We transported a total of 98 in one day," says Jeremy. "I worked the first few days with a 20-metre sling, but when the ship broke, the stern started to settle and the obstacles, antenna, masts, etc. became more troublesome. I then switched to a 30-metre sling. What made the work difficult was essentially the continuous movements of the wreck and the lack of vertical and lateral reference points since most of the work was over water."
By mid-September, after more than 30 days of operations, Jeremy had exceeded 90 hours of flight time on the job. With his H130, he had transported more than 100 tonnes of equipment and participated in removing at least 50 tonnes of crude oil. An exceptional achievement for the first-ever sling operation in Mauritius!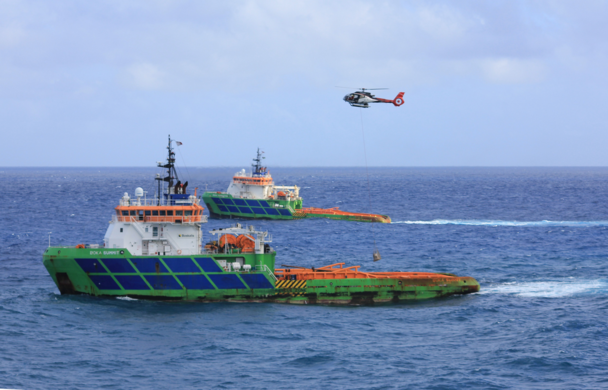 Corail Hélicoptères
Corail Hélicoptères has a main base on Reunion Island (France), with one EC130 B4 (aka H130), four EC130 T2s, one twin-engine AS355NP and one H120. Its subsidiary on Mauritius, 200 km from Reunion Island, operates two H120s. However, one of the four EC130 T2s on Reunion Island had been leased to the Mauritian subsidiary before the start of the COVID-19 pandemic. As the borders between the two islands were subsequently closed, the helicopter was unable to return to Reunion at the end of the contract. A stroke of luck, since it was in the right place when it had to be mobilised for the anti- pollution operations in August.