In response to the COVID-19 pandemic, we have launched an Airbus-wide effort to support those on the frontlines, including healthcare professionals, customers, operators, and agencies who rely on our aircraft, satellites and services to accomplish their critical missions. 
With the exceptional dedication of our community and reliability of our products and services, we are going above and beyond in providing assistance and delivering solutions. Whether it be transporting millions of protective face masks, producing critical medical equipment, or sending out a call for initiatives, we at Airbus are one: united in the fight against the pandemic.
Airbus' A350-1000 supports the fight against COVID-19
Pedro Lozano, Airframe Design Specialist, Airbus Helicopters, Spain
What I am doing, could be done by anyone.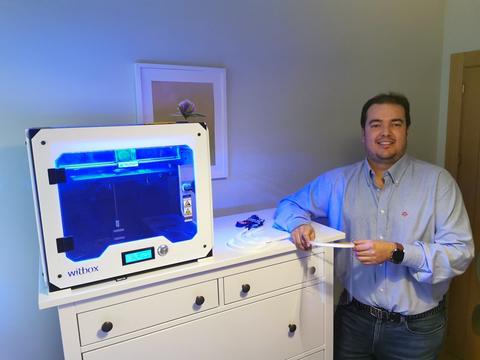 Since I was little, I always wanted to understand how things work: how to assemble and disassemble everything, how to manufacture machines, I designed plans with my father… So now, I am an engineer.
I have been working at Airbus Helicopters for 13 years now. I work on the detailed design of helicopter parts in carbon fiber for the NH90 (a military helicopter), and I also support the production in Albacete, Spain.
This is how I got into 3D printing activities six years ago. We use the printers to make a pre-series before launching the fabrication of the molds.
When we began to see that the hospitals and nursing homes in Albacete did not have enough protective material and the virus started to spread among the health personnel, the designs to make protective visors began to circulate in the community of "makers".
We first started printing a few at work. When the government temporarily ceased nonessential activities, I continued to produce them from home with my personal 3D printer. Some days later, I was allowed to pick up the machine from the office so I could double the output: I can do about 10 a day with each printer. Every night, colleagues from the "makers" community of Albacete, with government authorization, pass by the houses to collect the visors and distribute them to health personnel.
I have received photos of doctors in ambulances wearing visors that I made, which impressed me a lot; people who I do not know are calling me to say thank you. It is very nice feeling, but at the same time I feel a little overwhelmed: you know that these people, health workers on the front line, are counting on you. I am just lucky that I like what I am doing and I know how to do it, but there is no mystery: what I am doing, could be done by anyone.
Marc Turner, A350 Continuous Product Development, Airbus, UK & Staff Sergeant, Royal Monmouthshire Royal Engineers (Militia)
My training and experience within the Reserves will enable me to support the NHS and other key agencies.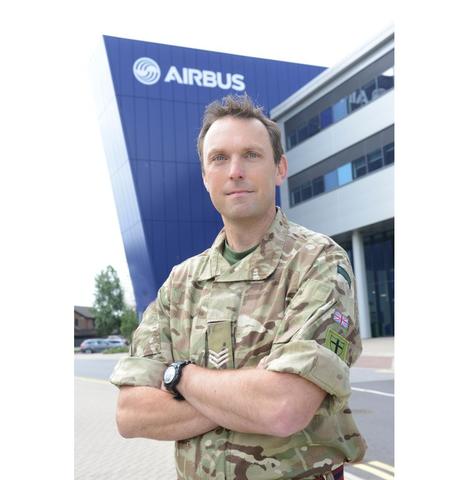 I joined the Reserves in 1997 and it has taken me all over the world – including Operational Tours in Kosovo, Iraq and Afghanistan. It has given me a great sense of satisfaction.
In 2012, I moved to Bristol to work for Airbus, where I joined the Royal Engineers troop. The unit carries out a range of roles within the Army, including combat engineering, demolition, and civil engineering construction.
My training and experience within the Reserves will enable me to support the NHS and other key agencies in building hospitals across the region, helping those who may need urgent medical care in the near future. Airbus has been very supportive of my role as a Reservist – I couldn't have asked for more.
Sergeant Marc Turner joined 3,000 volunteer Reservists being mobilised across the country as part of the UK's COVID Support Force to boost military aid to civil authorities stretched by the pandemic. The Reservists will use their specialist skills to provide logistical support to the NHS as well as engineering and cyber analytics to help fight coronavirus.
Craig Morton, Director of Airbus' COVID-19 Enterprise Crisis Management Team, Airbus, France
In managing the COVID pandemic crisis, Airbus people have demonstrated an extraordinary commitment and made extraordinary efforts.
Craig Morton, a Scot born in Zambia, joined Airbus in July 2003. A diverse 16-year career at Airbus has prepared Morton for his leadership role in the company's ongoing cross-divisional response to the COVID-19 pandemic – which involves 53 crisis management teams located around the world. 
Leveraging his digital background, Morton worked with Airbus' information technology organisation for three years before transitioning to security operations – where he spent a decade focusing on physical security aspects that covered Airbus' facilities and employees worldwide to the company's flight test activities and its participation at air shows.
"From 2006 to 2016, the company underwent a major worldwide expansion, giving me the opportunity to accompany Airbus' extension into China, the Americas, India and elsewhere," Morton explained. "This was an extremely valuable experience, especially as we deal today with a crisis such as the coronavirus pandemic, which crosses borders and transcends cultures."
After two and a half years in Airbus' legal and compliance leading Export Control for Airbus Commercial business lines, Morton took on his current dual roles as the company's Head of Security Operations and its Head of Crisis Management.
"In managing the COVID pandemic crisis, Airbus people have demonstrated an extraordinary commitment and made extraordinary efforts," he concluded. "They believe in what they're doing and should be justifiably proud of what has been accomplished so far; they are individually and collectively a credit to Airbus." 
Jacques Le Sauce, Research and Innovation Programs Manager, Airbus Helicopters, France
Covideation is part of the global crisis combat by adding the best practices and creativity forces of our company.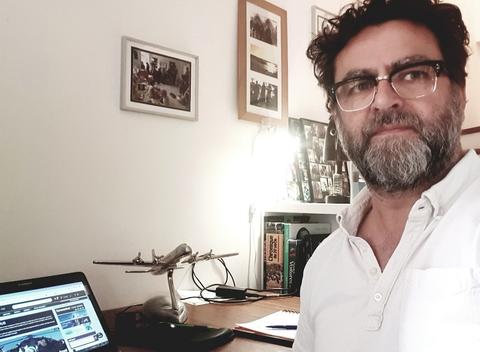 I launched The OASIS initiative in 2018, while working in R&D. I wanted to create an internal and external network of people to connect and help innovators develop and prototype their proposals.
With the COVID-19 crisis, which has strongly impacted everybody on a professional and personal level, it was only natural that we wanted to help fight the virus. Therefore, we launched the Covideation initiative with the aim to identify ideas, help their originators connect, and to integrate selected ideas in the internal crisis unit and apply them as soon as possible within Airbus facilities.
There are many employees who have launched similar actions by participating in the ProtoSpace Hackathons fight the virus. Others create their own 3D printed components at home and send them to hospitals, retirement homes, NGOs or security forces. We help them to find additional 3D printers, supply materials, or produce more components with other means and partners whenever possible.
We also have a proposal to manufacture "add-on" door handles, which would enable a person to open a door without using their hands. However, the need is a few thousand for our site in Marignane alone! We help with Health and Safety validation and if necessary, by finding manufacturing solutions that are faster than 3D printing.
Other ideas include the introduction of UV lamps and use of air ionizers in the workshops and offices to accelerate the destruction of the virus. Here, efficiency and feasibility have to be checked.
A rapid evaluation and a deployment plan have to be done for each idea and all additional volunteers are welcome to efficiently accelerate the actions!
Some proposals are more scientific and potentially eligible for public agencies' calls for ideas. The connections with research program managers and project leaders can be useful to accelerate this kind of action and increase their probability of success.
Covideation is an open door for employees to be part of the global crisis combat by adding their best practices and contributing to the company's creative forces.
Looking at the impact of the current crisis, all human action and initiatives will be necessary to recover a normal life at home and at work. Covideation is one of many ways to contribute.
Will Smith, Design Engineer, Airbus Wichita Engineering Center, North America
I thought that the printer and our good stock of material should be put to good use.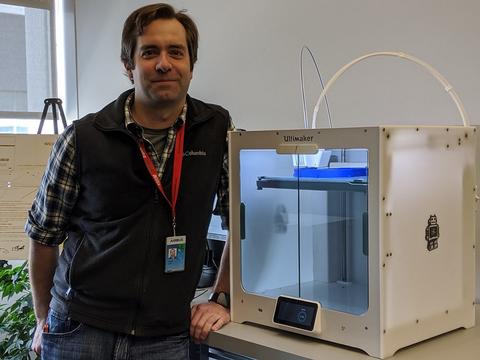 I am Will Smith, a design engineer at the Airbus Wichita Engineering Center. I have been with Airbus since 2010. I am currently working on composite parts for the A321XLR outboard flap. I also spend time as an operator of the 3D printer that the office acquired in 2019.
On March 25, a Wichita area first responder started a Facebook group, "Combating COVID-19 as a Community", to help organize the crowdsourced production of face shields for area medical personnel and first responders during the COVID-19 crisis. The face shield consists of 3 parts; a polycarbonate shield, an elastic strap, and a 3D printed headband. The overall design was developed by Prusa Research.
Community members and businesses have been providing parts and a few people in the group have been doing quality control and final assembly. The completed face shields are then transferred to the Wichita Police Department and Sedgwick County Sheriff's Department for distribution where they are needed. The long-term goal is to produce 7000 shields.
As an operator of the 3D printer at the Airbus Wichita office I've been able to remotely manage the printer and am now producing 4 headbands each day.  During these interesting times I thought that the printer and our good stock of material should be put to good use.
I've also put my personal printer to work producing headbands, as have a number of other Airbus Wichita employees. In the first week Stephen Horn, David Shiflett, Kevin Gaines and I have produced nearly 50 headbands!  I'm still trying to get more people on board so we can help out even more.
As of today "Combating COVID-19 as a Community" has delivered 300 completed face shields.
Andreas Fehring, Airbus Group Executive, Airbus France & Germany
Airbus' response to this unprecedented crisis is built on the dedication of its people.
Andreas Fehring is a key player in Airbus' crisis management during the COVID-19 pandemic, leveraging experiences from his 30-year career with the company – which has included roles in product development, sales, programme management and corporate strategy. 
This prepared Fehring for his current role as the interface between Airbus' Executive Committee and the COVID-19 Enterprise Crisis Management Team. "My role is a new one, created while the coronavirus crisis was developing," he explained. "As a link between the Executive Committee and the 53 Airbus crisis management teams created around the world, I have been helping to accelerate decision-making at the very top management levels on subjects of health and safety, coordination, alignment and synchronization."
With a background in mechanical engineering, Fehring joined Airbus in 1988 as a development engineer. He continually raised his profile over the years and beginning in 2006, headed up the company's A380 programme management functions before taking on similar responsibilities for the A350-900. Fehring also has served as the Chief Operating Officer at Airbus' Premium AEROTEC subsidiary – which is among the world's leading Tier 1 suppliers of commercial and military aircraft structures.
"As I look how we are dealing with the COVID-19 pandemic across all of the company's businesses, it has gone well beyond having a crisis management manual and following the basic procedures in place," he stated. "Airbus' response to this unprecedented crisis is built on the dedication of its people, with the understanding that the priority – first and foremost – was to protect the health, safety and security of employees, followed by the focus on business continuity."
Tomás Guillén Barragán, Logistics Coordinator, Airbus, Spain
It is a really great initiative supporting those most affected by the crisis.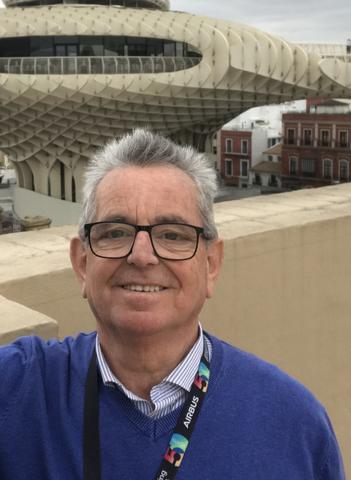 I currently work at the San Pablo site as a logistics coordinator. Our site has been one of the main promoters of an initiative to collect food to help vulnerable communities impacted by the Covid-19 crisis. The Pre-FAL (Pre-Final Assembly Line) in Tablada managed to collect 500 kg of milk, oil and basic foods, while San Pablo was able to provide an additional 1,010 kg.
It is a great initiative supporting those most affected by the crisis. I am grateful to have been able to participate in this project before I retire and hope it will benefit those in need of aid.
A food delivery was recently made at the San Pablo facility to representatives of the Fundación Banco de Alimentos de Sevilla and city employees, who have managed to maintain their activities during these exceptional times.
The Getafe plant carried out the same initiative on April 27 where it obtained up to 850 kg of basic supplies for the families that need it most during the pandemic.
The Sevillian plants of San Pablo and Tablada joined a solidarity initiative last week to collect and donate more than 1,500 kg of basic food to the Fundación Banco de Alimentos de Sevilla.