Airbus' commitment to the fight against COVID-19 was underscored by a long-distance airlift mission that brought four million face masks and medical supplies from China to Europe for use by health systems and caregivers in France, Germany, Spain and United Kingdom.
The 36-hour deployment involved a crew from the military aircraft operation of Airbus Defence and Space in Spain, utilising an A330-300 aircraft that ultimately will be converted into an A330 Multi-Role Tanker Transport (MRTT) for a customer.
Carlos Pinilla, the Airbus Defence and Space pilot who led this air-bridge, said an all-volunteer crew was assembled by balancing the need for personnel on the extended-duration mission with precautions on limiting their exposure. Aboard the aircraft were five pilots, one flight test engineer, two test flight engineers and two ground crew specialists.
Everyone brought a true team spirit attitude in preparing and performing this mission. Being able to support our countries in difficult times was a huge morale booster for all.
- Carlos Pinilla, flight test pilot for Airbus Defence and Space
The flight's overall coordination involved an initial outreach to personnel who were working from home in accordance with coronavirus isolation guidelines. In addition to adjusting the planning as preparations were firmed up – along with arranging the needed material – Airbus coordinated with the Spanish Air Force to obtain additional cargo resources on loan. "The Spanish Air Force was extraordinarily cooperative and supportive at all times," Pinilla added.
Spanning a total flight time of 23 hrs. 30 min. from Europe to China and back, the airlift mission delivered some 20 tonnes of face masks and medical supplies, involving approximately 200 cubic meters of cargo carried aboard the aircraft.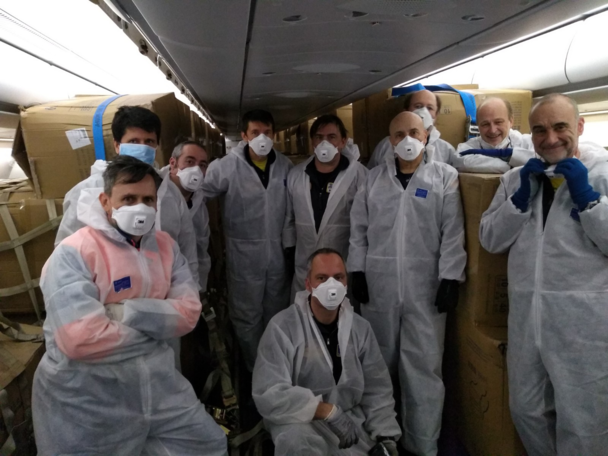 An all-volunteer crew from Airbus Defence and Space – including pilots, ground crew specialists, test flight engineers and a flight test engineer – pulled together to deliver life-saving medical supplies that will be used across France, Germany, Spain and the United Kingdom; the mission utilised an Airbus A330-300 that ultimately will be converted into an A330 Multi-Role Tanker Transport
An air-bridge between Airbus sites in Getafe and Tianjin
The round-trip flight originated and ended at Airbus' military aircraft industrial facility in Getafe, Spain, with the cargo processed and uploaded at the Airbus Tianjin, China site – where the company has an A320 Family aircraft final assembly line, an A330 Completion and Delivery Centre, as well as a supply chain logistics operation.
Pinilla added that the Airbus Defence and Space team in Spain is ready if additional coronavirus missions are to be performed. "There were many volunteers for the first flight, and they remain more than willing to support the fight against coronavirus," he concluded.