The Airbus C295 – which demonstrates its transport capabilities in daily service with military operators around the world – has also underscored the multi-role airlifter's performance during life-saving humanitarian missions.
This activity includes the maiden deployment of a C295 operated by Kenya-based DAC Aviation International, sent to Mozambique in March following one of the worst-ever tropical storms to hit Africa: Cyclone Idai.
A bridge providing the only way in and out of Espungabera township in Mozambique was destroyed, and the area was cut off; without a road to connect to the rest of the country, Espungabera residents faced a serious food shortage. As the town is located on top of a mountain and the "airstrip" is simply an open area on a side of the mountain, landing most airplanes would be impossible.
With its impressive carrying capacity and its excellent take-off/landing performance from unprepared landing zones, the C295 was flown into Espungabera, as well as to other affected areas – opening "air bridges" that significantly enhanced relief efforts. The food and medicine it delivered provided enough supplies to support these communities until surface transportation was reopened.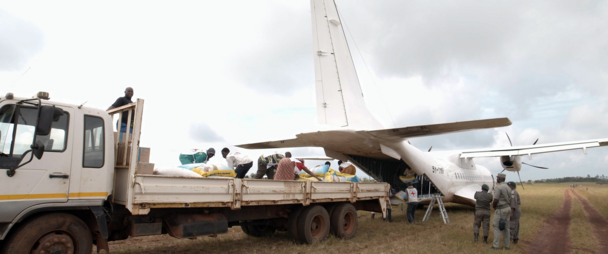 Designed for the mission
The C295 is ideal for a full range of humanitarian missions with its capability to operate from unprepared, rough and short airstrips, as well as flying routinely without refuelling throughout the day thanks to its high fuel capacity combined with its consumption performance. The airlifter's efficiency – using 50% less fuel compared to older aircraft with similar capabilities – makes it more environmentally friendly and increases its usability in dire situations, as a shortage of fuel is common in emergency settings.
Its wide fuselage and large rear ramp simplify loading and unloading, saving time when moments count. In addition to that, the versatility of the cabin configuration, being able to carry passengers –up to 43- and cargo (combi configuration), evacuate patients or casualties in stretchers up to 21 of them, or even airdrop the cargo; adds an additional advantage to the contracting agency to maximize utilization of the aircraft.
Humanitarian uses of the C295 in Mozambique did not end with disaster relief: following the outbreak of cholera, the aircraft also is transporting lifesaving anti-cholera kits from Maputo, the country's capital, to Beira. Additionally, the C295 transported food and water, along with sanitation and hygiene goods.
The C295 is revolutionising the way humanitarian operations are conducted. From airdrops to the evacuation of up to 70 people, and reaching remote areas on missions without refuelling, the airlifter responds to the needs of relief efforts.
C295 Humanitarian Mission in Mozambique - Footage