Article: Heather Couthaud. Adapted from Rotor magazine #114.
Tropic Air Kenya flies nearly 4,000 tourists a year throughout sub-Saharan Africa in six Airbus helicopters. Below, a closer look at Kenya's foremost air charter and helicopter company.
One of the first impressions that visitors traveling with Tropic Air Kenya get is of the operator's remote premises. The company is located on the outskirts of Nanyuki, a small town that in the early days was established to serve settlers, and today serves a multitude of businesses, including flower growers and the British Army Training Units (BATUK).
Tropic Air's cluster of wooden buildings stand in the centre of a vast lawn, an airstrip running through it, while jagged and snow-topped Mount Kenya offers a magnificent backdrop, and the savannah plains of Laikipia and Samburu lie beyond. Founded in 1990 with just one leased Cessna 206 fixed-wing aircraft, the air charter company today has a fleet of five Cessna aircraft and six helicopters – the most recent purchased in April 2018, when the company added an H130 to their stable of H125s. Just short of 30 years since its inception, Tropic Air has grown into a market leader in Kenyan tourism, offering a diversity of exciting soft adventure expeditions.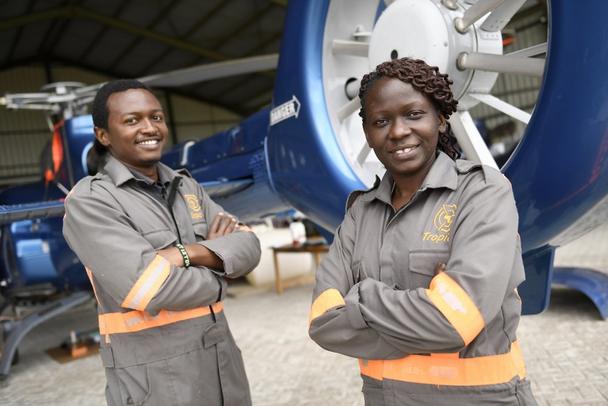 Spontaneous surprises
At the service of its clients, from a morning flight on Mount Kenya to a two-week helicopter safari, Tropic Air covers all of the region's tourist destinations. Besides Kenya, popular heli-expeditions include gorilla treks in Uganda and the Congo; Ethiopia adventures focused on history and culture; and discovery flights over Chad and Northern Sudan's remote desert landscapes. Once or twice a year, they arrange trips further afield, covering parts of southern African.
The company's footprint is always evolving to explore new places and take advantage of unique experiences. "We went up into Chad, in the Sahara desert," says Jamie Roberts, Tropic Air Kenya founder and Managing Director. "It's a three day ferry flight one way in the H125. We spent about six weeks up there, making the most of the Sahara's incredible diversity of landscapes and adventures."
The company's appeal lies in its element of surprise: spontaneous touch-downs when something special is spotted, a reservoir of anecdotes from its pilots and guides, the knowledge of when best to appreciate the region's qualities and unique attributes.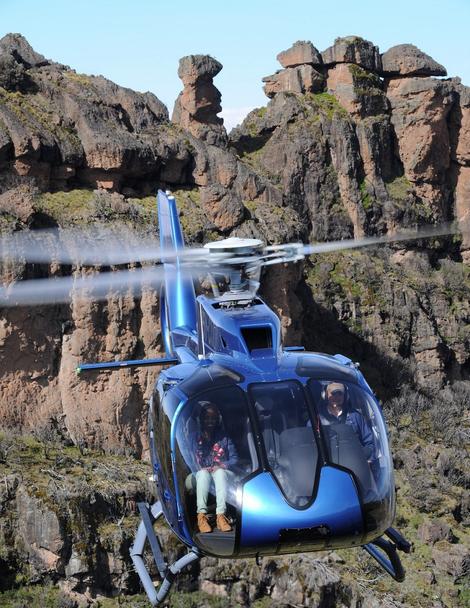 When we're flying tourists there's nothing to beat the H130. It has incredible visibility, it's very comfortable, there's a lot of space and clients love it.
- Jamie Roberts, owner of Tropic Air Kenya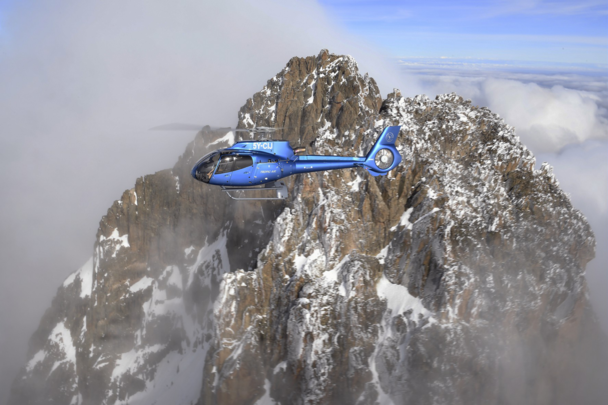 Suited to the challenge 
Averaging around 2,000 flight hours per year between the fleet, some 70% of which are for tourism, Tropic Air's helicopters are particularly suited to their task. The H130's roomy cabin and large cockpit windows are an asset for wildlife viewing, when anywhere from one to four passengers might go aloft hoping to glimpse mountain gorillas lumbering through the ferns, a Walia ibex poised on a cliff or an Ethiopian wolf standing sentinel.
The continent's sheer range of altitudes presents a unique challenge to any air operator: Ethiopia's Danakil Depression lies below sea level while Mount Kenya at 5,199 metres is the region's second-highest peak after Mt. Kilimanjaro. No wonder, then, that Tropic Air's main fleet is the single-engine H125, renowned for its high and hot performance.
"To me the H125 is the best of the helicopters, but when we're flying tourists there's nothing to beat the H130," says Jamie Roberts. "It has incredible visibility, it's very comfortable, there's a lot of space and clients love it."