Article: Heather Couthaud - Read more in the next Rotor magazine N°113
Flash flooding in Pennsylvania took residents by surprise this August. Thanks to a National Guard Lakota stationed nearby, 19 people were ultimately hoisted to safety. A look at how the crew's quick response made all the difference.
The video footage from the aircraft shows scenes of the flood's aftermath: clusters of trucks and cars stopped at the edge of a brown lake where once a road had been; white clapboard homes underwater up to their windows; a couple on a roof, waving at the National Guard helicopter overhead.
On 13 August 2018, parts of central and eastern Pennsylvania were subject to torrential rains that resulted in flash flooding. Flying out of Muir Army Airfield, Fort Indiantown Gap in the southeast of the state, CW2 Dave Berry and SSG John Goodwin of Det 1B 1-224th S&S were performing counterdrug operations with Major Ernie Carlson when they received word of the emergency.
"We were assigned to paint the picture for the task force commander and establish command and control of the situation," says Major Carlson, the second-in-command pilot that day. "This was the first time that Pennsylvania utilised the UH-72A as a search and rescue platform as well as a command and control aircraft."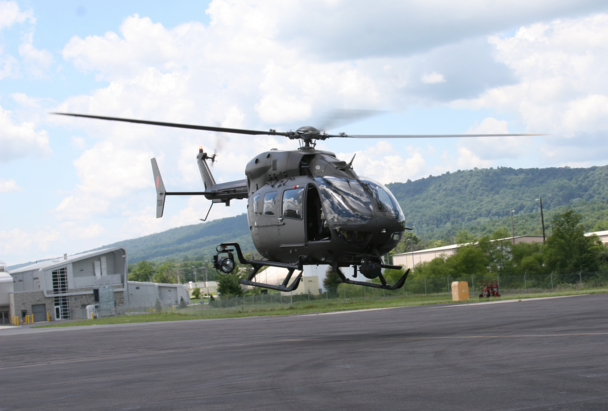 The Lakota did exactly what it was designed to on this day.
- Major Ernie Carlson, Pennsylvania Army National Guard pilot and counterdrug aviation officer
The scope of the emergency
Arriving on scene in marginal visual flight rules (VFR) conditions, pilot-in-command Berry set up a communication node with ground-based rescue units on the radio, while system operator Goodwin used the Lakota's forward looking infrared (FLIR) and daytime camera to zoom in on people stranded on their roofs or standing in knee-deep water. As the scope of the emergency became apparent, they radioed for support from two hoist-equipped helicopters from the 28th Expeditionary Combat Aviation Brigade.
For almost three hours, the Lakota's three-man crew performed the vital role of search and rescue coordinator.  In a scene typical of the day a helicopter crew performs a hoist while nearby, the Lakota hovers around 1,000 feet, surveying the area to the east. Zooming in, they spot a swift-moving river with swollen banks and an upended a bulldozer; a lone man stands on the machine's arm, surrounded by swirling water, staring up at the helicopter.
"The Lakota did exactly what it was designed to on this day," says Carlson. "With the low ceiling and heavy rain showers, systems like the autopilot provide a world of comfort. If we had to punch into the clouds, we could safely do so. The range is much longer [than that of other aircraft in the National Guard fleet] so we could keep communications going while the others refueled. There was never a time when there was not an aircraft on station."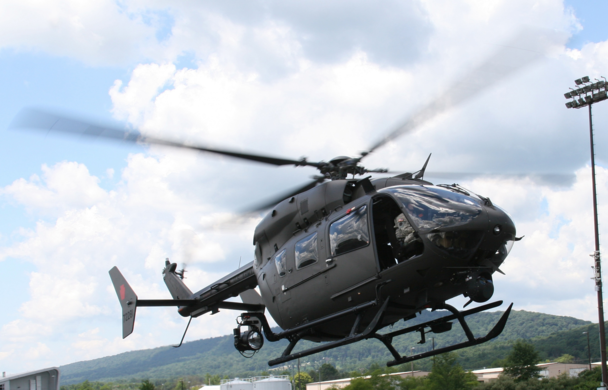 Risky rescue
"The rescue that stands out is the elderly woman that our ground guys couldn't get to," says Carlson. "We circled the area a few times before Sergeant Goodwin got on the radio and said, 'tell her to go to a porch where we can see her.' We zoomed the camera from the Lakota right inside that porch and were able to identify the house where she was. By that time, [the rescue helicopter] was fuel critical so with the information they got from us, they made the decision to drop a rescue swimmer to stay with her until a second aircraft could get there."
In total, the Lakota flew nearly nine hours in aid of flood victims. "In after-action comments," says Carlson, "The task force commander mentioned that the reason we were so successful that day was because of the UH-72A's role providing command and control."