France is at the core of Airbus skills, technologies, innovation and production. As one of the company's four founding countries, France hosts the company's headquarters; it has final assembly lines for all Airbus commercial aircraft families; is home to major production facilities for helicopter, space and defence activities; and includes locations for leading-edge research.
The talent and skills of nearly 48,000 Airbus employees in France (and more than 63,000 people when Airbus subsidiaries and shareholdings are included) form the bedrock of the company's global competitiveness.
Airbus headquarters are located in the southwest region of Occitanie, near the Toulouse-Blagnac Airport. In Occitanie, more than 28,000 people are Airbus employees and approximately 4,500 work in such central functions as finance, marketing, engineering, customer support programmes and procurement.
In the vicinity of Airbus headquarters is the company's Leadership University, conceived to provide tailored development and learning solutions for the Group's current and future leaders – covering all functions and levels from top management to production, with a global aspiration to reach every employee.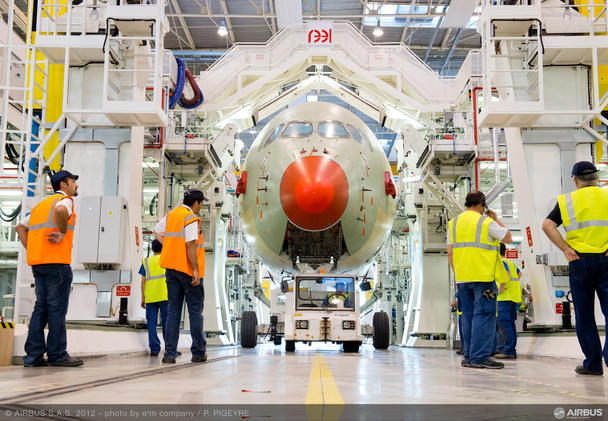 Overall, Airbus exports more than €26 billion of aeronautical and space products from France each year, while placing some €12.5 billion of orders with more than 10,000 French industrial partners annually. 
Commercial Aircraft
The area around Toulouse-Blagnac Airport has final assembly lines for the full range of Airbus commercial jetliners (A320, A330, A350 and A380 Families) as well as facilities for passenger cabin outfitting and painting of completed aircraft.
The Airbus Training Centre in Toulouse features full-flight simulators for all the company's jetliner types, providing training for customer airlines' flight crews, maintenance staff and cabin attendants, as well as performance and operational staff.
Toulouse-Blagnac also houses operations dedicated to Airbus commercial aircraft engineering, structural design and testing, systems organisation, flight and ground testing, system integration testing, propulsion and more.
Also situated in the industrial zones around Toulouse-Blagnac Airport is the Henri Ziegler Delivery Centre, where customers receive their aircraft for fly-away; Airbus' Saint-Eloi factory, which manufactures pylons that integrate jet engines on the wings of all Airbus aircraft families; the home for Airbus' Beluga transport aircraft fleet; and Lycée Airbus, a professional company school that trains more than 300 young people each year for work in the aeronautical industry.
Saint-Nazaire, on the Atlantic coast of France, encompasses two production sites situated on 75 hectares. Its 3,060-strong workforce specialises in assembling, equipping and testing the forward sections of A320 Family aircraft, as well as the forward and centre sections of the A330 and flagship A380 jetliners. Sub-assemblies come from French, European and worldwide partners, making the Saint-Nazaire site a true international logistical platform. After being assembled, the fuselage elements are equipped with major systems before being tested and transported by Airbus' Beluga cargo aircraft – or by sea in the case of the larger A380 components – to various company final assembly line locations in Europe.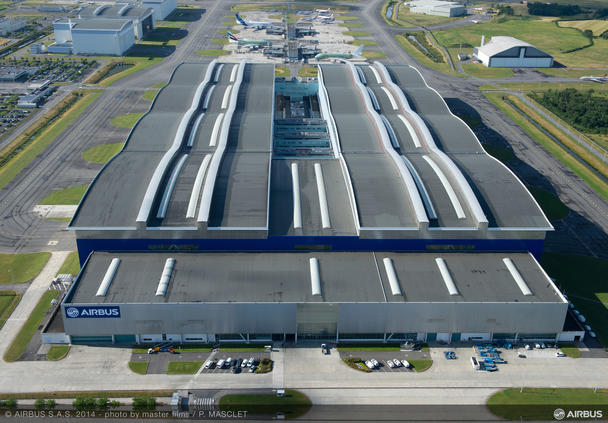 About an hour east of Saint-Nazaire, on a site of 88 hectares, more than 3,000 Airbus employees in Nantes produce centre wing boxes for all Airbus commercial jetliners; along with air inlets on nacelles that equip the A350 and A380, the A320neo's CFM International LEAP-1A, and the A330neo engines. Another product of Saint-Nazaire are radomes that protect nose-mounted aircraft antennas. Other manufacturing activities at Nantes include ailerons for A380s and A330s; as well as the A350 airliner's belly fairing. Nantes also is a leader in the manufacture of structural parts in carbon fibre reinforced plastic (CFRP) – the weight-saving composite material that Airbus has increasingly incorporated into its aircraft.
Helicopters
Marignane, near the port city of Marseilles in southern France, is headquarters for Airbus' helicopter division – occupying a location that has been at the forefront of rotorcraft technology for more than six decades. Close to 9,000 employees at the site are engaged in nearly every aspect of the helicopter business, from design and assembly to training and customer service. 
A full range of Airbus helicopters take shape at Marignane, from light single-engine rotary-wing aircraft to the larger military rotorcraft of the Cougar family. In 2016, a large development centre opened, reflecting Airbus' commitment to innovation, research and development. 
Approximately 650 people work at the Paris-Le Bourget site in Dugny (adjacent to Le Bourget Airport outside Paris), at a new purpose-built facility specialising in rotor blade production and research on composite materials. Manufacturing some 3,000 blades annually and repairing close to half that number, the site is a vital link in Airbus' rotorcraft production chain with the ambition to become the world reference for blades.
Defence
Recognised as a trusted partner in France, Airbus is the French Defence Ministry's largest industrial supplier and the company has a number of key sites around the country – including Toulouse, where flight testing for the A400M military transport and other military aircraft is undertaken, often shared with Airbus' flight test facilities in Spain. Airbus has also been developing its cybersecurity business in Toulouse.
At Elancourt, in the Île-de-France region of north-central France, Airbus employs approximately 2,200 people committed to network-centric operations, intelligence, secured communication and cyber security.
Space
Airbus remains the only company present simultaneously in access-to-space (via its participation in Ariane Group), satellite systems and services.
Airbus' satellite business is managed from a large site in the southeast area of Toulouse, where the company develops, assembles, integrates and tests satellite systems for a whole range of applications including Earth observation, meteorology, science and telecommunications.
These product lines include communication satellites using the large, highly reliable Eurostar E3000 spacecraft platform chosen by many satellite operators that can accommodate the latest electric propulsion systems; along with the long-running series of SPOT Earth-observation satellites and their successors (Pleiades Neo). Built at Toulouse as well is the miniaturised AstroSat100 satellite platform, weighing between 100 kg. and 200 kg., and configured for customers that include France, Vietnam, Chile and Algeria in duties ranging from Earth observation, mapping and the monitoring of natural resources to scientific research, reconnaissance and other missions. 
Continuing Airbus' history of developing Earth imaging satellites in Toulouse, the city is also home to geo-information with the distribution of both raw data and sophisticated geo-information services to sectors including security and defence, agriculture and energy extraction.
To maintain Airbus at the forefront of the satellite business, a 4,600 square metre facility was inaugurated in 2017 to handle serial production of satellites for OneWeb.
The facility is an equally-owned venture of OneWeb and Airbus that is building 900 satellites for the OneWeb high-speed internet constellation. Benefitting from Airbus' industrial and space expertise, this Toulouse facility's assembly line will include state-of-the-art automation, test equipment and data acquisition capabilities for shorter assembly times while providing the means to analyse factory performance and process improvements. OneWeb satellite content is 65% French.
ArianeGroup's sites are located at Les Mureaux, near Paris, and at Saint-Médard-en-Jalles near Bordeaux. A combined workforce of more than 3,000 employees work on access to space and ballistic missile-related products.
From the beginning of Europe's Ariane programme, the site of Les Mureaux has produced the centre core stages for this highly successful commercial launch vehicle, with activity today focussed on the heavy-lift Ariane 5. In the future, a new integration facility will assemble core stages for the next-generation Ariane 6, using lean production methods and a horizontal workflow that succeeds the currently-used vertical build-up process. The production prime contractor for Ariane launchers is ArianeGroup – an equally owned joint venture of Airbus and Safran.
Find here more information in French, for the Airbus Space activity in France
Local Partners
Airbus exports more than €26 billion of aeronautical and space products from France each year, while placing some €12.5 billion of orders with more than 10,000 French industrial partners annually. At the same time, the company's commitment to its small and medium-sized enterprise (SME) suppliers is reflected in its membership in the SME pact designed to strengthen ties between large industrial groups and entrepreneurs.
Innovation
Airbus, one of the top 10 largest patent holders in France, registers more than 370 trademarks each year and expends around €1.1 billion annually in research and development. The company supports France's network of competitiveness clusters including Aerospace Valley in Occitanie and Nouvelle-Aquitaine, SAFE in Provence-Alpes-Côte d'Azur and ASTech in the Île-de-France area.
Corporate citizenship
Airbus works with schools and universities across France to promote interest in aeronautics among future generations. In recent years, Airbus has consistently ranked among France's most attractive employers and its commitment to equality and diversity is widely recognised.
Airbus has made a commitment to ecologically sustainable business, which is symbolised by the design chosen for its A350 final assembly line facility adjacent to Toulouse-Blagnac Airport. This massive building makes extensive use of natural lighting and generates 55% of its own energy, due in part to the 22,000 square metres of solar photovoltaic panels located on its roof.
France's future
Airbus is an essential contributor to the economy of France through its mastery of advanced technologies and the excellence of its employees – the basis of the company's competitiveness. Airbus is involved in many partnerships with the National Education Ministry and participates in the training of students in aeronautics.
As the main contributor to France's trade balance, Airbus is a driving force for the industry and contributes directly to job creation throughout the country. The company strives to consolidate the excellence of the entire industry by committing itself sustainably to small and medium-sized enterprises and ethical trading initiatives and by strengthening relations with innovative SMEs.
Airbus is also the leading defence industrial supplier of the French Defence Procurement Agency and a key industrial partner of the security sector.
Airbus is proud to be the industrial partner of reference in France, building an innovative European industry while being a significant exporter and job creator.