Airbus has confirmed that Volotea, the Barcelona-based airline, is to recruit eleven of its Airbus pilot cadets. The move is an endorsement of the quality of Airbus' Ab-Initio Training Programme, which opened its doors in 2018. The programme equips cadets with the skills and mindset needed to become an "operationally-ready pilot", focusing on the development of key pilot competencies.
 
"This is a very important day for Volotea, as we are taking cadets directly from the Airbus Flight Academy Europe for the first time. We're all very excited by it as we know the programme quality is of a very high standard, adapting perfectly to Volotea´s training philosophy. Our company keeps on growing year after year our Airbus fleet, and we're going to be needing many more pilots. We certainly hope this is the beginning of a very successful long-term partnership with the Airbus Flight Academy benefiting many young pilots", said Carlos Muñoz, CEO Volotea.
 
Increased capacity to train pilots in Europe
On 2 March, Airbus Flight Academy Europe (AFAE), a 100% subsidiary of Airbus, inaugurated a new campus, at its base in Angoulême, South-West France. This addition to its current training facilities means AFAE now has an increased capacity to train up to 200 aspiring pilot cadets at any one time. 
By enlarging its ab-initio training base in Europe, Airbus reaffirms its longstanding commitment to support its airline customers in anticipating and preparing for the future, helping to train the pilots of tomorrow, a demand now estimated to be around 550,000 over the next 20 years. Airbus is ensuring the commercial aircraft industry is ready for air traffic recovery in the 2023-2025 timeframe and the years beyond.
 
A sustainable career evolution
The opening of an additional campus is also the opportunity for AFAE to commit to and align with Airbus' global approach to sustainability. A first step was the achievement of ISO 14001 certification for the site in 2021. AFAE is now focusing its efforts on reducing the CO₂ emissions of its training aircraft fleet and will soon be taking possession of four more fuel-efficient, quieter Elixir light aircraft, to complement the current Cirrus fleet. 
Building on the comprehensive and innovative approach to professional training that Airbus has been renowned for the past 50 years, AFAE will regularly introduce the latest technologies and learning concepts, including new environmental education, from Day one. For example, the cadets will be taught how to optimise aircraft trajectories in order to save fuel, and hence reduce CO₂ emissions.
 
The Airbus Pilot Cadet Training Programme
More than just getting a licence, the Airbus Pilot Cadet Training Programme is a philosophy, a mindset, aimed at progressively acquiring key technical and behavioural skills that airlines expect from their pilots. Providing the initial (ab-initio) phases of pilot training allows Airbus to accompany future airline pilots from the beginning throughout their flight training path, to obtain a commercial pilot's licence and then be certified to fly Airbus aircraft ("type rating" training).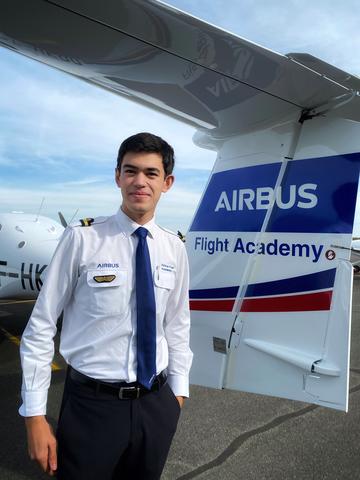 "I am very proud of having been an #AirbusCadet. In addition to the technical training aspect, I also learnt how crucial soft skills and core values are for an airline pilot. I would like to thank all the passionate and highly experienced people that I met in joining not only a state-of-the-art flight training school but also a school of life. I am now embarking on a new milestone in my aviation career by becoming a Volotea Trainee Second Officer. The journey is just starting!" Lucas
In addition to AFAE, Airbus currently has one other flight school in its training portfolio; the Escuela de Aviacion Mexico in Latin America.
 
Who can apply
The Airbus Pilot Cadet Training Programme is open to high school graduates over 18 years old worldwide. Candidates undergo online and on-site screening tests before being eligible for training, which will include 750+ hours of ground school, plus 200 hours of flight training.
To find out more about the Airbus Flight Academy Europe.
To find out more about the Escuela de Aviacion Mexico.
For more information on Airbus Training Services.