Article: Heather Couthaud. Adapted from Rotor magazine #113.
Airbus' Helionix avionics system for helicopters was designed for greater mission flexibility and operational safety. Today, its Step 3 upgrade encompasses all that its developers envisioned, and more.
In-house avionics 
In 2006 when Airbus Helicopters first began developing its in-house avionics solution for helicopters, no such system existed for rotorcraft. "It was obvious that we had to develop our own avionics," says Jean-Jacques Mevel, head of the Helionix programme at Airbus Helicopters. To ensure pilots got the best performance out of the helicopters, "we decided to develop our own autopilot and vehicle management system, because these functions are too closely linked with our design," he says. "Nobody else knows the performance, characteristics, and intricacies of our machines."
The resulting system, Helionix, broke the mould for intuitive, pilot-friendly avionics. Distinguished by an innovative cockpit layout which includes two to four multifunction screens, only the most pertinent details of a flight phase are displayed at any given time. "The key to Helionix is that it filters and presents the most relevant information when the pilot needs it," says Mevel. As a pilot prepares to take off, for instance, Helionix brings up only that data (engine health, wind direction, traffic warnings, etc.) specific to the task, removing anything unnecessary and distracting.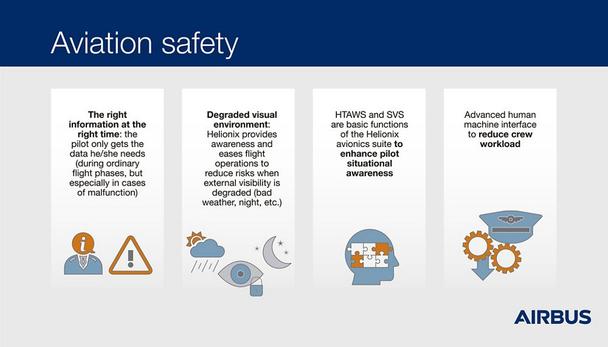 With Step 3, we have done what we first intended to with Helionix.
- Jean-Jacques Mevel, head of the Helionix programme at Airbus Helicopters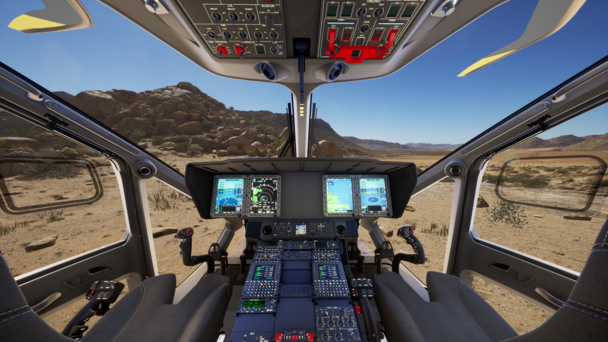 Step 3
Customer requests were also at the heart of new features in Helionix Step 3— the system's latest upgrade, first introduced in 2017 on an H175 delivered to NHV. "With Step 3, we have done what we first intended to with Helionix," says Mevel. The software contains everything its developers initially envisioned, and more. The synthetic vision system (SVS), a standard on any avionics, now updates - in real time - 3D maps of the terrain with texture to help pilots tell woods from trees, for example. An assisted landing feature, Rig 'n' Fly, significantly aids approaches to offshore oil platforms. And the SAR mode enhances search and rescue missions with an optronics system and search radar.
The family concept
One of its more remarked-on attributes is the suite's family concept; equipping not only the H175 and H145, it was recently certified on the H135 and is planned for the H160. "The feedback we get is fantastic," says Jean-Jacques Mevel, head of the programme. "Helionix reduces the pilot's workload, optimising the time he has for the mission and contributing to safety. But the most unexpected comment was about its universality. Pilots still find the same interface, the same look and feel, whatever the helicopter."
"The decision to make Helionix a family concept was driven by safety," says Mevel. "Even if some solutions were expensive to develop, the benefit to flight safety was so important that we just did it." Helionix's culmination, at least for now, goes so far as to let customers add their own obstacles (pylons, cranes, buildings) to the avionics' terrain and warning system, matching what their pilots are actually seeing.

In their own words: operators speak about Helionix
At the end of 2018, more than 320 Airbus helicopters will be flying with Helionix, reaching a possible 180,000 flight hours. Below, some operators share their experiences using the new avionics in their daily missions.
 

José Erosa, operations director of H175 operator Pegaso

"Our business is in offshore passenger transport and we perform crew change missions in the Gulf of Mexico at deep water facilities. Helionix gives our pilots better situational awareness and safe processes during offshore missions. They [the pilots] better process information that is given by this great tool in an easy-to-understand format that makes flight decisions faster and more accurate in a given situation." 

Michael Chan, Head of GFS

"The H175 is the first helicopter of our fleet with Helionix. The first impression I had about it is that it's very user-friendly and intuitive. The pilots feel like children in a toy shop with so many fancy items to choose from! Taking the example of a SAR mission, Helionix allows us to precisely maintain our speed and height when approaching our target. Once the target has been found, there are a multitude of functions helping the pilot and the crew with the rescue operations. It greatly enhances safety and helps ease the workload of our crews in extremely demanding conditions."

 

Stephen Farmer, H145 operator in New Zealand

"Helionix provides the right data in the right place, when you need it. It plays a role every day. When the weather's a bit average and the cloud base is getting lower and you're flying VFR, you're getting all the right information and everything's being presented in a format and a consolidated view that works."

Dietmar Gehr, pilot with DRF Luftrettung

"Helionix is, to date, the most mature, clearest, and most pilot friendly avionics management system I know. A big advantage is the cockpit with its large screens and the well-integrated autopilot, which works very precisely. It is often used by our pilots in their daily HEMS missions. The support of the autopilot features reduces the pilot's workload, which results in more safety."

 

Martin Forster, Avionics Manager with Babcock

"The Helionix system has made the job a lot easier for the pilot. When he's flying now, the presentation of information is a lot neater. It's taken the workload away from the pilot to ease his operation. A big change with Helionix is the situational awareness. The fact that [the pilot] has a display with mapping, terrain information, traffic information, pilons, obstructions . . . all on the display [is good]."

Erik Norman, flight operations manager with Norwegian Air Ambulance

"The main thing with Helionix for us is it's intuitive. Once you learn the system and how to manage it, it is really intuitive to use, it lowers your workload and that improves the safety in operations. It gives us the capabilities to improve our service, especially with the instrument approaches to all hospitals. It's also easy to use. The training [requirement] is fairly low for such a complex system."