Over the past 30 years, Airbus commercial aircraft, helicopters and space products have all established a strong presence in Russia. The country is well known for its aerospace research and technology and has proven a fertile ground for industrial cooperation with Airbus. As both a commercial market and a source of partnerships, Russia continues to be important to Airbus.
Commercial Aircraft
Airbus first established relationships with a Russia airline in 1991, and the following year, the twin-engine wide-body A310 entered into service with Russian national carrier Aeroflot. The A310 became the first Western-built aircraft to receive Russian type certification.
When the first Airbus A320 Family aircraft entered commercial service in the country in 2003, the company's best-selling single-aisle product quickly gained popularity among Russian airlines due to its high fuel efficiency, low operating costs and unprecedented passenger comfort. As of early 2020, more than 340 Airbus aircraft are in service in Russia, including the A320neo Family and the latest generation A350s.
Airbus maintains a customer support centre in Moscow tasked with helping Airbus customers operate their fleet safely, comfortably and profitably. In conjunction with offices in Toulouse, France, the support centre provides technical assistance to all operators of Airbus jetliners in Russia and the CIS, whether flying aircraft directly purchased from Airbus or flown on lease. The centre also regularly sets up seminars and conferences for Airbus customers dedicated to various support topics as well as new Airbus services and tools aimed at simplifying the work of technical staff.
Airbus manages several projects with the Interstate Aviation Committee, the Russian Civil Aviation Authorities, and the ministry of Transport of Russia and participates in numerous seminars and conferences on the development of flight safety.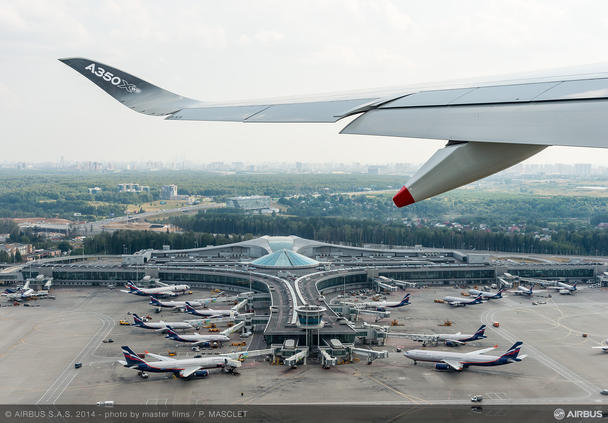 Helicopters
Over 230 Airbus-built rotorcraft were in operation in Russia in the beginning of 2020, and another 80-plus can be found in the countries making up the Commonwealth of Independent States. With a 48 percent market share, Airbus is the largest manufacturer of Western-built turbine-powered helicopters in Russia, and supplies approximately half of the country's VIP and corporate helicopters as well.
The company has partnered with prominent operators such as the Moscow Aviation Centre, which has a fleet of five light-twin H145s configured for emergency medical services.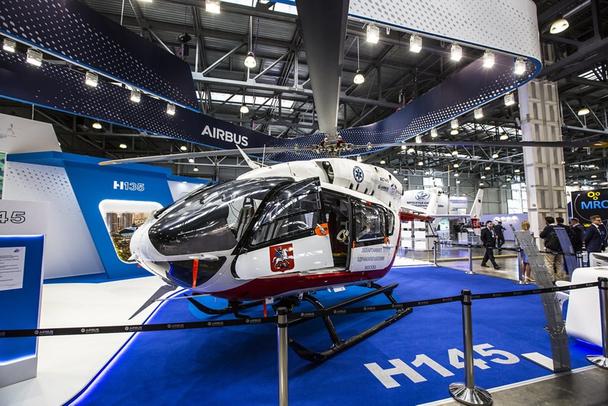 Airbus is the country's largest manufacturer of Western-built turbine-powered helicopters in operation in terms of market share.
Close strategic partnerships are a key Airbus priority within Russia, as demonstrated by UTair – one of Russia's major airlines – which is operating Airbus rotary-wing aircraft in harsh Siberian conditions. Gazpromavia Aviation has successfully operated eight light-twin H135s in difficult conditions with an excellent fleet availability rate, demonstrating the perfect adaptability of Airbus helicopters for pipeline surveillance and utility missions.
Airbus is the only Western manufacturer to offer this level of presence and availability and also is the first to have a Russian partner: Transas, which supplied avionics for the eight H135s, purchased by Gazpromavia before becoming the H125's, H130's and H135's avionics supplier upon request.
In 2015, Airbus Helicopters initiated a new strategy involving the creation of a network of maintenance, repair and overhaul, or MRO centres for light helicopters. This brought the company's services in Russia to a new level and added convenience for customers.
Space
Significant cooperation with Russia on space projects began in the mid-1990s with the creation of Eurockot, a joint venture between Airbus and Khrunichev Space Centre. The partnership was designed for the promotion and marketing of the Russian small launcher Rockot in the European institutional and commercial markets.
Starsem is a joint venture that manages the industrial and commercial exploitation of the Soyuz launch vehicle in the global launch vehicle market; it focuses on the delivery of small satellites and satellite constellations to low- and medium-altitude Earth orbits. In 2005, the Synertech joint venture of Airbus and Russian Space Systems was created to deliver reliable satellite equipment for Russian civil space programs; its production of power amplifiers was officially launched in 2016.
Airbus and RSC Energia created the Energia Satellite Technologies joint venture in 2013 to deepen cooperation in the field of satellites. The two companies began collaborating in the early 1990s with equipment supplied to the Mir space station and have continued since, including work on the International Space Station.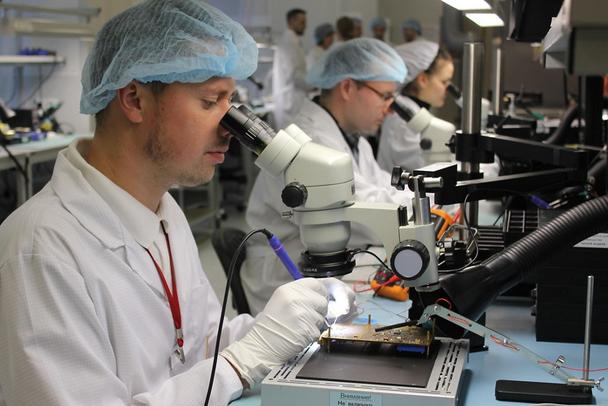 Local partners
Just as important as the products Airbus sells within Russia are the more than 25 years of industrial cooperation with the country; current cooperation programmes range from material sourcing to engineering and component manufacturing.
In 2003, the Airbus Engineering Centre, known as ECAR, was set up in Moscow as a joint venture between Airbus and the Kaskol industrial group. It was Airbus' first engineering facility outside its home countries and, as of early 2020, employed some 200 Russian engineers. In this timeframe, ECAR had completed more than 120 projects for Airbus, and work is continuing on the A350-1000, the A321XLR and A330neo jetliner programmes.
The sourcing of materials are key components of Airbus' business in Russia. The first cooperation agreement with VSMPO-Avisma was signed in the 1990s and cooperation continues since then evolving from purchasing of raw materials to semi-finished products of higher added value. VSMPO-Avisma supplies titanium forgings for all Airbus programmes, including the A320neo, the A330neo and the A350. Additionally, the Kamensk-Uralskiy metallurgical plant is supplying aluminium plates in a long-term contract with Airbus.
Liebherr Aerospace, in cooperation with Hydromash, produces hydraulic system parts for all Airbus programmes as well as bigger components for the A350 XWB landing gear.
Airbus remains in constant contact with its Russian industrial partners to evaluate various opportunities for the extension of its supplier base.
Innovation
Airbus shares its expertise with Russian industry and institutions through partnerships, joint ventures and spin-off companies. In addition, the company is involving Russian start-ups in BizLab calls for ideas and is actively participating in ideas scouting in Russia in cooperation with its Russian partners.
Over the past two decades, Airbus has participated in nearly 130 cooperative research ventures in areas such as aerodynamics, acoustics, environmental assessment of supersonic flight, composite design methods, metallic materials development, and the modelling of complex physical phenomena. Airbus has excellent access to high-tech companies, government agencies and financial investment opportunities in Russia.
Corporate citizenship
A socially responsible enterprise, Airbus actively supports numerous education initiatives in the region, including aviation education conferences and cooperation with major aviation universities and schools. In partnership with Moscow State Technical University of Civil Aviation, Airbus specialists created a lecture course for 4th and 5th-grade students that covered various technical aspects of Airbus aircraft. Airbus is also an official partner of the Aviator aviation children's club in Moscow; this club has practical and theoretical classes for children aged 7-14, where Airbus specialists regularly meet the youngsters to discuss the fascinating world of aviation and Airbus aircraft.
Additionally, Airbus partners with key charitable foundations in Russia, organising joint charity projects involving company employees – such as visiting ill children in hospitals and speaking to them about aviation topics.
Russia's Future
Russia has one of the leading aircraft industries in the world, where Airbus sees long-term potential for cooperation. Airbus is constantly scouting for new ideas involving not only its major industrial partners in the country, but also universities and start-up companies.
Point of Contact
Airbus RUS LLC
Vozdvizhenka Street, 4/7, bldg. 2, 125009 Moscow Russian Federation