Orion is NASA's next spacecraft to send humans into space. It is designed to send astronauts further into space than ever before, beyond the Moon to asteroids and even Mars. The European Service Module (ESM)  is Europe's contribution to the Orion spacecraft. It provides propulsion, power, water, oxygen and nitrogen as well as keeping the spacecraft at the right temperature and on course.
Three European Service Modules (ESMs) are currently in different stages of production, testing or integration.
ESM-1 completed hot firing tests last year, in the run up to environmental testing at NASA's Plumbrook facility to ensure it can cope with the stress of launch and vacuum of space. Already mated with the Crew Module, Europe officially handed ESM-1 over to the US in December 2020, enabling final preparations before launch of the first, un-crewed, Artemis I test mission at the end of 2021.
ESM-2 is currently in the Airbus integration hall where equipment integration is being finalised – and looking ahead to soon starting the system test phase. ESM-2 will be used for the Artemis II mission, when the first astronauts will fly around the Moon and back to Earth.
The third ESM is at the start of its integration phase where equipment dummies, brackets and harness will be added to the structure. It is the Artemis III mission which will see the first woman and next man setting foot on the Moon.
ESM is cylindrical in shape and about four metres in diameter and height. It has four solar arrays (19 metres across when unfurled) that generate enough energy to power two households. The service module's 8.6 tonnes of fuel can power one main engine and 32 smaller thrusters. The ESM weighs a total of just over 13 tonnes. In addition to its function as the main propulsion system for the Orion spacecraft, the ESM will be responsible for orbital manoeuvring and position control. It also provides the crew with the central elements of life support such as water and oxygen, and regulates thermal control while docked to the crew module.
More than 20,000 parts and components are used in each ESM, from electrical equipment to engines, solar panels, fuel tanks and life support supplies for the astronauts, as well as approximately 12 kilometres of cables.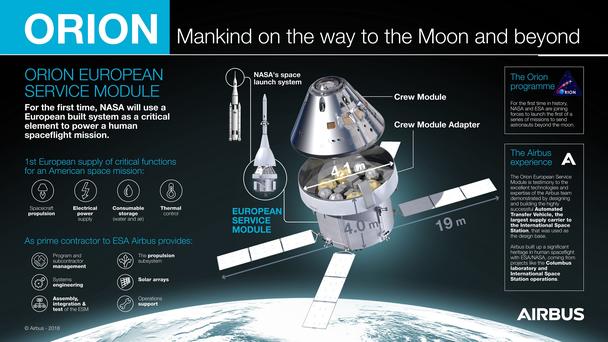 Orion Infographic 
Building Orion's European Service Module
When NASA's Orion crewed spacecraft sets course for an historic return to the Moon by 2024, it will rely on unique Airbus technology for a range of essential functions – from the supply of air and water to propulsion, power and thermal control. This technology is brought together in the European Service Module (ESM), built by Airbus for ESA.
Learn how it comes together in our new series of videos below.
Building Orion's European Service Module: Propulsion
The Airbus-produced European Service Module (ESM) will supply an important element for NASA's Orion mission: in-orbit propulsion, enabling the spacecraft to reach the Moon, as well as safely return to Earth with its crew of astronauts. Airbus space engineers discuss the propulsion sub-system and how it is produced in this video.