The fact that Airbus is such a diverse, multicultural organization made me feel at home, everywhere in the world.
The story of Rodrigo is the one of a real passionate brand ambassador. With more than 10 years of cross-functional experience including marketing, engine performance, new product development and certifications, Rodrigo's journey at Airbus started over 2 years ago, when joining as Single-Aisle Marketing Manager for Airbus Commercial in Toulouse.
Initially based in Mirabel, Canada, Rodrigo reported to the management team in Toulouse and was in charge of building strong business relationships with customers, partners, authorities and facilitating the bridge between the Canadian and Toulouse internal teams.
"My first assignment on behalf of Airbus was at the Farnborough Airshow in 2018, when the A220 was officially re-launched and rebranded under the Airbus portfolio." Rodrigo's role focused in helping the integration of the A220 into the Airbus Commercial aircraft portfolio - especially within the A320 Family. Among his main responsibilities, he supported the sales campaigns, providing marketing argumentation and optimizing the business synergies between both teams in Mirabel and Toulouse. "These initial years have been fundamental for my integration at Airbus. I was immediately involved in the core mission of representing the company and the splendor technologies that make Airbus the pioneer of aerospace in the world. This experience allowed me to quickly learn how to become an A220 ambassador both externally and internally within the organization, whilst adapting to the global Airbus working culture and helping colleagues in the transition from the C Series program into the Airbus environment and the ways of working."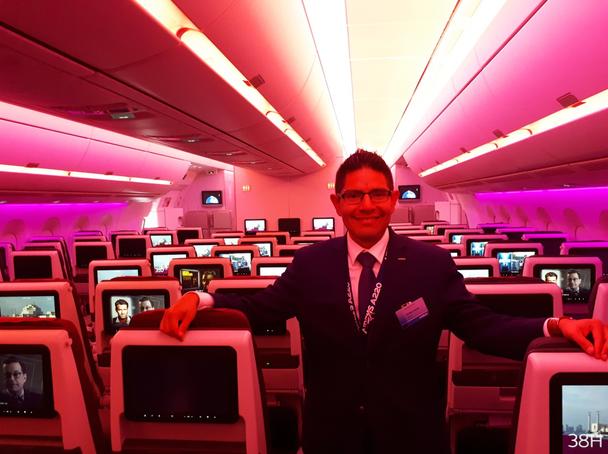 In 2021, Rodrigo was promoted to Widebody Market Development Director within the Marketing organization at Airbus Commercial. This marked the start of a new chapter in his professional and personal life. "Joining Airbus has been more than just taking on a different job. It meant moving my family of 4 across the ocean and going through another immigration process. However, the adaptation has been extremely easy and I am grateful to the amazing people that I've met across my path. The fact that Airbus is such a diverse, multicultural organization made me feel at home, everywhere in the world. As if I never left my home country. I consider myself very lucky for having had the opportunity to experience the best of both places."
Rodrigo looks forward to his career path at Airbus and is committed, as a brand ambassador, to fully live and share the Airbus Values, embracing diversity and connecting people to encourage the success of the Airbus missions across the world.
---
Rodrigo's career path at Airbus
Widebody Marketing Director
Airbus Commercial Toulouse
Single-Aisle Marketing Manager
Airbus Commercial Toulouse
---