What does diversity and inclusion mean to me? It means initiative, open mindedness and proudness of sharing your culture to others and being appreciated for what you are as a person and what you can bring to the team.
Born and raised in Tunisia, Leith has studied in France and in the UK. He graduated with a Mechanical Engineering Master's from the Université de Technologie de Compiègne and also holds an Aerospace Master's from Cranfield University.
Leith has always been an aerospace enthusiast, but initially felt that working for a global aerospace leader like Airbus was out of reach. But, the strong motivation and passion led him to be selected among the candidates for the Airbus UK Graduate Programme, which represented a great opportunity for him to work in different functions and shape his future career decisions.
"The Airbus UK graduate programme helped me understand better how a complex matrix organization operates by discovering the interrelationships and dynamics between functions. The 3-month rotations from engineering, to supply chain, to finance to cite only a few, helped me to understand better how a manufacturing plant operates", Leith says. Thanks to this opportunity, he had the chance to interface with all the Airbus divisions and worked on a variety of projects, including strategic topics within Urban Air Mobility to more operational ones related to project implementation on the shop floor.
Overall, Leith's exposure to the aerospace business ecosystem made him a well-rounded project manager able to understand the political, economic and technical aspect behind Airbus products. "I had the opportunity to collaborate and interface with many stakeholders within the Airbus divisions, Final Assembly Lines, innovations centers, but also externally with the Academia, startups, airlines, regulatory bodies, and governmental institutions", he says.
After finishing the Graduate Programme, Leith joined the Digitalisation Team of Broughton plant as a Digital Project Manager, a multifaceted role that took him an interdisciplinary approach across project management, technology and change management. "Since the beginning of my career at Airbus, I've changed, grew up and developed myself on a personal and professional level. Some placements really pushed me outside of my comfort zone, and I didn't expect to be given an important level of responsibilities at the very beginning of my career. Reflecting back on my two years, I realise that the Graduate Programme permitted me to build a mini-career portfolio as well as to develop a solid skill set that still supports me today when tackling multidisciplinary problems in my day-to-day operations."
Today, Leith is a Digital Project Manager, leading and coordinating the deployment of Cyber Security activities. At the beginning of this new mission, he found the role challenging as he did not have any IT background. One of the aspects that Leith enjoys the most in his role, is the implementation of new digital projects cross-programmes. Digital transformation projects have a strong focus on changing the mindset and culture of the organisation by embracing digital technologies. "The change management aspect behind every project is challenging but rewarding, and I am fascinated by the fact that driving digital projects is not only about technology but more about the people", Leith says.
Aside from his job, Leith remained strongly linked with the Academia and has become a STEM ambassador involved in various activities, such as career fairs organisation, alumni mentoring to being a panelist of a jury to attribute an aerospace label, such as UTCiel.
Leith takes at heart the mentorship culture at Airbus and likes to support the future generation of aerospace engineers who want to enter the industry to make a difference. "At Airbus, mentorship is an important element of the inclusive culture. Managers and company leaders are very approachable, regardless of the geographical, functional or divisional boundaries. You can really feel that people are always willing to invest their time and effort in young talents and you can really feel that we are one. Leaders across the business will dedicate their time to develop, support and guide you", says Leith with enthusiasm in his eyes, and concludes: "It is a two-ways relationship, and my current mentors learn as much from me as I do from them through, a true reverse mentoring."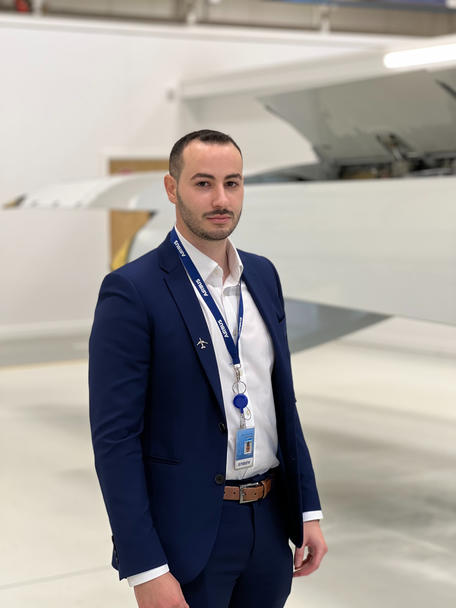 ---
Leith's career path at Airbus
Digital Project Manager
Airbus Broughton, United Kingdom
UK Graduate Programme
Airbus Broughton, United Kingdom
---