Change is the only constant thing.
Ganesh is Senior Lead Engineer at Airbus India, and he is responsible for overseeing and managing all aspects of Airframe India projects, from conception to completion.
Before joining the Airbus Family, Ganesh started his professional experience as Designer Engineer working as Design Analyst at Airbus A380 Electrical System Installation in Germany and France. Prior to this, he also worked as Engineer in 3D modelling of structural parts and assemblies of Airbus A340. Involved in 3D creation of Air conditioning ducts for mockup of Airbus A340. "Being a Design Engineer, you get the privilege of working hands-on Airbus products and understand all the aspects ghat makes them the edge of technology and innovation, recognized around the world." – says Ganesh, explaining about his job role.
Along his journey at Airbus, Ganesh always appreciates the open environment in which he can express his vision and share his knowledge within the team and improve the quality of their designs. "What I like to have by the end of the day is a sense of accomplishment. Have I been efficient with my time, or have I been influential to make the day a successful one. I look forward to making the most of my day." – Ganesh says.
When Ganesh visited the Final Assembly Line and Manufacturing units in Europe has been one of the most impactful times in his career journey at Airbus. "That is when I realized that the things we design virtually become reality. To bring in my experience, to explore further for building a better product and exploring what is done in other countries by learning all aspects of Airbus's expertise around the world is a unique opportunity to get a more complete overview of the quality and techniques that make Airbus a pioneer in the aerospace business." – says Ganesh.
Today Ganesh has been appointed as a Technology Champion for System Installation in Airframe India and promoted as Senior Lead Engineer. He believes strongly that trust and empowerment provide plenty of opportunities to grow. That is why Ganesh would like to encourage any new talent who wants to join the company that: "Change is the only constant thing. The only way you can predict the future is to build it by following your dreams and never give up for it!"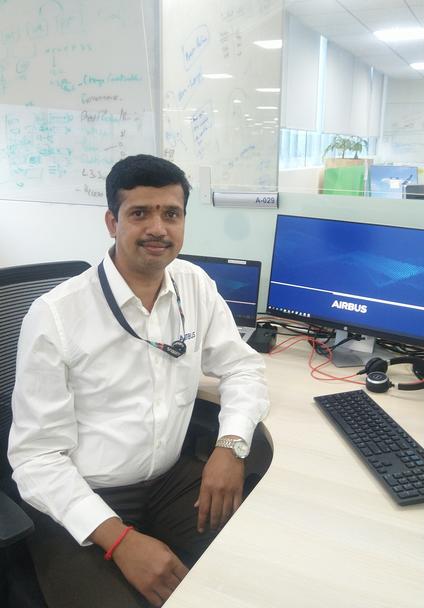 Ganesh's career path at Airbus
---
Senior Leader Engineer
Airbus India

Lead Engineer
Airbus India
---